WordPress themes are perfect if you have a heavy content website and need to show lots of your posts and other information in a professionally structured way on the homepage. A professional theme that works on your desktop and can easily display your content to your mobile or tablet viewers creates an awesome first impression on your new visitors. With the growing number of mobile users, a mobile responsive design is a must.
These themes were repeatedly tested across many browsers and mobile devices, and to that end work perfectly across different smartphones, tablets as well as your desktops. This collection has a variety of WordPress themes from Recipes to Traveling, from Personal to Business, from music to portfolio.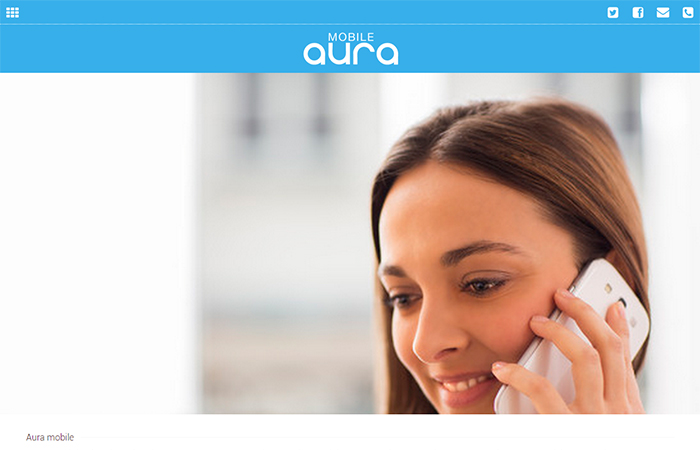 A mobile theme with best response system, Aura is fitted with advanced features to give your readers the best experience on mobile devices. Its flawless mobile blog system with post format support renders your content nicely on smart phones and small screens.
It also carries custom portfolio, gallery, video and Sound Cloud supports. If you want you can also insert unlimited category and menu item in it. The template supports image icons, font icons along with unlimited color variations.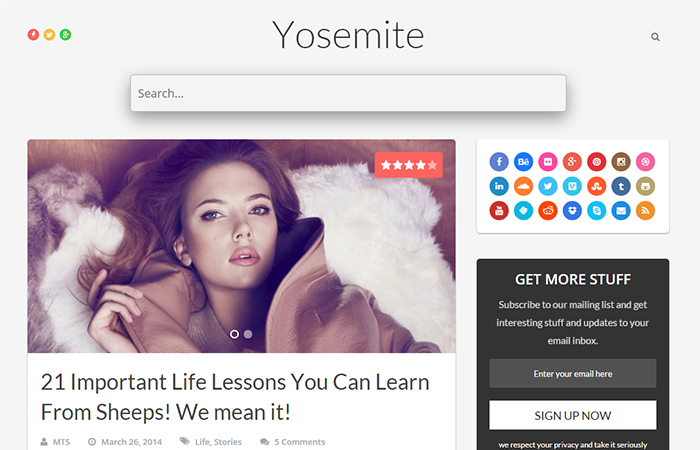 A new entry at MyThemeShop, Yosemite is one theme to look forward to. This clean WordPress theme is inspired by Apple's Yosemite OSX design.
It is very smart with a high focus on user engagement. The integration with newsletter plugin, MegaMenu and WP Review Pro are proof. What is more, it is optimized for AdSense, pageviews and readability. So, it offers you many causes for cheers and you must check it out once.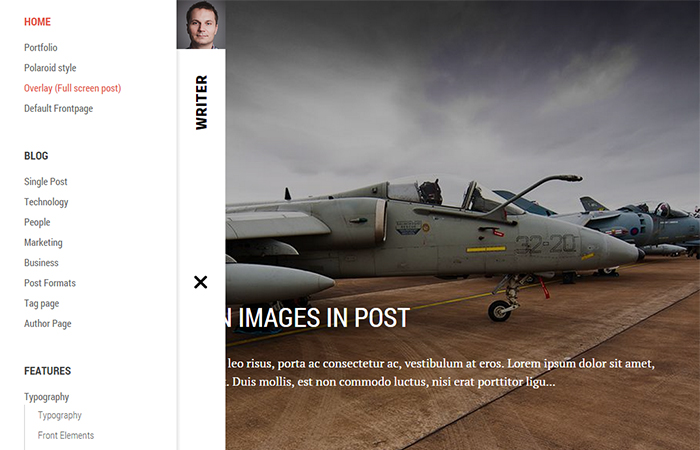 Yes, this theme is for wordsmiths. Writer is a complete blogging theme from GavickPro that can carry articles, images, videos and any other kind of content.
The template lets you display your posts in various styles. You can go for image-centric grid for portfolio displays, or traditional post lists or select from 4 different frontpage layouts or a book-style page with sidebar for your new posts . No matter what you go for, your content will fit into all screen sizes with equal ease.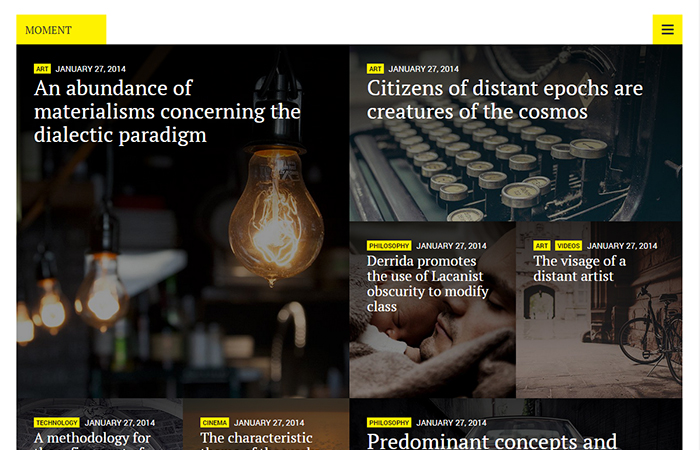 Here is a theme that makes sure writers come out with their best. It offers an ideal setting to write and comes with a fully responsive design that suits all screen dimensions. Its exclusive homepage with masonry layout and infinite load one click pagination is truly classy!
The CSSIgniter powerful options panel further eases things and you can customize your website as much as you like. It will definitely match your personal taste and requirements.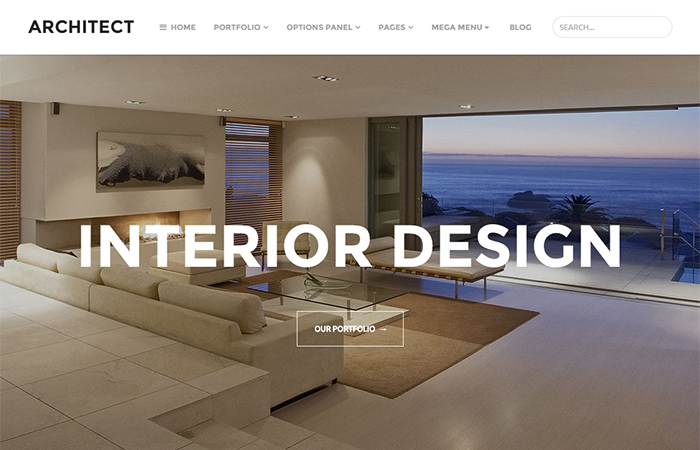 These days, a business site cannot hope to be successful if its layout is unresponsive and does not cater to the small screen sizes. Architect offers you the best mobile experience with its beautifully designed, cleanly coded and highly functional framework.
It is perfect for businesses and blogs. The rearrangeable homepage sections, SEO friendly layout and lots of other features are sure to develop your venture into a successful enterprise.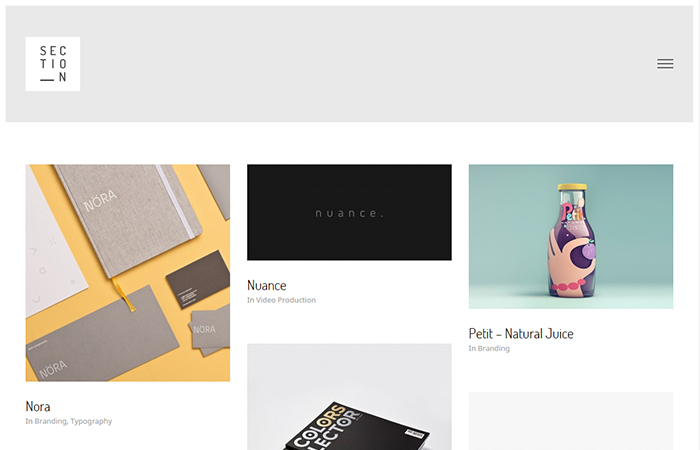 This is a content-focused WordPress theme with all the attention grabbing features. Section offers you a mobile-friendly masonry layout, Font Awesome Icon set, post formats, contact form and many more attributes.
It gives your content best stage. The theme not just fits bloggers but all creative souls like photographers, illustrators and other artists. The layout adapts to the screen size of your visitor very seamlessly and gives adequate results.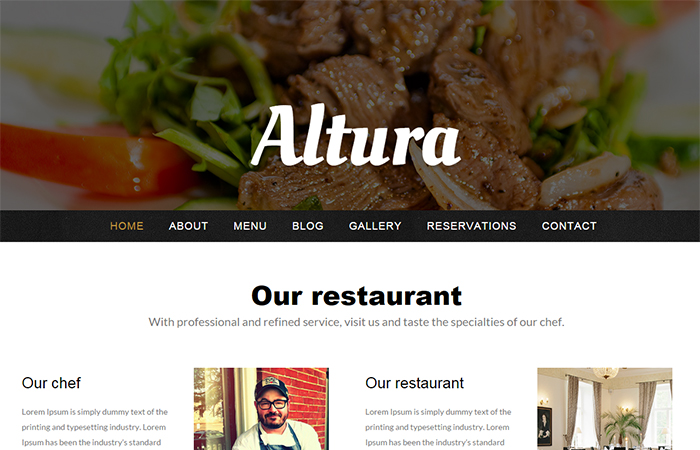 Readied for all those in the restaurant and/or hospitality industry, Altura gives you best service. It offers you tons of features that include a menu system, gallery system, events system, book an event form, catering form, WooCommerce support, contact form, WPML support, etc.
It knows the importance of being mobile ready and hence, the design is fully ready to mingle with the small screens and different resolutions.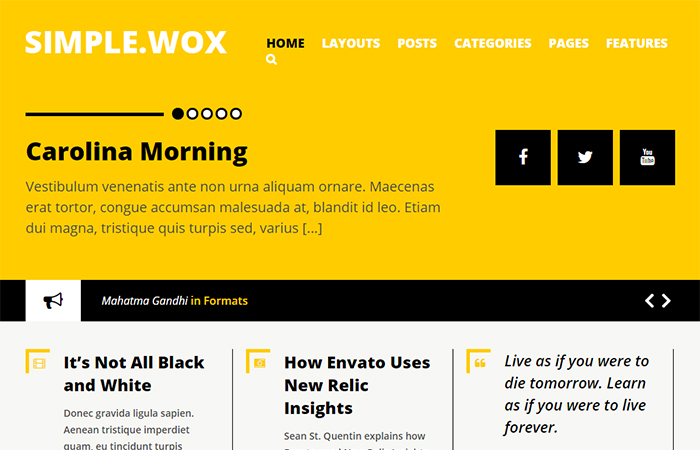 This is a simple and creative theme with a neat layout and millions of features. SimpleWox offers you 3 pagination type, custom widgets, widgetized areas, 5+ blog layouts and much more.
It offers you numerous designing possibilities and you can create as many layouts as you like. And all this is feasible even if you are code illiterate. Everything can be achieved with clicks and drag and drop.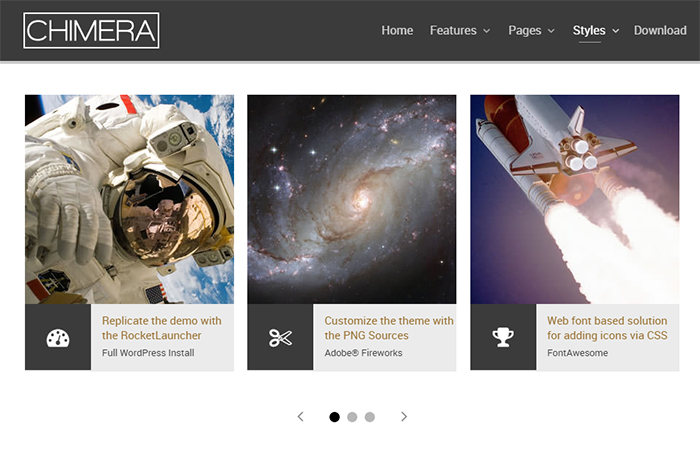 Chimera is very different and exudes a super exclusive visual appeal. Its clean, modern and minimalistic layout brings out the beauty of your content to its fullest.
The template is packed with flat elements, streamlined custom fonts, and extensive iconography that create the best blend of design and usability. It can be easily used for different purposes and will deliver nicely in all.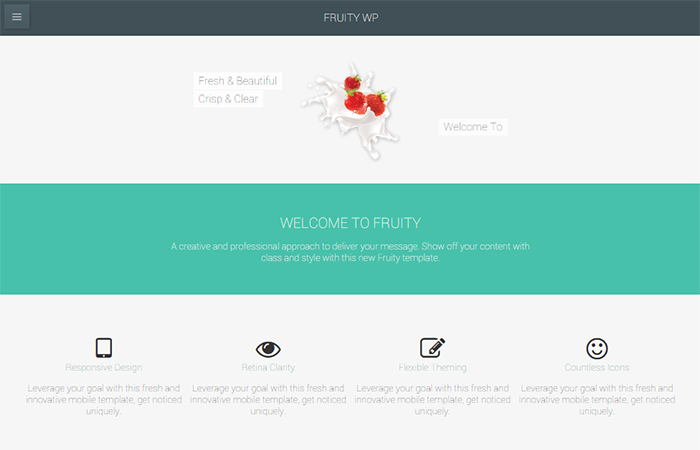 Compatible with all viewing devices such as iPhone, iPad, etc. Fruity WP carries a crisp, clean and adaptable layout along with HTML5 and CSS3. This premium template is utilizes latest technology and best user interface practices.
It is also loaded with various kinds of pages and options to give your website a high degree of competitive edge. It also lays great emphasis on content and typography so that your content can create the right impact on all viewing devices.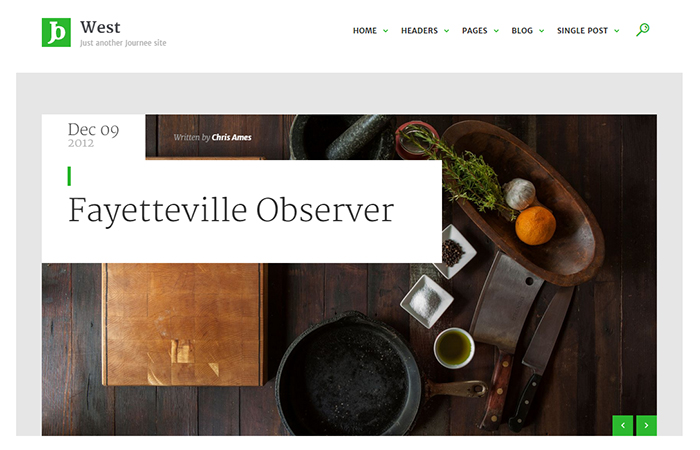 Looking forward to become famous with your online magazine, blog or news site? Do check out Journee. This amazing, modern and feature-rich theme carries responsive, retina ready, SEO optimized and Ads friendly layout.
Its custom widgets (Advertising, Twitter stream, Recent posts) create the most dynamic packaging for your content and make it stand out on any and every device that your visitor is using.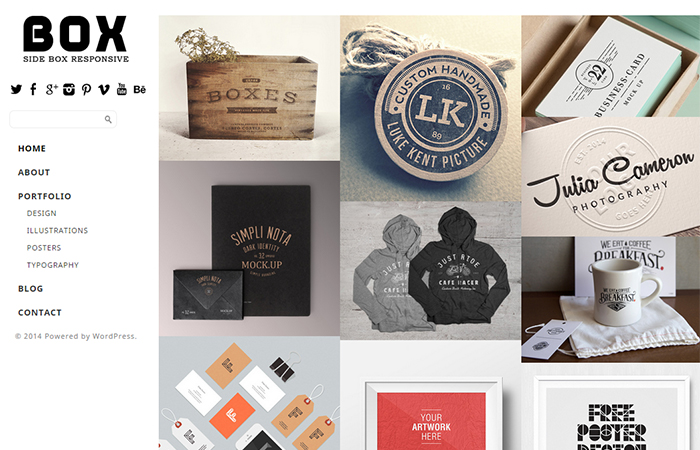 Side Box is a minimal and responsive WordPress theme that will perfectly complement any creative designer. It is very intuitive and easygoing with infinite scroll and responsive full screen gallery. It delivers well on all devices and fulfills all your dreams of a brilliant portfolio site. You really need to check it out once.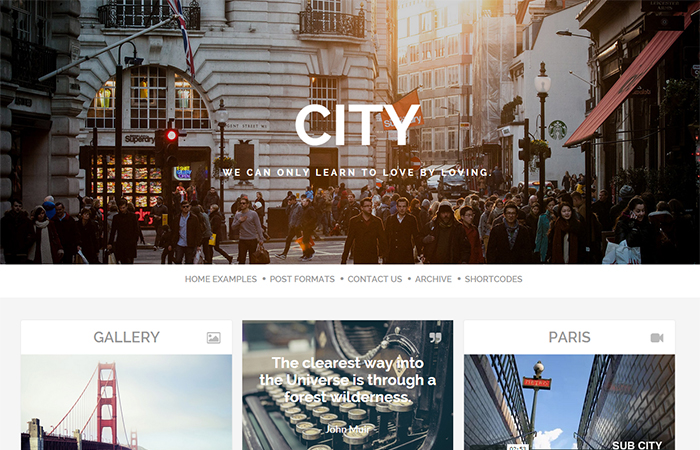 City is a creative blog WordPress theme carrying retina display, captivating, clean and modern design with powerful admin options. It lets you select from four types of model home pages and you can post audio, video, photos, etc. with great ease.
The theme has got post formats (video, audio, image, gallery, standard, aside, link, quote, status) support and a cool list of competent features. It is also ready for alteration and you can give it any flavor that you like.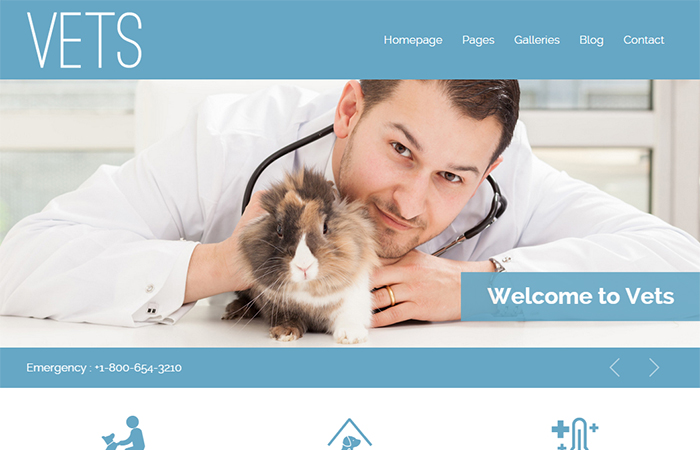 Here is a specialized theme meant for medical professionals in general and veterinarians in particular. VETS caters perfectly to this niche and comes with unlimited fullscreen responsive and touch-friendly image and video galleries.
This wonderful WordPress theme performs out of the box and also delivers instant results when you make any changes. Straight out of the oven, the template makes for a classic choice.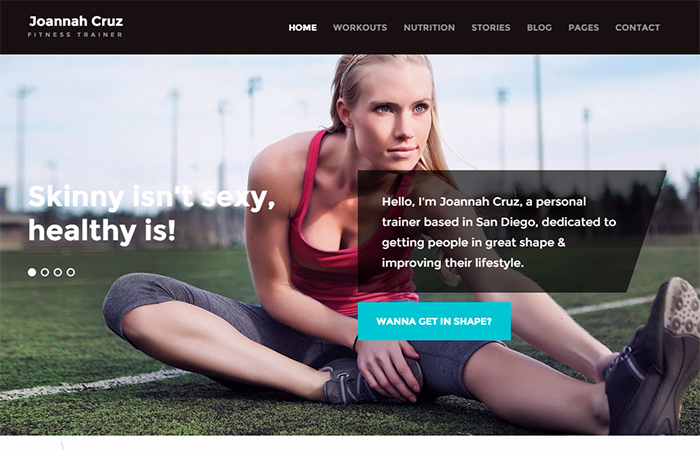 This theme is for trainers and fitness professionals. In Shape quickly brings your site in shape and comes with tons of features and customization alternatives. Here you are offered smooth out of the box HTML 5 animations, custom pages, mega menu, easy navigation and much more. The template has been trained to provide an optimal experience with a minimum of resizing and scrolling, across a wide range of devices.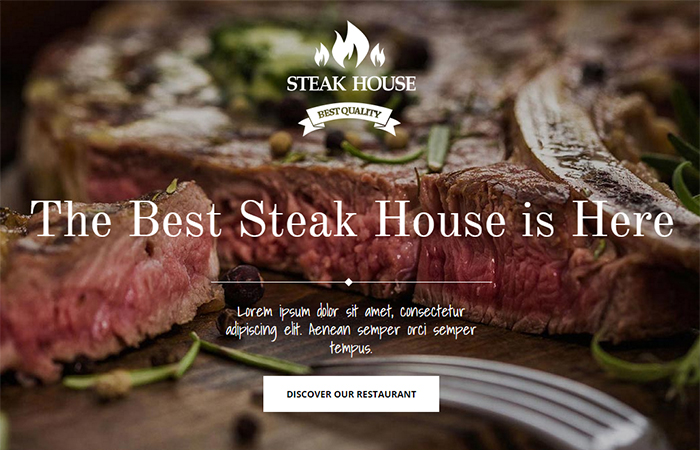 Say hello to Steak House- a food and drink WordPress theme that helps to create a classic first impression on your audience. The template is loaded with mouth watering features such as animated locate us button, intricate design, contact form, etc. It is simple yet stylish with all the finesse that gives your diners a memorable experience.
Made by ColorTheme, MaxiOne is a simple, creative and stylish WordPress blog theme. It is very smooth and carries an intuitive design along with tons of features and options.
They are 3 pagination type, custom widgets, widgetized areas, 4 blog layouts, custom backgrounds and lots more. It gives you great results at a good price and anyone; right from a beginner to a developer, can use it without any problem.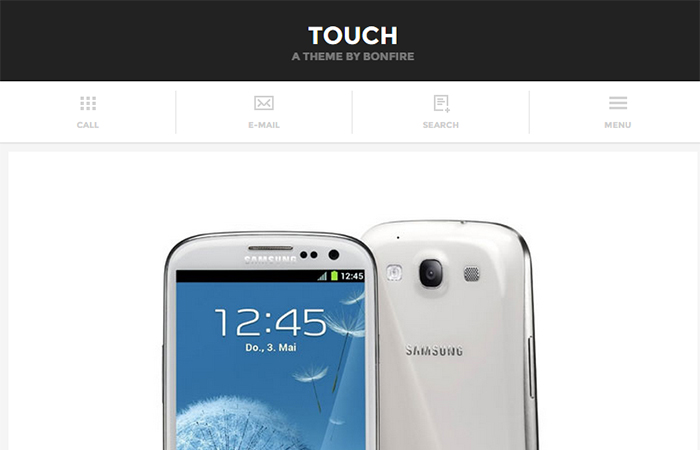 Touch has so much of style and substance that you will not believe your eyes until you take the demo. This lightweight and quick theme is loaded with plenty of features such as a straightforward blog, a touch gesture-enabled gallery, an optional static front page, a portfolio and much more. This premium template has been optimized for all types of viewing devices and gives great results on all.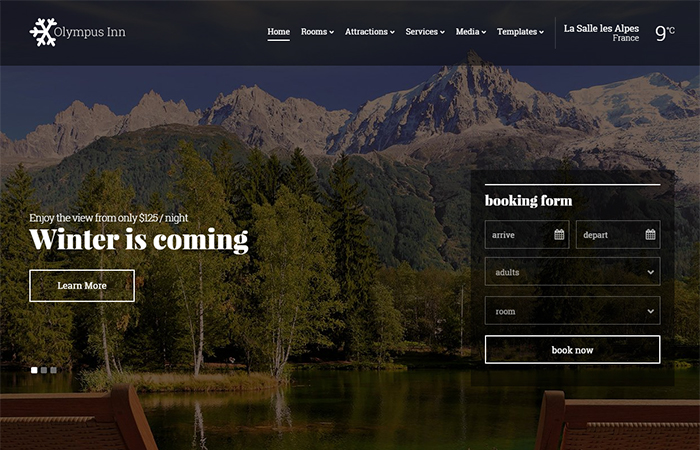 Olympus Inn is a responsive and retina ready theme for hotels resorts and the like. This template serves the best experience to your mobile visitors. Its features include dynamic weather reporting, booking form, attractions, testimonials, galleries, multilingual plugin support and much more. Its interface is highly friendly and arms you with all the tools that will make your work a cakewalk.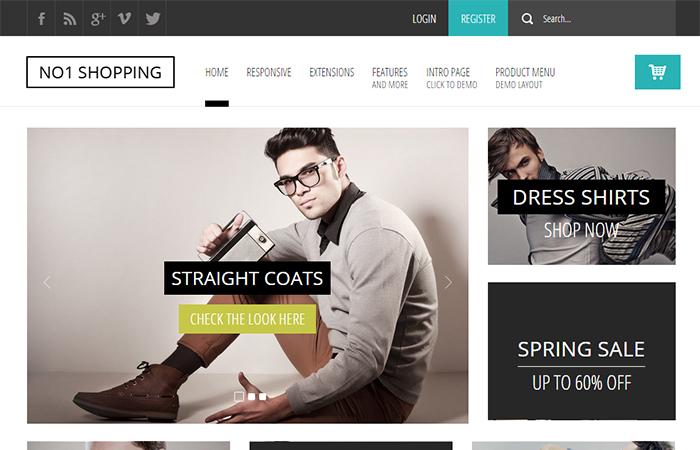 A flat design eCommerce theme, No1 Shopping is really an excellent option for those looking to set up web stores. It is packed with all the complementary features that will give you an edge over your competitors. The full width menu is great for extension categories and the cart button is conveniently located in the top right and included in the floating menu option too.
It is very clean and clutter free with a fine product display so that you can make maximum sales.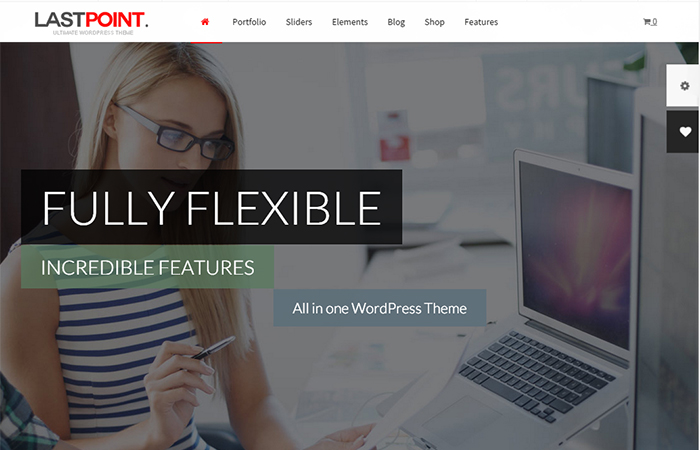 LastPoint is a smart and feature-rich WordPress theme with great ability to serve diverse purposes. It carries handcrafted design, pixel perfect display and fully responsive layout.
Any site that uses this template will fit well on all screen resolutions, devices and major browsers. You are provided with complete support to design things and you can also control the settings to suit your taste.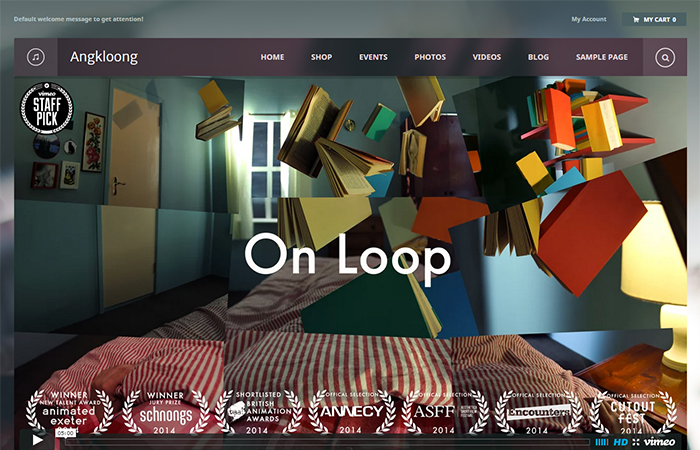 Designed for music and events sites, Angkloong is a cool WordPress music theme that will serve musicians and band official websites very skillfully. Its fresh design, extensive features and cool customization ability create a fascinating look for your site.
You can make any change in clicks and without touching other theme files. Angkloong is an amazing solution that you should certainly try out once.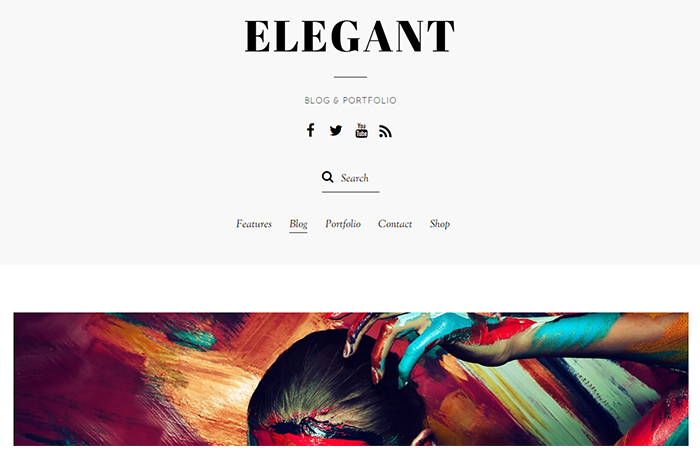 Simple and pleasant, Elegant is a multipurpose theme that focuses more on your content rather than animation and effects. Its minimal approach and great attention to typography produce a stunning visual that renders your site beautifully across all devices. Its features are very versatile and frame w.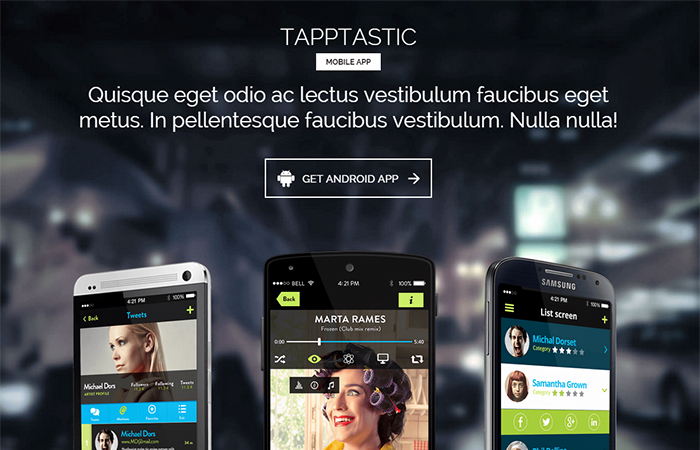 All the smart phone developers that need to promote their iPad, iPhone or Android mobile apps need to check out this responsive WordPress theme. Tapptastic comes with a cool animated slider that can exhibit a lot of media types.
The theme has been designed to give an optimum viewing experience and thus, you do not need to worry about the clients and customers with smart phones. All will be covered through Tapptastic.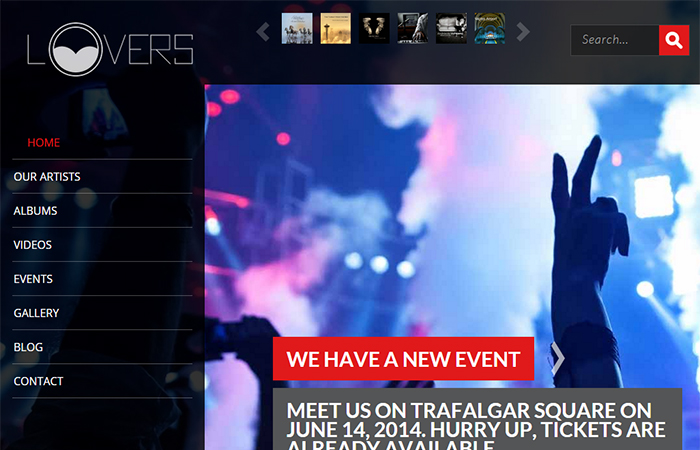 Meet Lovers- a Music WordPress theme packed with clean, bold, unique design and lots of cool features. Its responsive design, beautiful sliders and transition effects, music player (flash and HTML support and others are well-equipped to give you what you seek. It knows how to impress your audience and carries every feature that is needed to make them sway in your favor.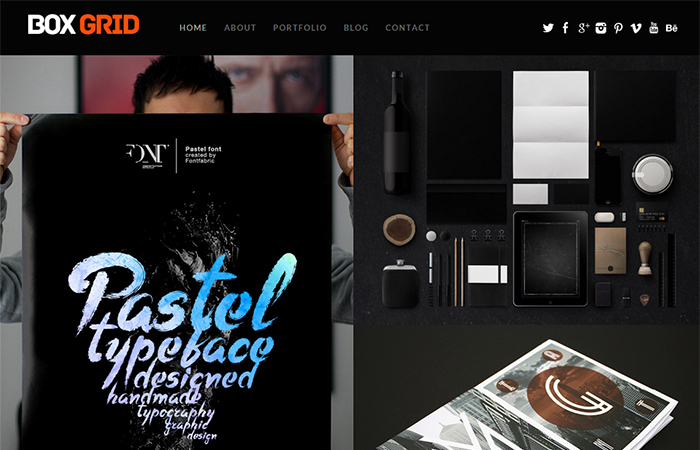 Box Grid is a minimal and feature-rich theme with fully responsive design. Perfect for creative souls, its clean design, infinite scroll and other cool features will easily bring you under the spotlight. Box Grid carries solid coding and plenty of colors, backgrounds and general theme options. It is a must-have.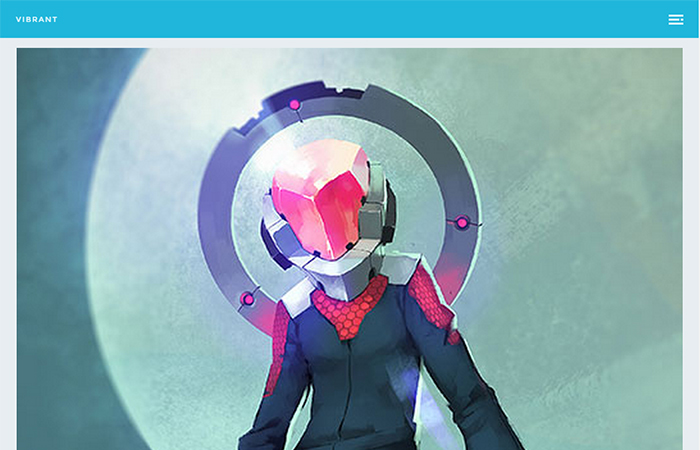 Vibrant, like its name, is very lively. This super clean, lightweight theme has been designed with minimalism in mind. Its stand-out elements like the unique menu display, comment form and per-post/page custom header colors are very focused on user engagement. It can serve many types of sites, right from portfolio to fashion blogs.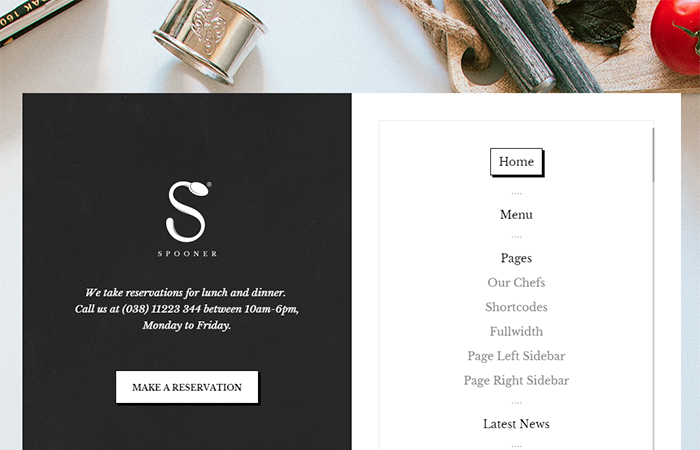 Spooner feeds restaurants, bars and similar sites. This WordPress theme creates a cool first impression and has beendesigned to make your food look even more delicious.
You can display everything in an appealing and intuitive manner so that your dishes get maximum mileage and the diners may also enjoy every bite.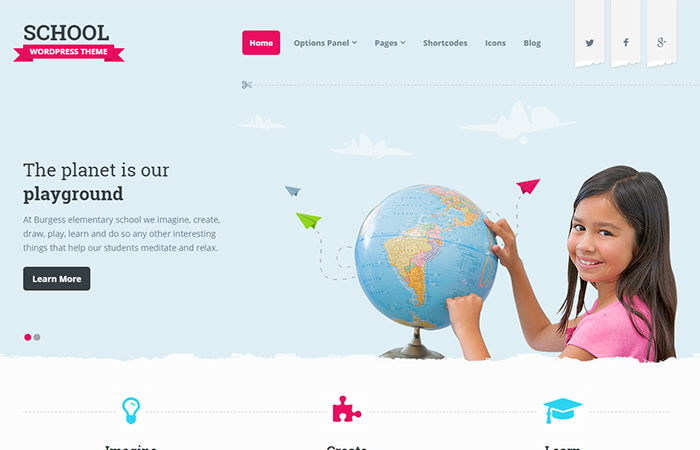 Schools, daycares, classes and other educational programs will have a great time with School. This fully responsive WordPress theme carries a clean, light design, with plenty of room for educational information.
Its custom post types for galleries and events enhance the appeal and audience engagement. The template is very well structured and certainly worthy of your attention.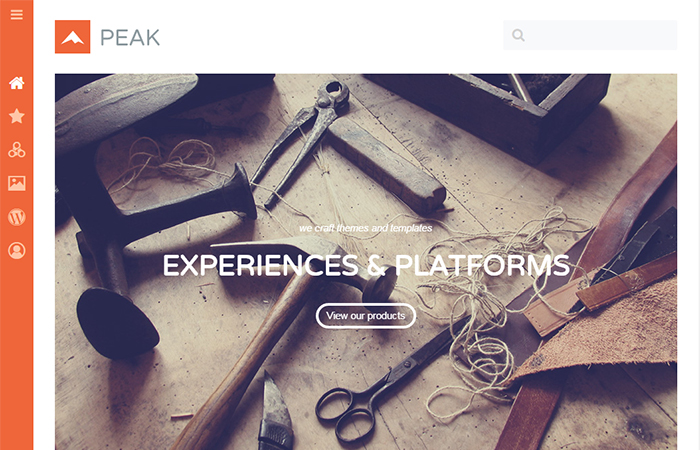 The flat design is very trendy and Peak comes with the same as well as a number of useful features. It provides you two different menu positions so that you can align the main navigation horizontally or vertically.
Fully flexible, the template has ample room for your customizations and no matter what you want to tweak, it is feasible. Peak is fully capable of providing you everything. Just get it quickly and enjoy the show.