Looking to give your online visitors a new way to browse and read your latest posts, show off tons of content in a beautifully simple and exciting way? Then these WordPress Blog themes are the perfect choice for you.
Articles are created to make reading long-form posts a pleasure on the eye. All the unnecessary noise has been discarded or hidden in this collection. These themes have a convenient backend admin panel which provides many options to manage and change any aspect of the theme.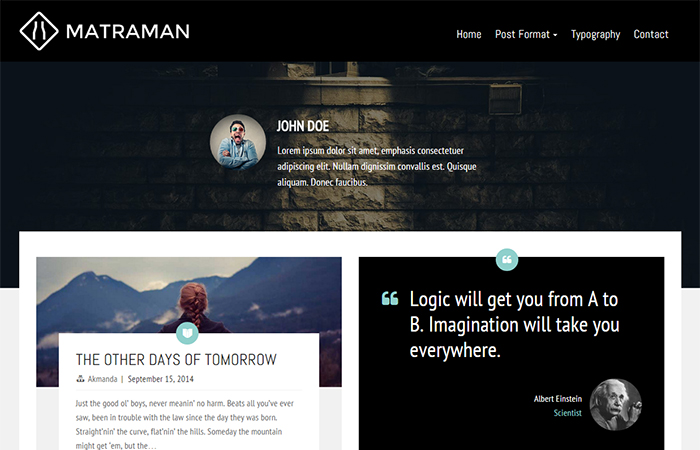 We've chosen a mix of sleek, minimalist and modern design based on different color schemes, that will take your articles to the next level. These blogging themes are built on top well-coded HTML5 and CSS3 framework. It is clear that this selection has a responsive layout, with adaptive display for smart devices such as iPhone, iPad and other popular mobiles and tablets out there. Check them out.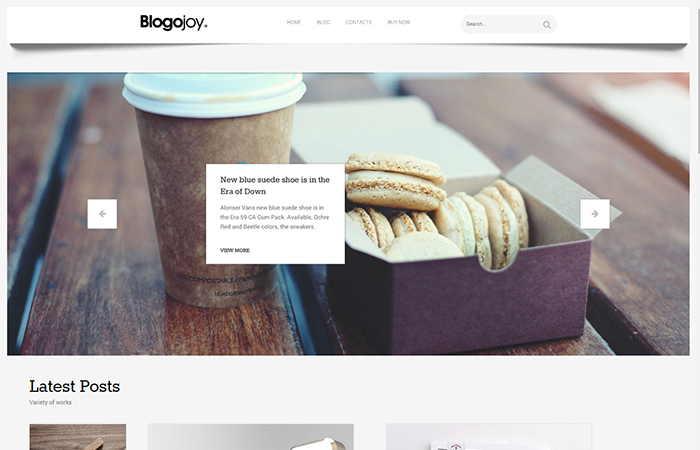 A minimalist blogging theme, Blogojoy is simple but substantive to the core. It has got very unique features that help you share your stories smoothly. The template possesses a powerful frame and administration tool through which you can easily customize the look of your site. The best thing about Blogojoy is that it gets set to perform in several minutes after installation and you can post your awesome articles immediately afterwards. And yes, the template comes at a super reasonable price.
Details
Demo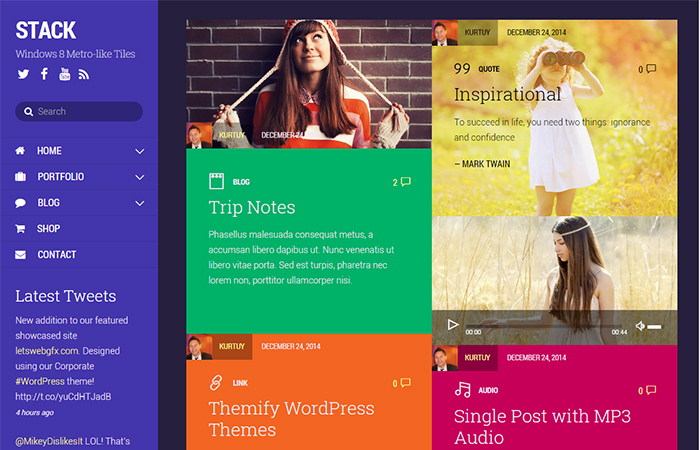 This theme draws inspiration from Windows 8 Metro design and the Metro theme. Stack is very dynamic and gives you full liberty to design your blog in as many styles as you like. It is aligned with the Drag & Drop Builder and carries a fluid and fully responsive layout. It also comes with masonry and infinite scroll features that are a treat for readers and increase conversion by leaps and bounds. Stack is surely a valuable proposal.
Details
Demo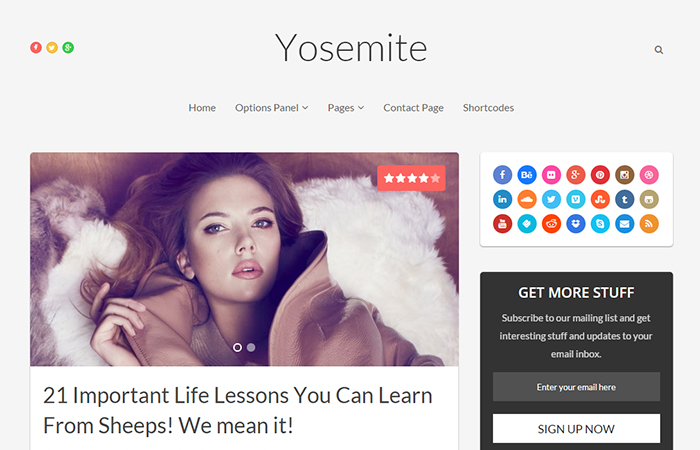 A new launch by MyThemeShop, Yosemite is a clean WordPress theme that is based on Apple's Yosemite OSX design. It is very user-centric and also optimized for AdSense, pageviews and readability. Carrying a newsletter plugin, compatibility with MegaMenu and WP Review Pro, the template makes it very easy for you to keep in touch with your audience and readers. Yosemite also uses AJAX loading, so that your posts and content load smoothly and seamlessly, no matter what the viewing device.
Details
Demo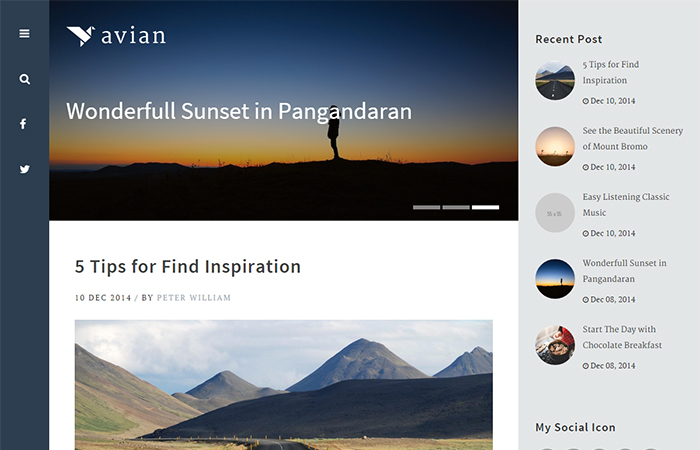 Plucked fresh, Avian is a smart and stylish blogging theme that lets you tell your stories in your way. With it, you can display all that you have to tell in a unique and elegant manner. The template is quite a delight and makes your site look special. This theme has got infinite color scheme setting, retina ready display, 100% responsive layout and much more. Avian is simply amazing and you will love it a great deal.
Details
Demo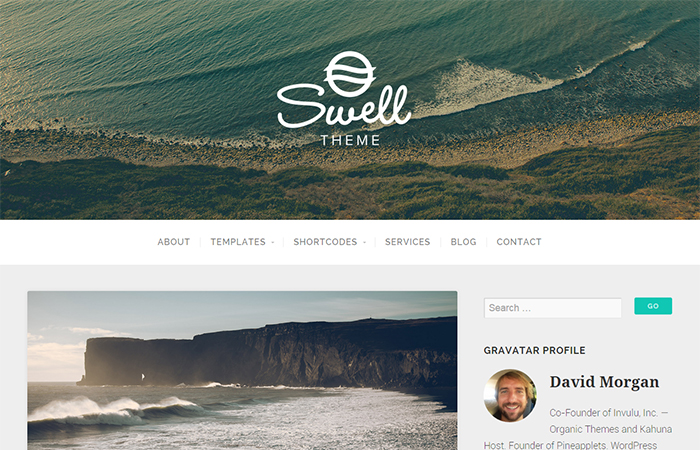 An innovative and interesting theme with a fluid responsive grid and exceptional design, Swell makes things very easy for you. Aligned with the Jetpack plugin, it gives you features like Infinite Scroll, Featured Content and the Portfolio custom post type. The template is very notable for its exclusive design and unconventional approach. If you want to try something different in the New Year, Swell is the way to go.
Details
Demo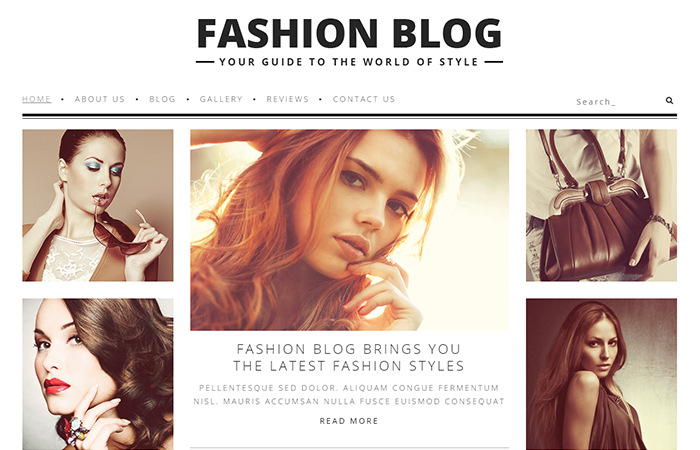 FlashMint created Fashion Blog to cater to those who write about trends, style and fashion. It is very content-centric and keeps away all the distractions out of the scene so that you may gain a credible status as a blogger. The template displays a single article on the homepage and is fit for personal blogging, weekly magazine or interview style sites. It is home to all the new-age features that make a theme coveted.
Details
Demo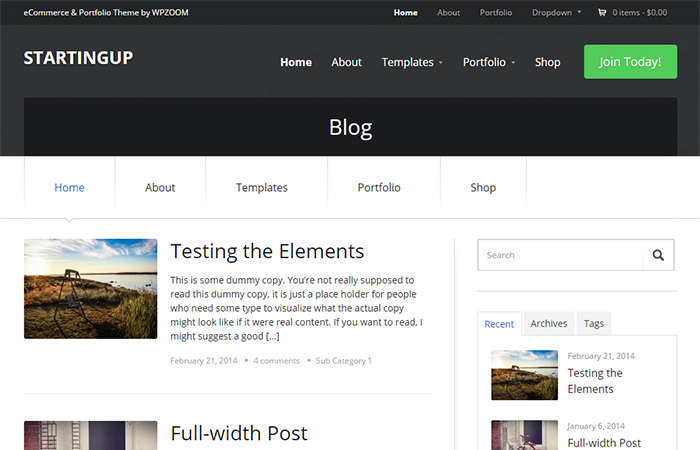 A multipurpose theme, StartingUp goes great with all types of genres and comes with a strong arsenal of smart and useful features. It is a perfect choice for your blog and will give your articles best packaging on all viewing devices. The template is responsive, retina ready, easy-to-customize and much more. It offers you a great way to show off your work, photos or anything else. If you are a starter, this is the best bet.
Details
Demo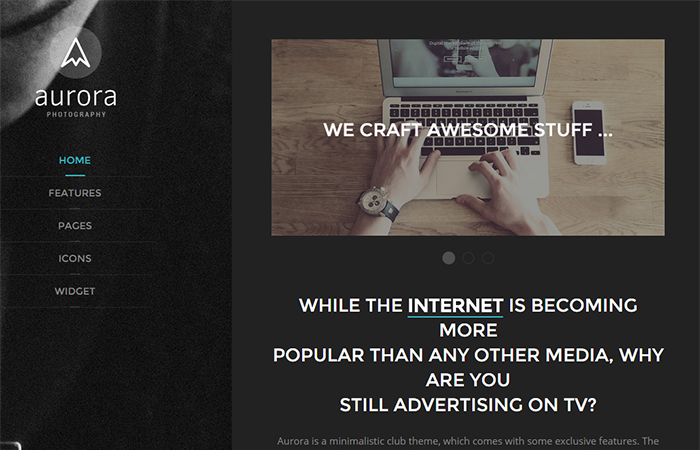 Built with the revolutionary Widgetkit 2, Aurora is a stellar theme that promises to make your New Year spicier. It is based on a new concept and provides a special sidebar layout position where you can publish the main menu. The template has also got a subtle parallax scrolling effect for the images. If you want visual brilliance along with a content-oriented approach then Aurora makes for an excellent choice.
Details
Demo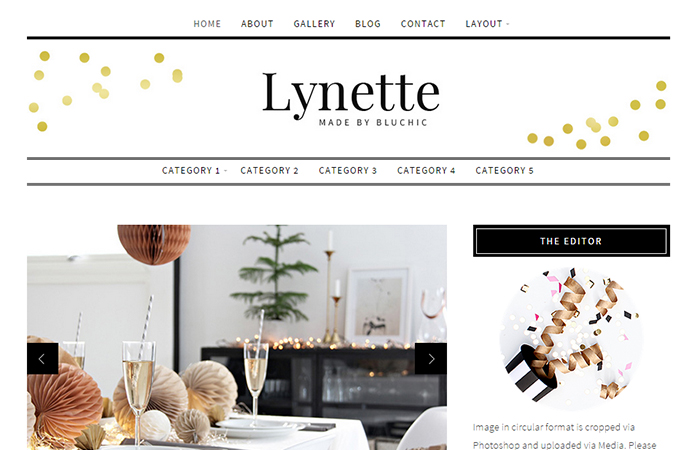 A sophisticated and sleek WordPress theme, Lynette has been built with your readers in mind. It showcases your recent posts from each category on the homepage. With a clickable category title, the readers can view all posts from the category. The features include 3 columns footer widget, Upload background image or pattern, Social media icons at widget, Theme Options to add Google Analytics code and much more. It gives you numerous choices to choose from and also keeps your readers engaged.
Details
Demo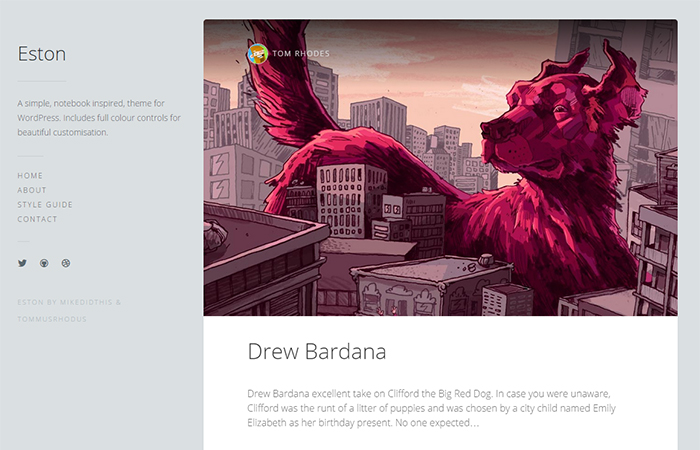 A traditional blogging theme that takes you back to the roots, Eston is verysimple to use and loads quickly. It is suitable for single or multiple authors.. If you love clean display or are a fan of notebook layout then Eston is the correct choice, from all angles. It lets you show off latest posts, Dribbble shots or Instagram photos in a jiffy. Your visitors can also comment on your posts with WordPress Comments and share them with Social Shares.
Details
Demo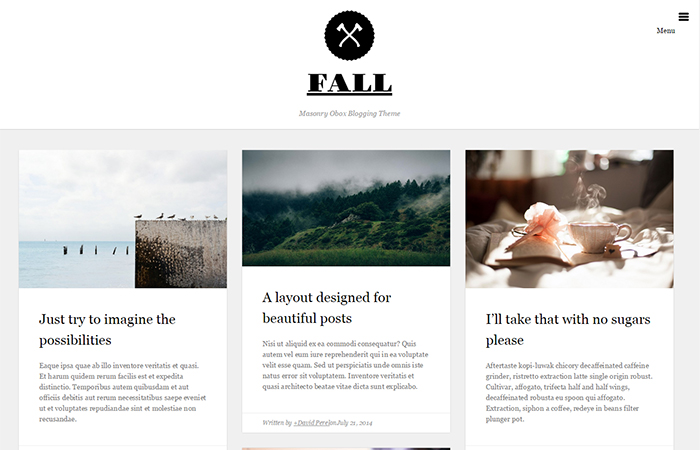 A brilliant blogging theme, Fall fits into the mould of casual bloggers and product owners who want to strengthen their sales through a side blog. It carries clean code and has been built with search engine optimization in mind. Fall gives top priority to readability and makes sure your articles fit into the different screen sizes without any fuss.
Details
Demo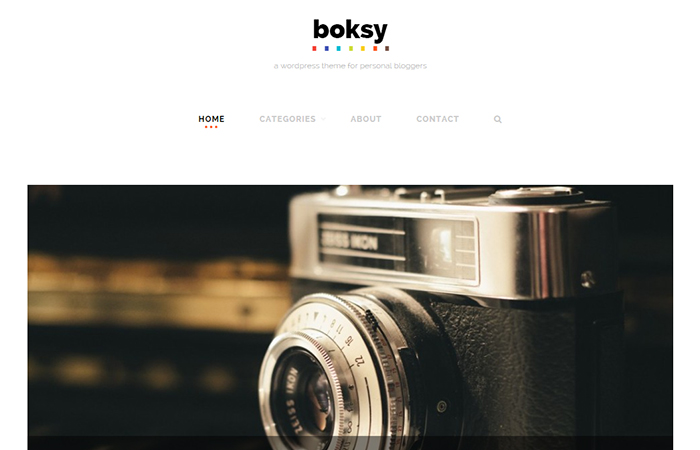 Boksy is a neat and minimal WordPress theme designed for personal bloggers. It puts content above all else and looks good both on large and small screens. The template is very simple to use and comes with support for the following post formats: standard, image, slideshow and video. Aligned with the customizer, Boksy is also easy to mold and you can tweak the features without messing with the code.
Details
Demo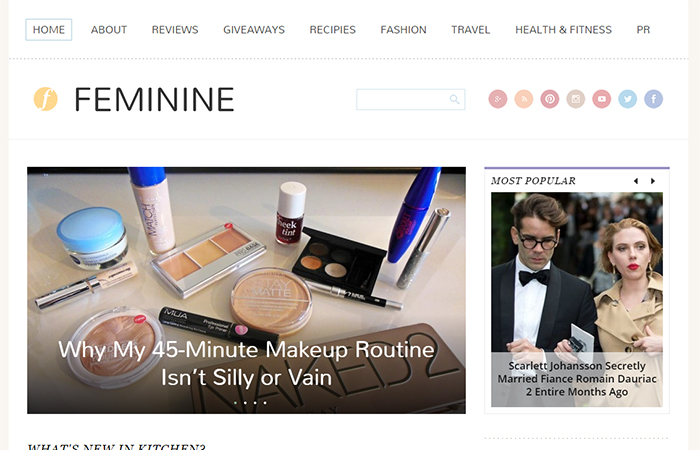 As the name indicates, Feminine is a smooth and sophisticated mommy blogging theme. It comes with a pretty and creative design but keeps things minimal. The template was designed around the needs of female bloggers and presents your content in such a way that your readers can easily browse through the whole stuff you have to offer to them. It is very well crafted and looks fabulous on different screen sizes.
Details
Demo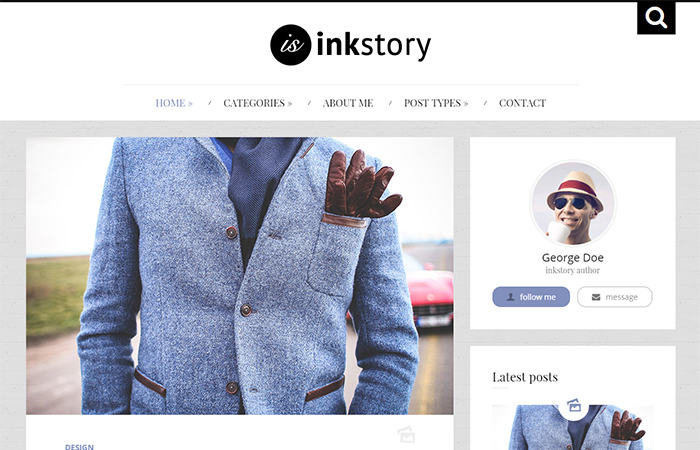 An easy-to-use and SEO friendly theme, InkStory is fit for personal blogs and news sites. It comes with lots of lovely features that include responsive design, Post/Page composer, on-click theme options, multiple post types and many more properties. It is a delight for those who want to give a personalized look to a template. InkStory lets you tweak the features without touching the code.
Details
Demo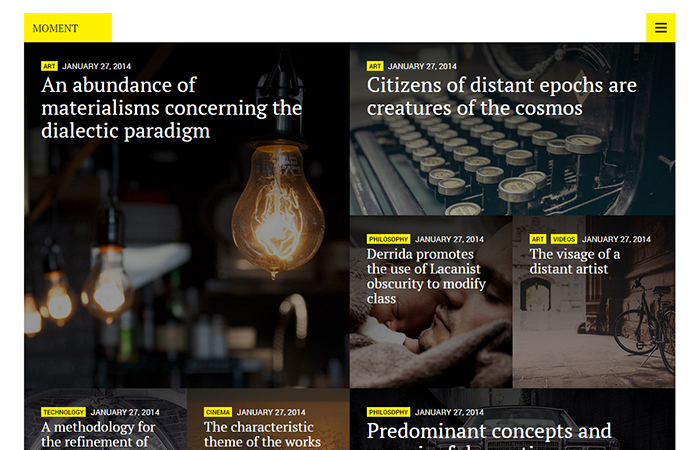 Crafted for writers, Moment gives you total freedom to unleash your creativity. This fully responsive theme knows the importance of being mobile ready and hence, fits seamlessly into the small screens. Its uniquely laid out homepage is based on the masonry layout and there is also infinite load one click pagination. The template has got a powerful options panel using which you can customize your website to suit your style.
Details
Demo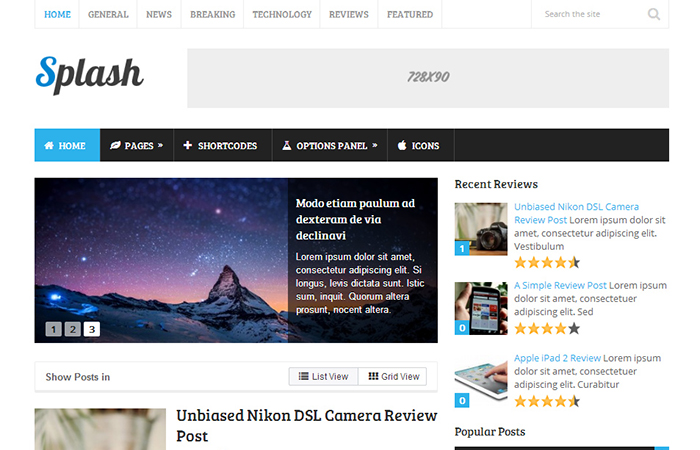 Developed by MyThemeShop, Splash is a spicy blogging theme that can take your blogging to the next level. Loaded with HTML5 and review blogging that maximizes content impact, this template really stands out. It also provides an awesome reading experience on diverse screen sizes and offers a user-friendly option panel using which you can add logo, analytic code, advertisement and much more.
Details
Demo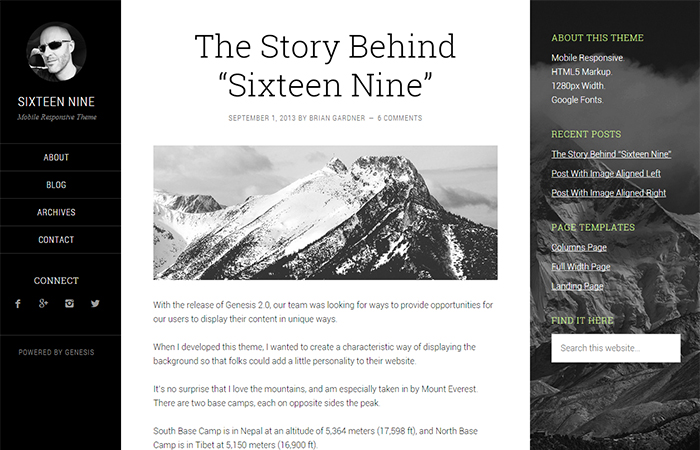 Do you feel design and content need to co-exist in a theme? If yes, Sixteen Nine is the right option for you. This template, according to its own admission, lets your verbal and visual personality shine through while proving that design can be simple and stunning. Its mobile responsiveness, custom background, menus, header, HTML5 readiness, etc. are exactly the features you need to build a beautiful and brainy blog.
Details
Demo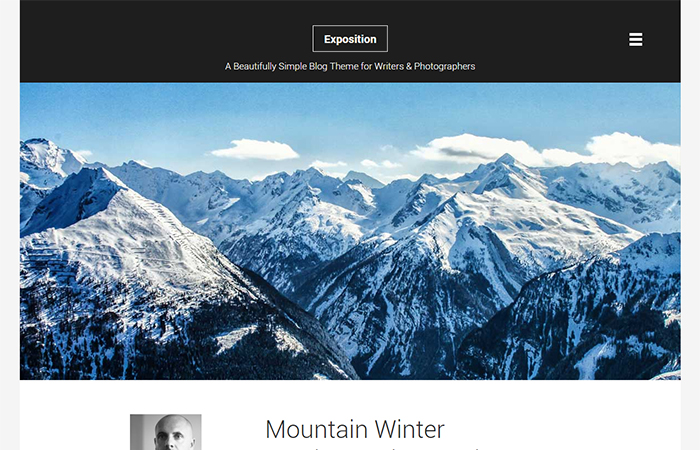 Either you want to say it with words or images, Exposition is a fitting blog theme for you. This WordPress theme makes your work stand out in an attractive setting. Exposition is simple and gives best packaging to your words courtesy, attractive typography and ample whitespace. The template has got hundreds of Google fonts, Theme Customizer, custom widgets, responsive design, WPML readiness and many more useful properties.
Details
Demo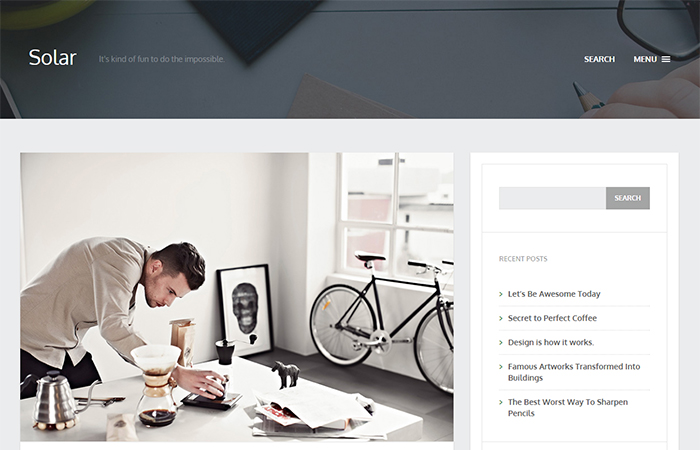 A robust and simple blogging theme, Solar is rooted in basic WordPress blogging. It offers you a frills-free framework while keeping the design sharp and modern. It supports Masonary Page Template, Full-screen Blog, Contact and Full Width page and many other complementary features. This ThemesKingdom template is very well-documented and offers excellent customer support as well. In short, Solar is a complete blogging solution.
Details
Demo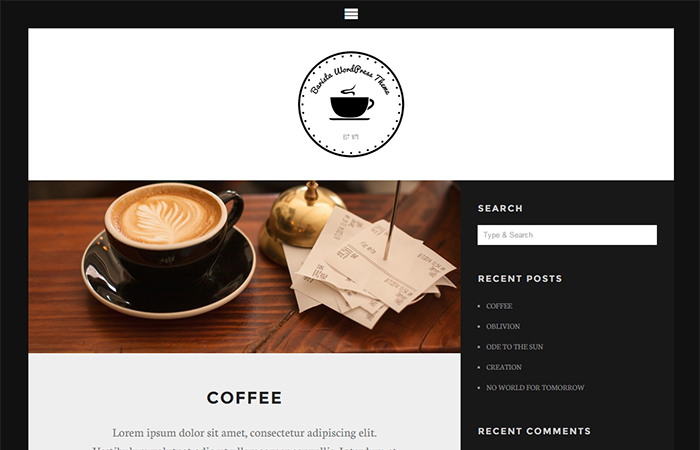 A hot and piping Barista welcomes bloggers in the New Year. Available at MojoThemes, it comes with fully responsive design, HTML5/CSS3 readiness, translation support, easy-to-use interface and many more attributes. It supports five WordPress post formats i.e. Audio, Gallery, Images, Quote and Video. The template keeps the layout stylish but clean. Your readers will enjoy their stay and the content will load seamlessly across screen sizes.
Details
Demo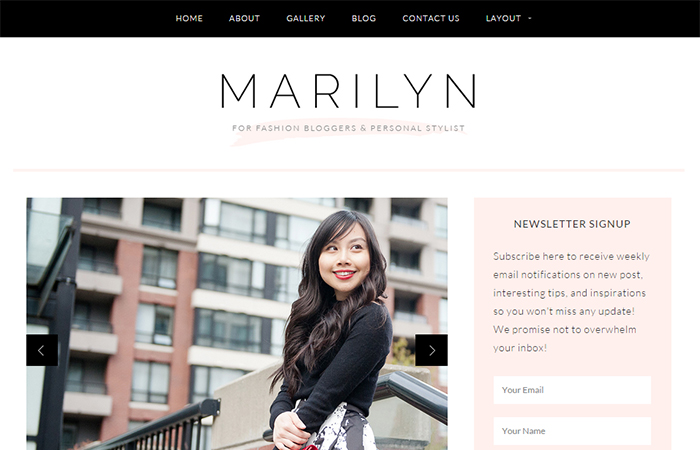 Made by BlueChic, Marilyn is a modern blogging theme catering to fashion, lifestyle blogs and sites. Its features are very supportive and they include an auto-scrolling slider to feature images which can be linked to any page or blog post you want. Carrying a lovely name, this template will easily enamor you with its smart functionality and you will get the evidence in the demo. So, make it fast.
Details
Demo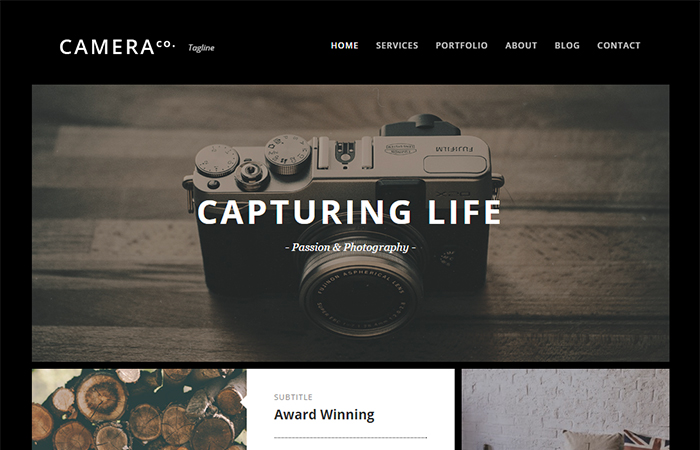 A stable and speedy theme, Camera is super easy to use and massively flexible. It gives you a truly unique experience and lets you personalize the template using the simple Drag and Drop Page Builder, unlimited color schemes and the 1-click theme editor. Based on one of the top selling themes i.e. MyFolio, Camera easily qualifies to be an ideal template, perfect for use in the New Year.
Details
Demo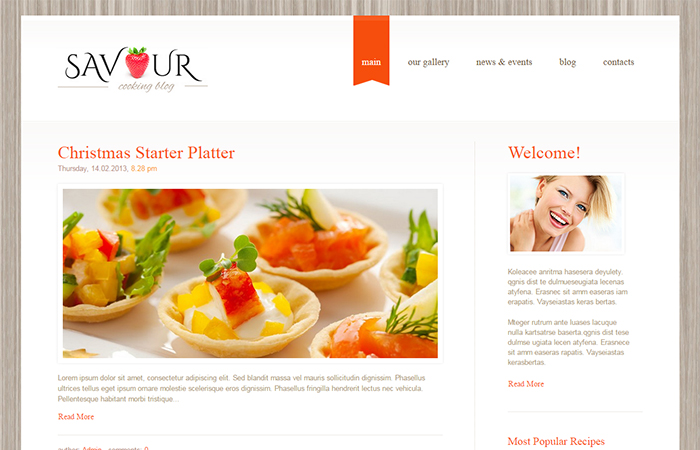 Cooking Blog, quite clearly, is a food and cuisine related blogging theme that lets you build a site with minimum effort and time. This template is loaded with lots of shortcodes and gives you tons of customization options. You can add buttons, alerts, Google maps, toggles and many more things. Cooking Blog carries a fully flexible body and offers a well-documented guide using which you can get started soon after activation.
Details
Demo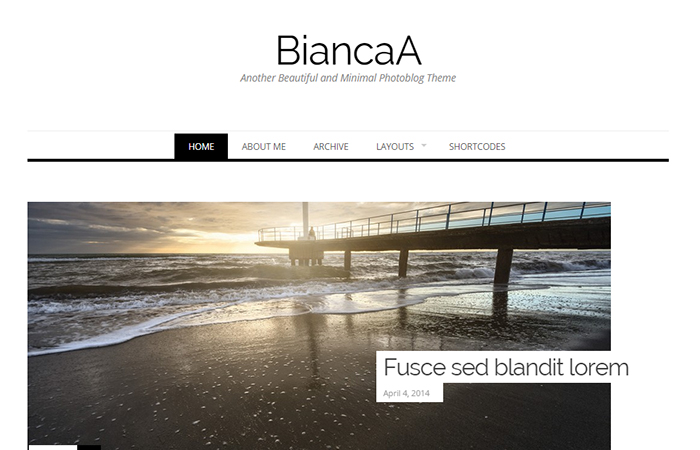 Here is an attractive and minimal WordPress theme designed for professional bloggers and photographers. The smart design and XHTML valid code of BiancaA ensure maximum search engine visibility for your site and you can easily climb the ranking ladder. This ThemeJunkie template also comes packed with multiple pages templates that will add to the charm and competence of your site.
Details
Demo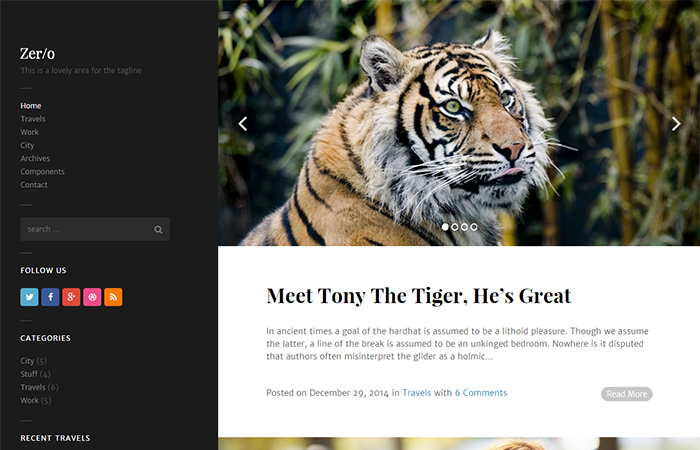 Zero is a minimal blogging theme that gives your blogging journey best start, no matter what the challenge. It is very crisp and offers a unique and fully responsive layout. The template has got In-Built Color Options, Post Options in Theme Customizer, Standard, Gallery & Video Posts. It is also aligned with a handful of custom widgets that give your readers quick links to your latest content. Social media has been covered very effectively here and thus, you can get optimum exposure for your content.
Details
Demo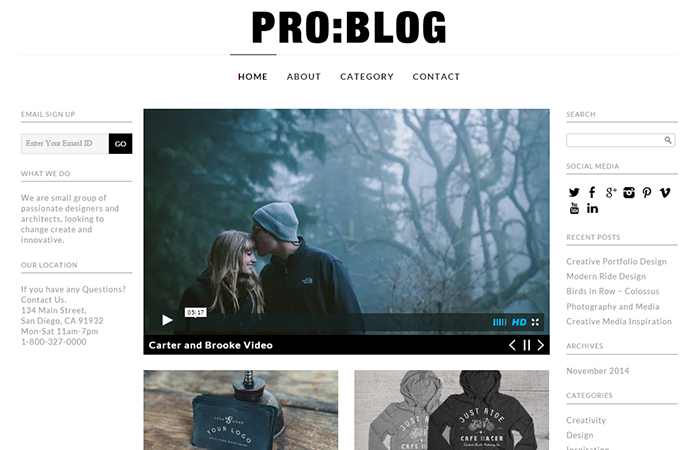 Meant for creative bloggers, Pro Blog is a responsive WordPress theme with a minimalist approach. Its clean design is quite content-friendly and the template is also super easy to set up. You can easily tailor it to fit your needs with the help of the Customizer and can upload logo, favicon, add analytics code, etc. The template comes with post formats support for standard, image, slideshow and video. It is very helpful and will completely live upto your expectations.
Details
Demo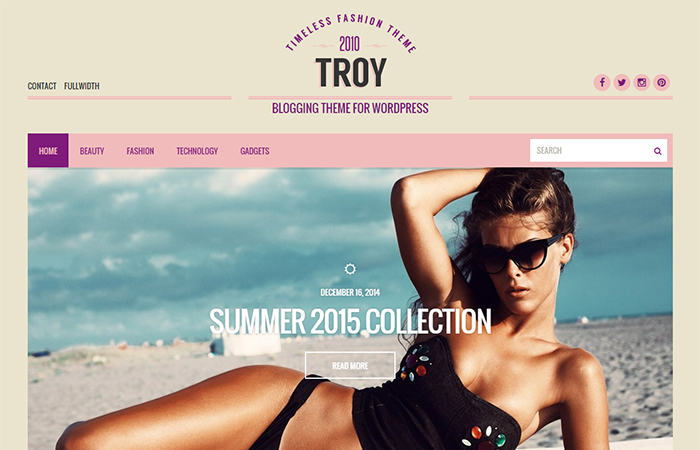 Meet Troy- a superb blogging theme with great looks and content-centric approach. It is also ads optimized and ready with custom widgets like Flickr and Twitter for social integration. The template is fully responsive and retina ready which means your content will load well on all platforms and devices. What is more, you can mold it to flatter your personal style and everything will happen according to your wishes.
Details
Demo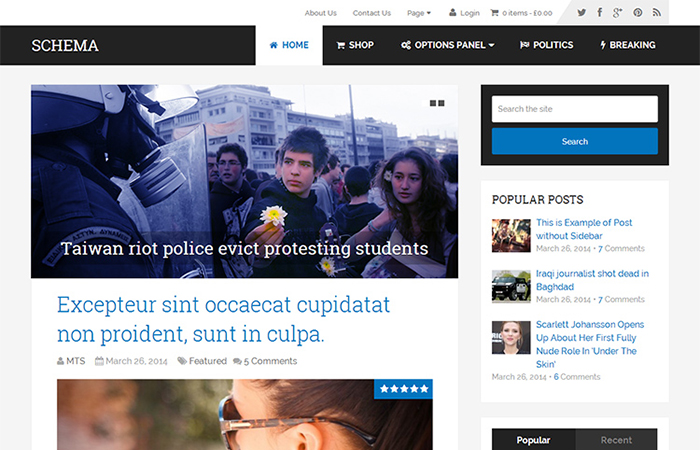 Schema is a quick loading and ultra-SEO friendly WordPress theme from MyThemeShop. It comes with a smooth custom options panel and carries all the sought-after features needed to make a blog successful. The template blends design and functionality quite well. It also carries rich snippets in order to help search engines index your content easily and drive more traffic to your site. It has a review system as well to include reviews of your readers and audience.
Details
Demo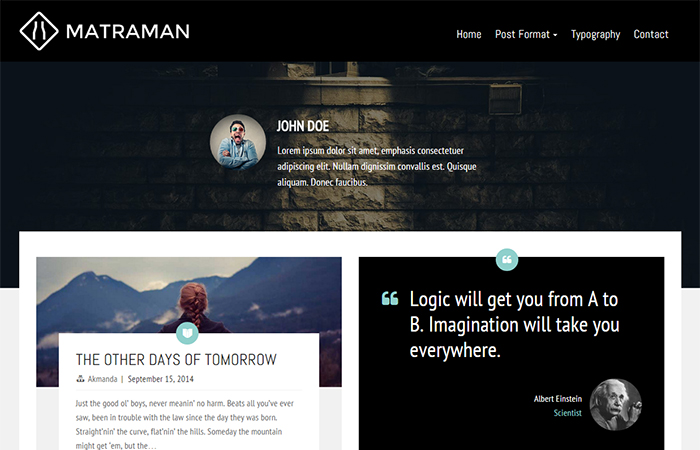 A newly launched blogging theme, Matraman offers the content-friendly grid style that is readers friendly as well. It has been designed with meticulous attention to details and offers you a smooth user-interface. The template has got SEO optimized code, HTML5, CSS3, bright colors and many more warm features. All these work together to make sure that your content gets best attention on every viewing platform.
Details
Demo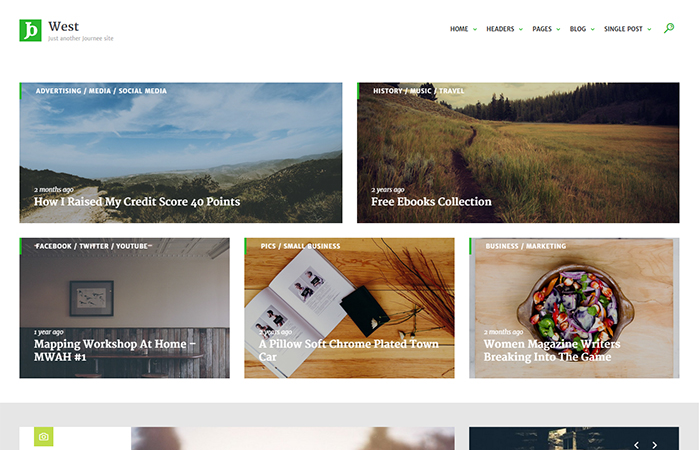 Here is a contemporary and customizable WordPress theme fit for all the content heavy niches including blogs. Journee is modern and feature-rich. It is responsive, retina ready, SEO optimized, cross browser compatible, translatable, Ads ready and much more. The template has been coded using the best practices and thus, you will find it very fast and secure. It is W3C compliant and gives you best customer support so that you are always on the go.
Details
Demo