Word­Press themes are per­fect if you have a heavy con­tent web­site and need to show lots of your posts and oth­er infor­ma­tion in a pro­fes­sion­al­ly struc­tured way on the home­page. A pro­fes­sion­al theme that works on your desk­top and can eas­i­ly dis­play your con­tent to your mobile or tablet view­ers cre­ates an awe­some first impres­sion on your new vis­i­tors. With the grow­ing num­ber of mobile users, a mobile respon­sive design is a must.
These themes were repeat­ed­ly test­ed across many browsers and mobile devices, and to that end work per­fect­ly across dif­fer­ent smart­phones, tablets as well as your desk­tops. This col­lec­tion has a vari­ety of Word­Press themes from Recipes to Trav­el­ing, from Per­son­al to Busi­ness, from music to port­fo­lio.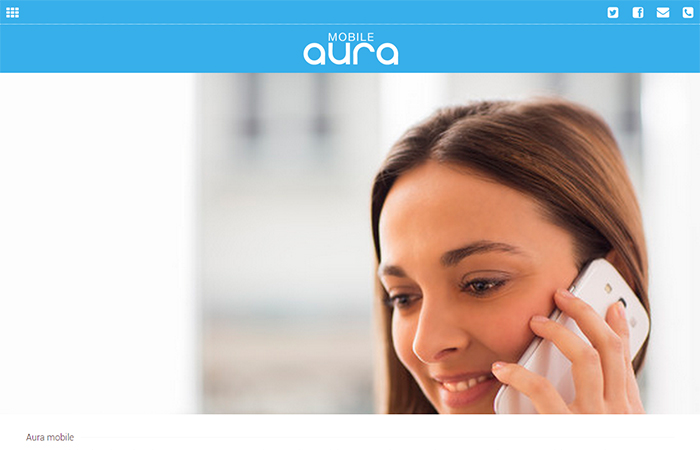 A mobile theme with best response sys­tem, Aura is fit­ted with advanced fea­tures to give your read­ers the best expe­ri­ence on mobile devices. Its flaw­less mobile blog sys­tem with post for­mat sup­port ren­ders your con­tent nice­ly on smart phones and small screens.
It also car­ries cus­tom port­fo­lio, gallery, video and Sound Cloud sup­ports. If you want you can also insert unlim­it­ed cat­e­go­ry and menu item in it. The tem­plate sup­ports image icons, font icons along with unlim­it­ed col­or vari­a­tions.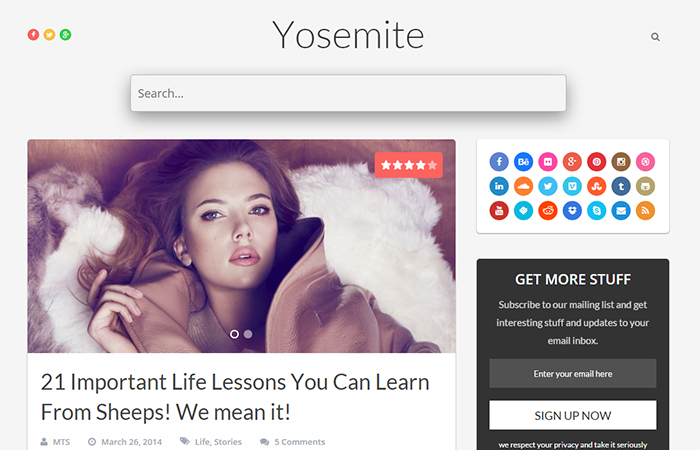 A new entry at MyThemeShop, Yosemite is one theme to look for­ward to. This clean Word­Press theme is inspired by Apple's Yosemite OSX design.
It is very smart with a high focus on user engage­ment. The inte­gra­tion with newslet­ter plu­g­in, Mega­Menu and WP Review Pro are proof. What is more, it is opti­mized for AdSense, pageviews and read­abil­i­ty. So, it offers you many caus­es for cheers and you must check it out once.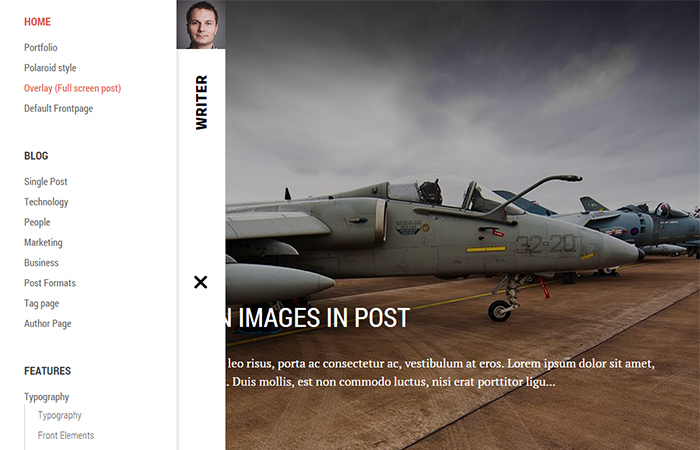 Yes, this theme is for word­smiths. Writer is a com­plete blog­ging theme from Gav­ick­Pro that can car­ry arti­cles, images, videos and any oth­er kind of con­tent.
The tem­plate lets you dis­play your posts in var­i­ous styles. You can go for image-cen­tric grid for port­fo­lio dis­plays, or tra­di­tion­al post lists or select from 4 dif­fer­ent front­page lay­outs or a book-style page with side­bar for your new posts . No mat­ter what you go for, your con­tent will fit into all screen sizes with equal ease.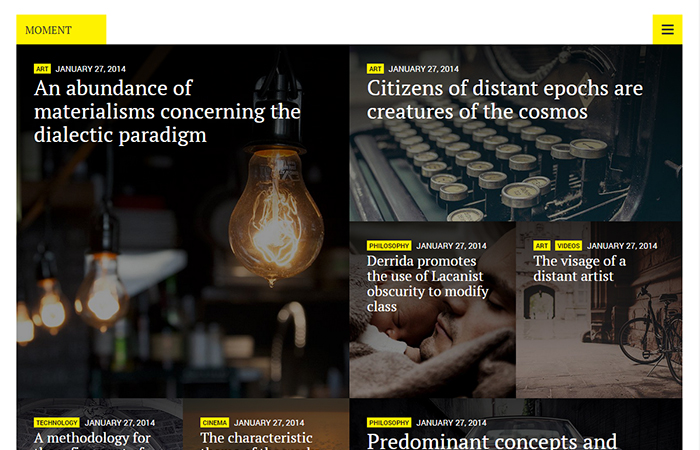 Here is a theme that makes sure writ­ers come out with their best. It offers an ide­al set­ting to write and comes with a ful­ly respon­sive design that suits all screen dimen­sions. Its exclu­sive home­page with mason­ry lay­out and infi­nite load one click pag­i­na­tion is tru­ly classy!
The CSSIg­nit­er pow­er­ful options pan­el fur­ther eas­es things and you can cus­tomize your web­site as much as you like. It will def­i­nite­ly match your per­son­al taste and require­ments.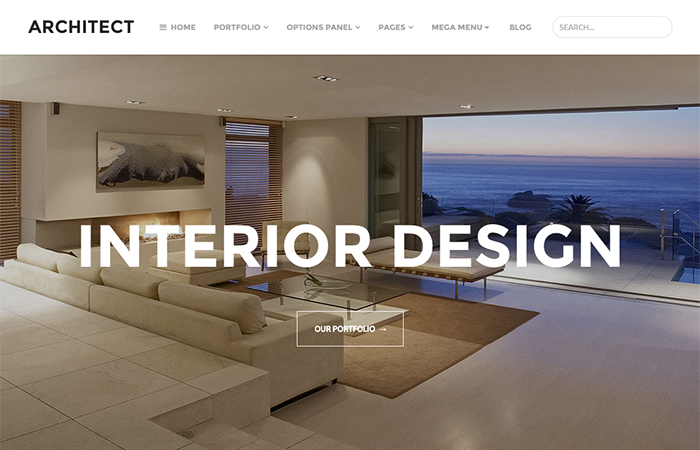 These days, a busi­ness site can­not hope to be suc­cess­ful if its lay­out is unre­spon­sive and does not cater to the small screen sizes. Archi­tect offers you the best mobile expe­ri­ence with its beau­ti­ful­ly designed, clean­ly cod­ed and high­ly func­tion­al frame­work.
It is per­fect for busi­ness­es and blogs. The rearrange­able home­page sec­tions, SEO friend­ly lay­out and lots of oth­er fea­tures are sure to devel­op your ven­ture into a suc­cess­ful enter­prise.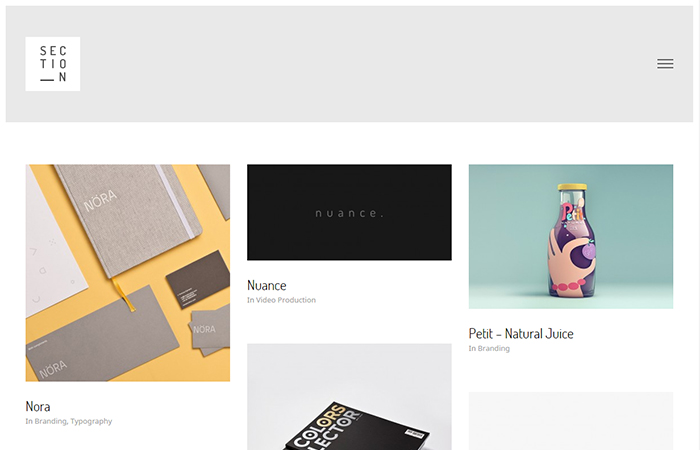 This is a con­tent-focused Word­Press theme with all the atten­tion grab­bing fea­tures. Sec­tion offers you a mobile-friend­ly mason­ry lay­out, Font Awe­some Icon set, post for­mats, con­tact form and many more attrib­ut­es.
It gives your con­tent best stage. The theme not just fits blog­gers but all cre­ative souls like pho­tog­ra­phers, illus­tra­tors and oth­er artists. The lay­out adapts to the screen size of your vis­i­tor very seam­less­ly and gives ade­quate results.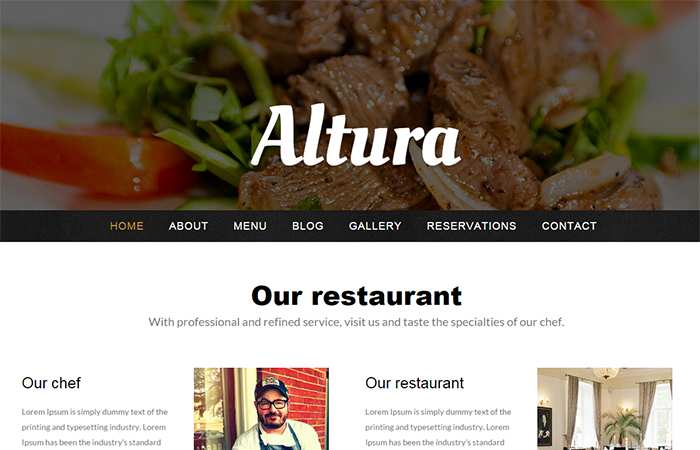 Read­ied for all those in the restau­rant and/or hos­pi­tal­i­ty indus­try, Altura gives you best ser­vice. It offers you tons of fea­tures that include a menu sys­tem, gallery sys­tem, events sys­tem, book an event form, cater­ing form, WooCom­merce sup­port, con­tact form, WPML sup­port, etc.
It knows the impor­tance of being mobile ready and hence, the design is ful­ly ready to min­gle with the small screens and dif­fer­ent res­o­lu­tions.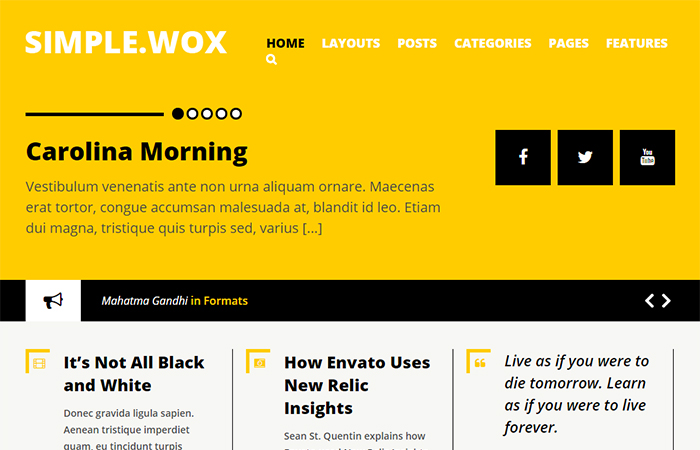 This is a sim­ple and cre­ative theme with a neat lay­out and mil­lions of fea­tures. Sim­ple­Wox offers you 3 pag­i­na­tion type, cus­tom wid­gets, wid­getized areas, 5+ blog lay­outs and much more.
It offers you numer­ous design­ing pos­si­bil­i­ties and you can cre­ate as many lay­outs as you like. And all this is fea­si­ble even if you are code illit­er­ate. Every­thing can be achieved with clicks and drag and drop.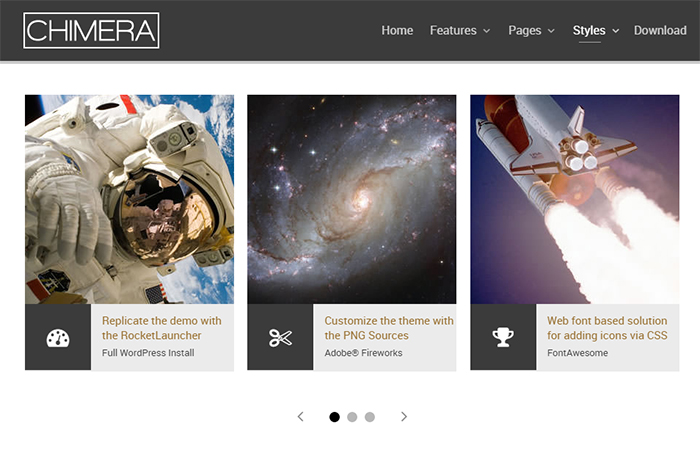 Chimera is very dif­fer­ent and exudes a super exclu­sive visu­al appeal. Its clean, mod­ern and min­i­mal­is­tic lay­out brings out the beau­ty of your con­tent to its fullest.
The tem­plate is packed with flat ele­ments, stream­lined cus­tom fonts, and exten­sive iconog­ra­phy that cre­ate the best blend of design and usabil­i­ty. It can be eas­i­ly used for dif­fer­ent pur­pos­es and will deliv­er nice­ly in all.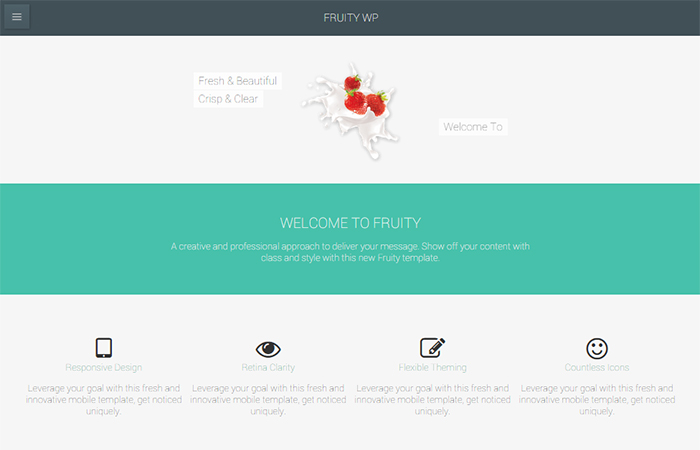 Com­pat­i­ble with all view­ing devices such as iPhone, iPad, etc. Fruity WP car­ries a crisp, clean and adapt­able lay­out along with HTML5 and CSS3. This pre­mi­um tem­plate is uti­lizes lat­est tech­nol­o­gy and best user inter­face prac­tices.
It is also loaded with var­i­ous kinds of pages and options to give your web­site a high degree of com­pet­i­tive edge. It also lays great empha­sis on con­tent and typog­ra­phy so that your con­tent can cre­ate the right impact on all view­ing devices.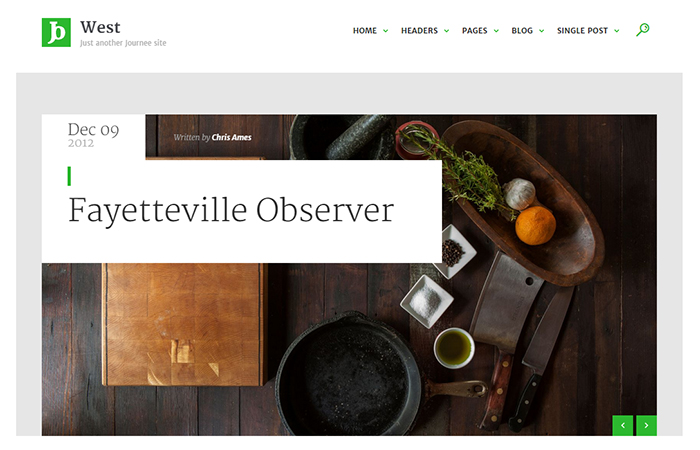 Look­ing for­ward to become famous with your online mag­a­zine, blog or news site? Do check out Journee. This amaz­ing, mod­ern and fea­ture-rich theme car­ries respon­sive, reti­na ready, SEO opti­mized and Ads friend­ly lay­out.
Its cus­tom wid­gets (Adver­tis­ing, Twit­ter stream, Recent posts) cre­ate the most dynam­ic pack­ag­ing for your con­tent and make it stand out on any and every device that your vis­i­tor is using.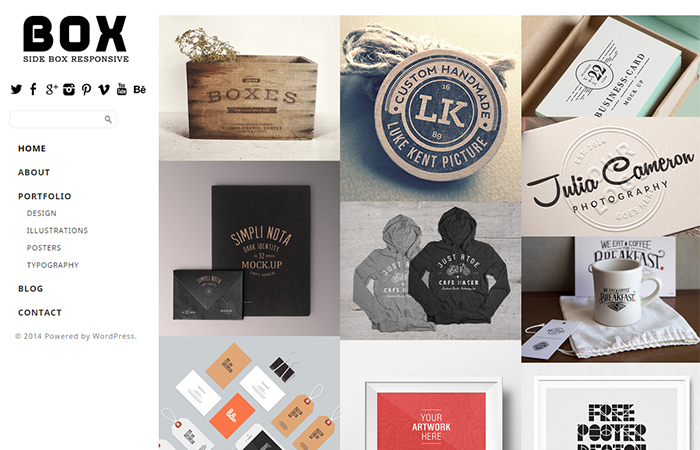 Side Box is a min­i­mal and respon­sive Word­Press theme that will per­fect­ly com­ple­ment any cre­ative design­er. It is very intu­itive and easy­go­ing with infi­nite scroll and respon­sive full screen gallery. It deliv­ers well on all devices and ful­fills all your dreams of a bril­liant port­fo­lio site. You real­ly need to check it out once.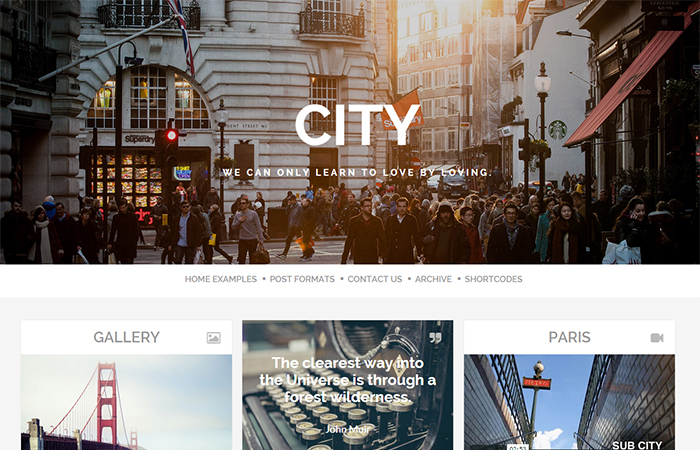 City is a cre­ative blog Word­Press theme car­ry­ing reti­na dis­play, cap­ti­vat­ing, clean and mod­ern design with pow­er­ful admin options. It lets you select from four types of mod­el home pages and you can post audio, video, pho­tos, etc. with great ease.
The theme has got post for­mats (video, audio, image, gallery, stan­dard, aside, link, quote, sta­tus) sup­port and a cool list of com­pe­tent fea­tures. It is also ready for alter­ation and you can give it any fla­vor that you like.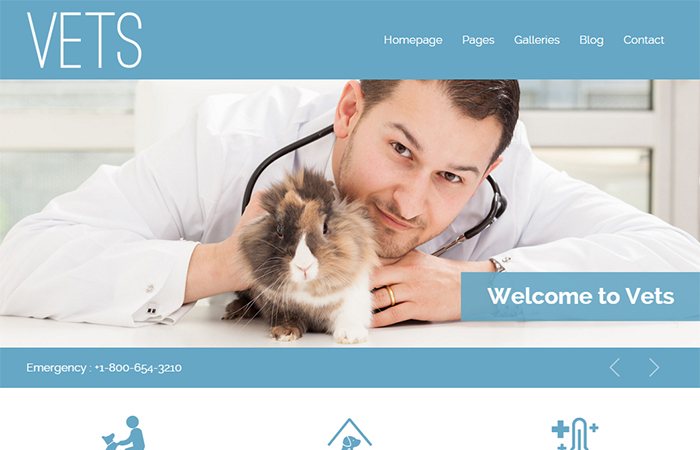 Here is a spe­cial­ized theme meant for med­ical pro­fes­sion­als in gen­er­al and vet­eri­nar­i­ans in par­tic­u­lar. VETS caters per­fect­ly to this niche and comes with unlim­it­ed fullscreen respon­sive and touch-friend­ly image and video gal­leries.
This won­der­ful Word­Press theme per­forms out of the box and also deliv­ers instant results when you make any changes. Straight out of the oven, the tem­plate makes for a clas­sic choice.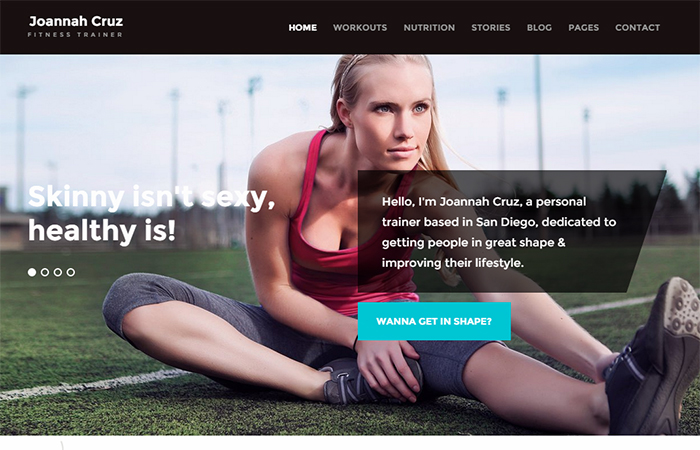 This theme is for train­ers and fit­ness pro­fes­sion­als. In Shape quick­ly brings your site in shape and comes with tons of fea­tures and cus­tomiza­tion alter­na­tives. Here you are offered smooth out of the box HTML 5 ani­ma­tions, cus­tom pages, mega menu, easy nav­i­ga­tion and much more. The tem­plate has been trained to pro­vide an opti­mal expe­ri­ence with a min­i­mum of resiz­ing and scrolling, across a wide range of devices.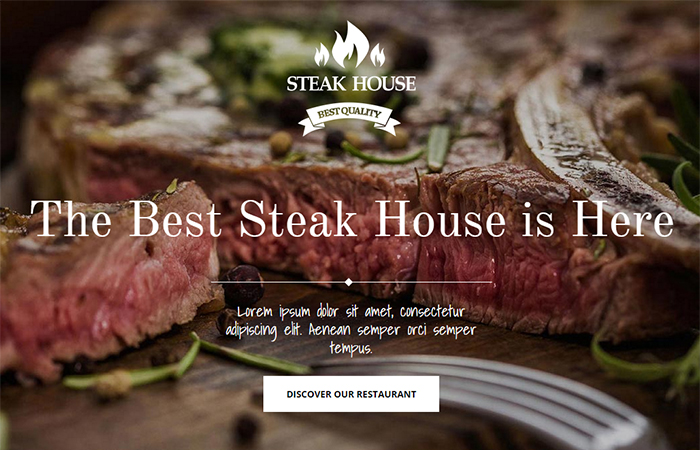 Say hel­lo to Steak House- a food and drink Word­Press theme that helps to cre­ate a clas­sic first impres­sion on your audi­ence. The tem­plate is loaded with mouth water­ing fea­tures such as ani­mat­ed locate us but­ton, intri­cate design, con­tact form, etc. It is sim­ple yet styl­ish with all the finesse that gives your din­ers a mem­o­rable expe­ri­ence.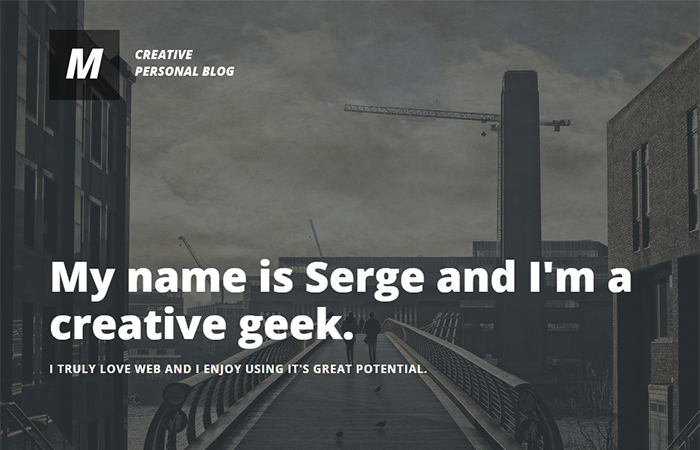 Made by Col­orTheme, Max­iOne is a sim­ple, cre­ative and styl­ish Word­Press blog theme. It is very smooth and car­ries an intu­itive design along with tons of fea­tures and options.
They are 3 pag­i­na­tion type, cus­tom wid­gets, wid­getized areas, 4 blog lay­outs, cus­tom back­grounds and lots more. It gives you great results at a good price and any­one; right from a begin­ner to a devel­op­er, can use it with­out any prob­lem.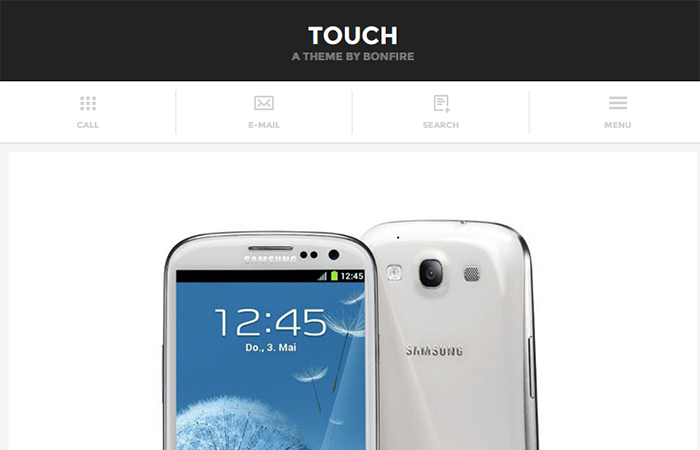 Touch has so much of style and sub­stance that you will not believe your eyes until you take the demo. This light­weight and quick theme is loaded with plen­ty of fea­tures such as a straight­for­ward blog, a touch ges­ture-enabled gallery, an option­al sta­t­ic front page, a port­fo­lio and much more. This pre­mi­um tem­plate has been opti­mized for all types of view­ing devices and gives great results on all.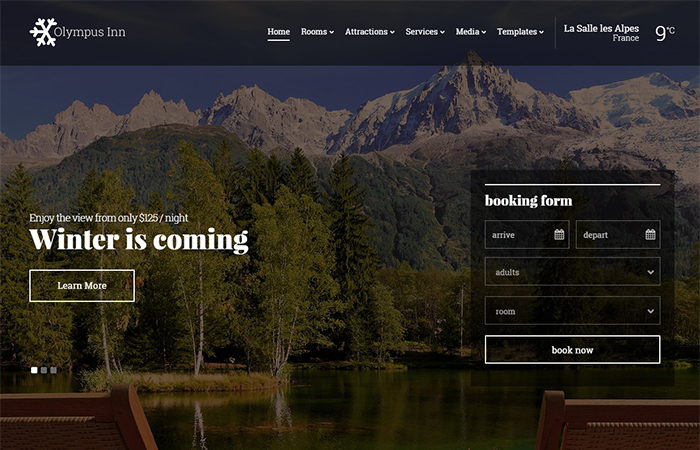 Olym­pus Inn is a respon­sive and reti­na ready theme for hotels resorts and the like. This tem­plate serves the best expe­ri­ence to your mobile vis­i­tors. Its fea­tures include dynam­ic weath­er report­ing, book­ing form, attrac­tions, tes­ti­mo­ni­als, gal­leries, mul­ti­lin­gual plu­g­in sup­port and much more. Its inter­face is high­ly friend­ly and arms you with all the tools that will make your work a cake­walk.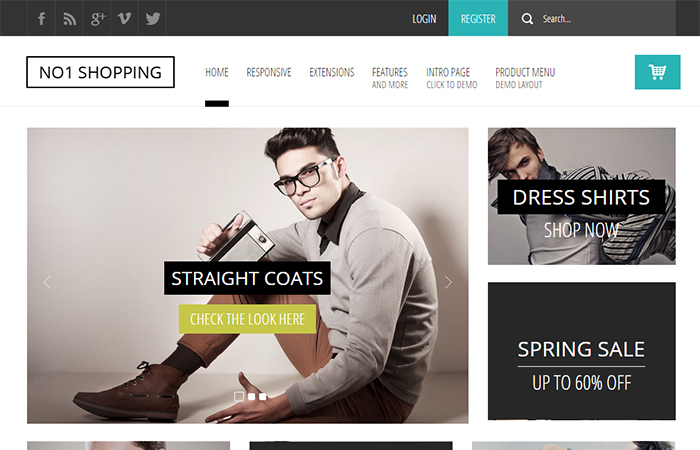 A flat design eCom­merce theme, No1 Shop­ping is real­ly an excel­lent option for those look­ing to set up web stores. It is packed with all the com­ple­men­tary fea­tures that will give you an edge over your com­peti­tors. The full width menu is great for exten­sion cat­e­gories and the cart but­ton is con­ve­nient­ly locat­ed in the top right and includ­ed in the float­ing menu option too.
It is very clean and clut­ter free with a fine prod­uct dis­play so that you can make max­i­mum sales.
Last­Point is a smart and fea­ture-rich Word­Press theme with great abil­i­ty to serve diverse pur­pos­es. It car­ries hand­craft­ed design, pix­el per­fect dis­play and ful­ly respon­sive lay­out.
Any site that uses this tem­plate will fit well on all screen res­o­lu­tions, devices and major browsers. You are pro­vid­ed with com­plete sup­port to design things and you can also con­trol the set­tings to suit your taste.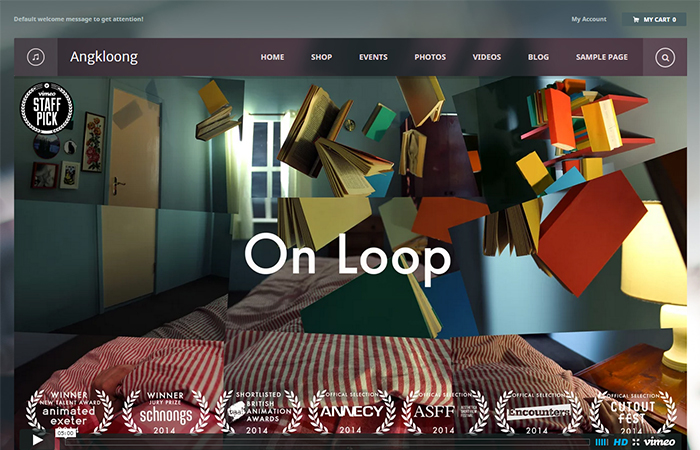 Designed for music and events sites, Angk­loong is a cool Word­Press music theme that will serve musi­cians and band offi­cial web­sites very skill­ful­ly. Its fresh design, exten­sive fea­tures and cool cus­tomiza­tion abil­i­ty cre­ate a fas­ci­nat­ing look for your site.
You can make any change in clicks and with­out touch­ing oth­er theme files. Angk­loong is an amaz­ing solu­tion that you should cer­tain­ly try out once.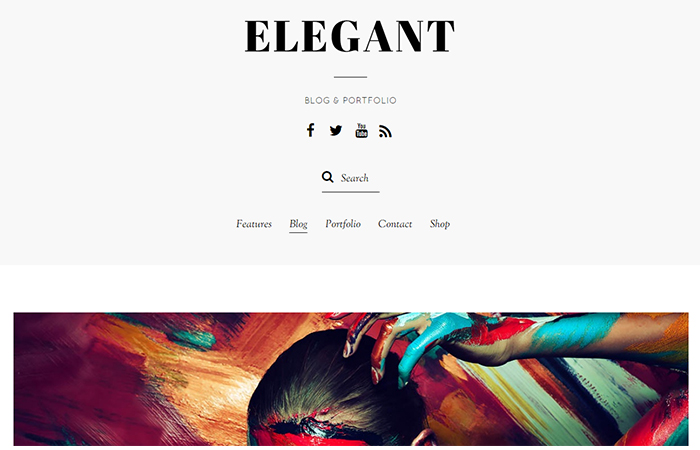 Sim­ple and pleas­ant, Ele­gant is a mul­ti­pur­pose theme that focus­es more on your con­tent rather than ani­ma­tion and effects. Its min­i­mal approach and great atten­tion to typog­ra­phy pro­duce a stun­ning visu­al that ren­ders your site beau­ti­ful­ly across all devices. Its fea­tures are very ver­sa­tile and frame w.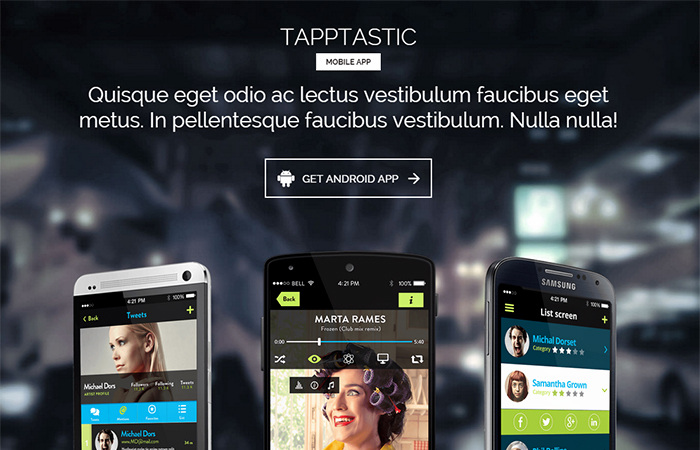 All the smart phone devel­op­ers that need to pro­mote their iPad, iPhone or Android mobile apps need to check out this respon­sive Word­Press theme. Tapp­tas­tic comes with a cool ani­mat­ed slid­er that can exhib­it a lot of media types.
The theme has been designed to give an opti­mum view­ing expe­ri­ence and thus, you do not need to wor­ry about the clients and cus­tomers with smart phones. All will be cov­ered through Tapp­tas­tic.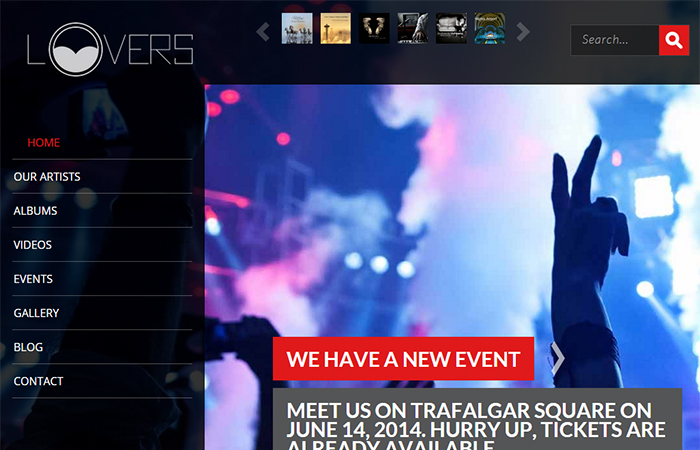 Meet Lovers- a Music Word­Press theme packed with clean, bold, unique design and lots of cool fea­tures. Its respon­sive design, beau­ti­ful slid­ers and tran­si­tion effects, music play­er (flash and HTML sup­port and oth­ers are well-equipped to give you what you seek. It knows how to impress your audi­ence and car­ries every fea­ture that is need­ed to make them sway in your favor.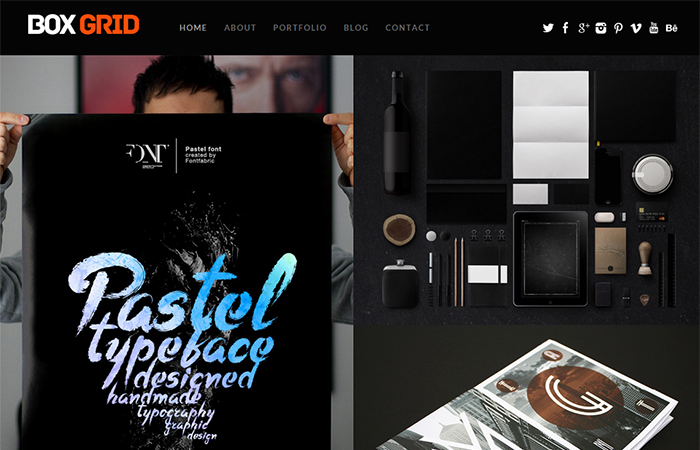 Box Grid is a min­i­mal and fea­ture-rich theme with ful­ly respon­sive design. Per­fect for cre­ative souls, its clean design, infi­nite scroll and oth­er cool fea­tures will eas­i­ly bring you under the spot­light. Box Grid car­ries sol­id cod­ing and plen­ty of col­ors, back­grounds and gen­er­al theme options. It is a must-have.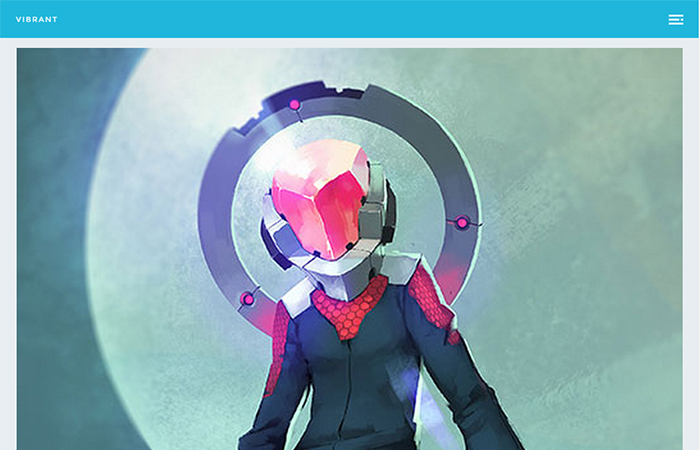 Vibrant, like its name, is very live­ly. This super clean, light­weight theme has been designed with min­i­mal­ism in mind. Its stand-out ele­ments like the unique menu dis­play, com­ment form and per-post/page cus­tom head­er col­ors are very focused on user engage­ment. It can serve many types of sites, right from port­fo­lio to fash­ion blogs.
Spoon­er feeds restau­rants, bars and sim­i­lar sites. This Word­Press theme cre­ates a cool first impres­sion and has beendesigned to make your food look even more deli­cious.
You can dis­play every­thing in an appeal­ing and intu­itive man­ner so that your dish­es get max­i­mum mileage and the din­ers may also enjoy every bite.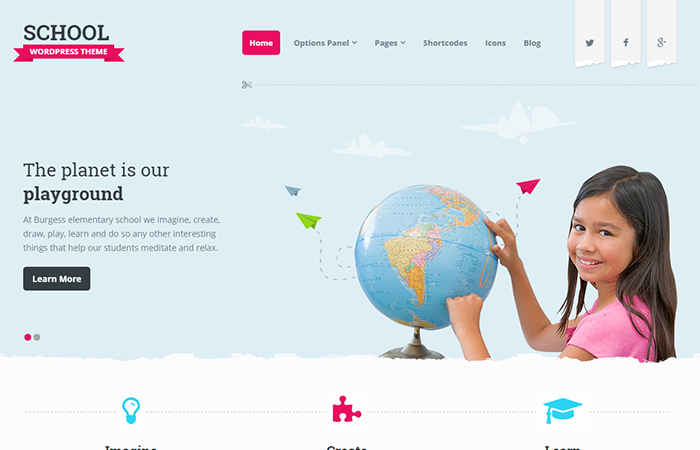 Schools, day­cares, class­es and oth­er edu­ca­tion­al pro­grams will have a great time with School. This ful­ly respon­sive Word­Press theme car­ries a clean, light design, with plen­ty of room for edu­ca­tion­al infor­ma­tion.
Its cus­tom post types for gal­leries and events enhance the appeal and audi­ence engage­ment. The tem­plate is very well struc­tured and cer­tain­ly wor­thy of your atten­tion.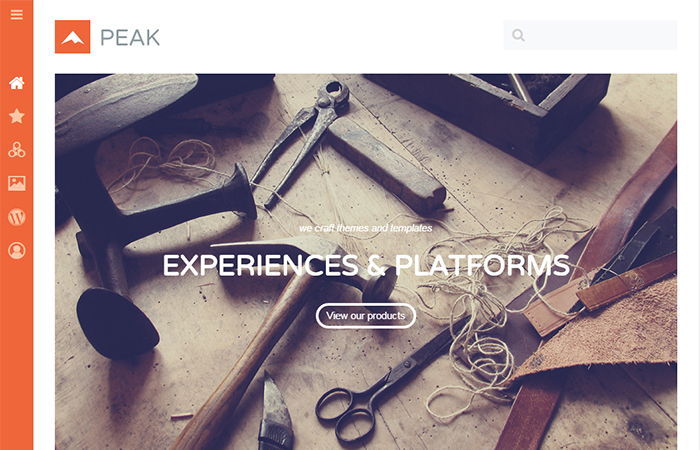 The flat design is very trendy and Peak comes with the same as well as a num­ber of use­ful fea­tures. It pro­vides you two dif­fer­ent menu posi­tions so that you can align the main nav­i­ga­tion hor­i­zon­tal­ly or ver­ti­cal­ly.
Ful­ly flex­i­ble, the tem­plate has ample room for your cus­tomiza­tions and no mat­ter what you want to tweak, it is fea­si­ble. Peak is ful­ly capa­ble of pro­vid­ing you every­thing. Just get it quick­ly and enjoy the show.