Gone are the times when you had to invest a good deal of mon­ey in order to set up a shop. These days, it is so sim­ple that you can be up and ready with your shop in hours. No need to buy or lease any prop­er­ty. The web world is a great place to set up your shop and no less than a bless­ing for small busi­ness­men. Even if you are an inde­pen­dent sell­er or a pro­fes­sion­al, eager to start your own busi­ness, the cyber­space promis­es to play the per­fect host. And aid­ing the jour­ney fur­ther are E Com­merce themes of Word­Press. These themes are fit for restau­rants, bars, book pub­lish­ers, app devel­op­ers, fit­ness train­ers, artists, musi­cians and many more.
The Best eCommerce Themes for WordPress
Here we have brought 30 such themes for you. This list has got CleanApp, a per­fect theme for mobile app devel­op­ers with screen­shots, tes­ti­mo­ni­als fea­ture that will tell the cus­tomers about the dig­i­tal prod­ucts. There is also the cap­ti­vat­ing Store­Pro with ban­ner slid­er stud­ded home­page to dis­play dis­counts, coupons and oth­er high­lights. If you are look­ing for a restau­rant theme then you can invest in Steak House, a deli­cious theme with book­ing sys­tem, events cal­en­dar that will help cus­tomers enjoy your dish­es. In case you are a fit­ness train­er, In Shape makes for a smart choice with mega menu to dis­play your class­es and ser­vices. A decent direc­to­ry theme with pay­ment gate­ways and smart mon­e­ti­za­tion options can be found in SpotFind­er. Scroll down and you will be enlight­ened with many more details.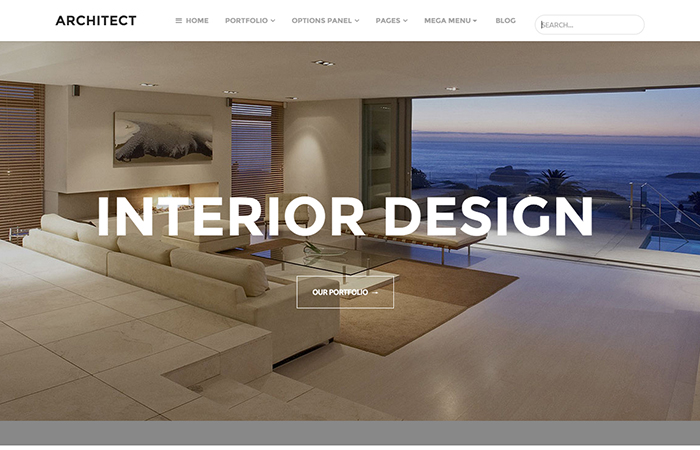 Shaped by MyThemeShop to serve all types of eCom­merce sites, Archi­tect has ele­gant design, clean cod­ing and clas­sic func­tion­al­i­ty. With a great abil­i­ty to load in sec­onds on dif­fer­ent view­ing devices, this tem­plate ful­fills the con­tem­po­rary needs of web store own­ers com­plete­ly. Archi­tect is a great vision­ary tem­plate through which you can eas­i­ly reach your goals.
Frankie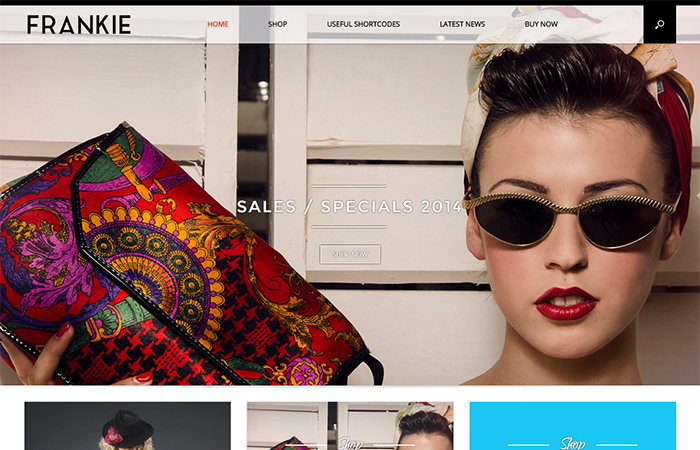 Best for fash­ion and bou­tique stores, Frankie is based on the most pow­er­ful and friend­ly eCom­merce plu­g­in WooCom­merce. Car­ry­ing square slid­er that show­cas­es your slides in style, an order­ly option pan­el, easy-to-use inter­face and extreme­ly cus­tomiz­able frame­work; this MojoThemes won­der can work won­ders for your web shop. Avail­able at a fair price, it is real­ly worth it.
MediaCenter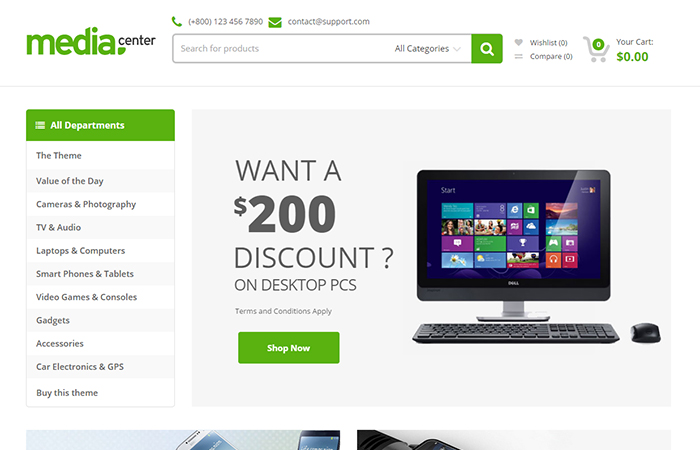 A spe­cial eCom­merce theme, Medi­a­Cen­ter has been man­u­fac­tured for elec­tron­ics stores. Now this is tru­ly exclu­sive. You have got to check out this full-fledged eCom­merce tem­plate with brand cus­tom tax­on­o­my, wish­list func­tion­al­i­ty, prod­uct com­par­i­son, sim­ple fil­ter­ing and many more fea­tures.
CleanApp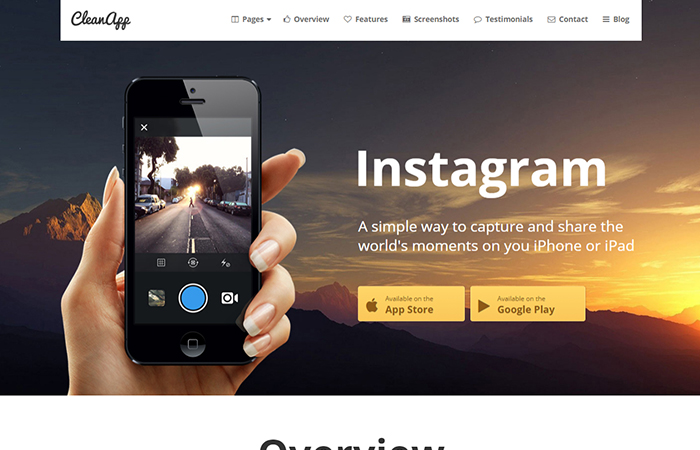 CleanApp was built to sell and pro­mote dig­i­tal prod­ucts and mobile apps. A boon for app devel­op­ers, it makes a smart case for buy­ing. Designed by MyThemeShop, the tem­plate is speedy, trans­lat­able, SEO opti­mized, clean­ly cod­ed and much more. It will give you full sup­port to dis­play your apps and their var­i­ous fea­tures through screen­shots, tes­ti­mo­ni­als, images and words.
StorePro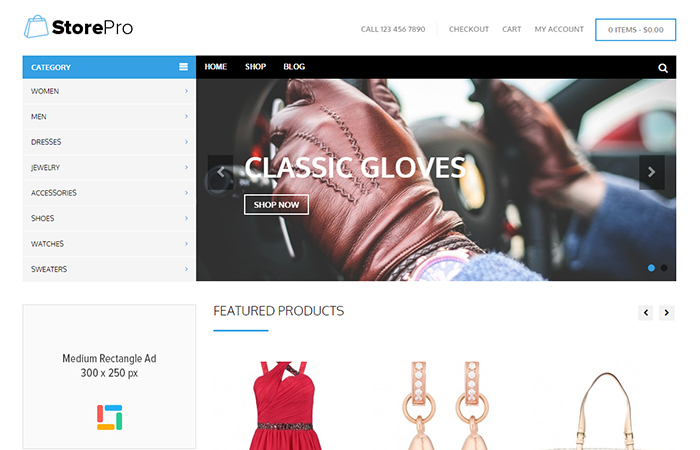 A good web store is one that can catch and keep atten­tion of vis­i­tors and turn them into cus­tomers. Store­Pro real­izes this fact very earnest­ly and hence, comes packed with a ban­ner slid­er on the home page to show the lat­est pro­mo or deals ban­ner. It makes use of WooCom­merce and car­ries all the nec­es­sary fea­tures that will earn you trust of your cus­tomers. You can make a good deal of mon­ey on the side­lines as well for the tem­plate is ads opti­mized.
Organic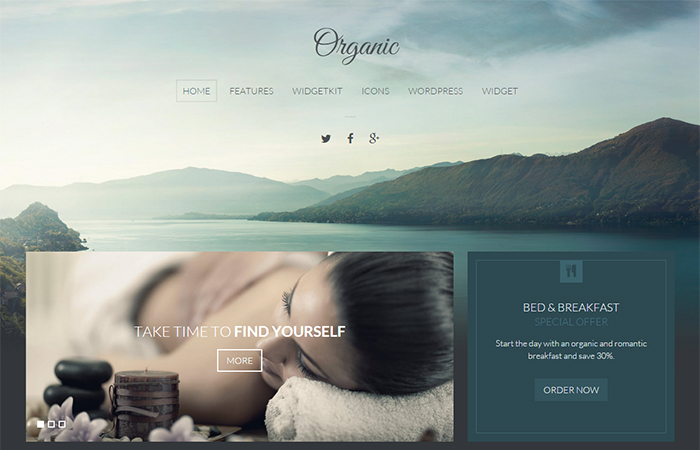 Organ­ic is a mod­ern theme with dif­fer­ent lay­out and style vari­a­tions. Fresh and sooth­ing like a whiff of fresh air, it pro­vides you back­ground par­al­lax effect, beau­ti­ful over­lays for your images and fresh typog­ra­phy. Unit­ed with WooCom­merce, the tem­plate sets up your web store in min­utes and then you can eas­i­ly car­ry on.
Luxury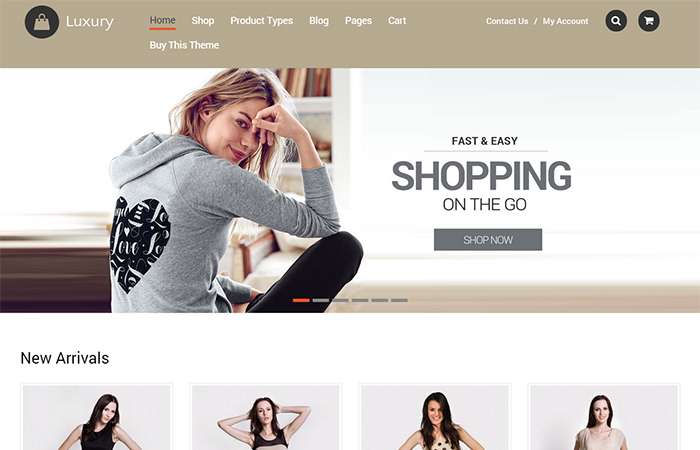 Lux­u­ry pam­pers you com­plete­ly and gives you all the nec­es­sary tools that are need­ed to con­struct a ful­ly func­tion­al web store. Even if you are look­ing to ren­o­vate your site, you will find this theme very use­ful. Offer­ing cus­tom pages for prod­ucts cat­e­go­ry, shop­ping, search­es, etc. Lux­u­ry cov­ers every nec­es­sary detail and ensures best ser­vice at an afford­able price.
Steak House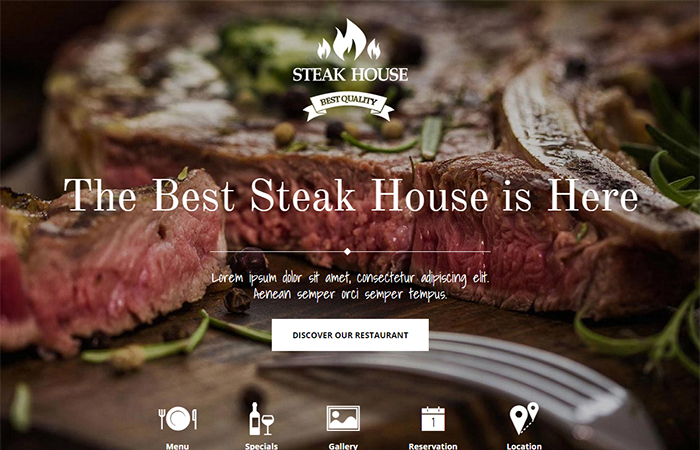 If you deal with the busi­ness of food/drink and want to add to the sales through an online plat­form then Steak House is a fine choice. It is very impres­sive and knows the tricks to lure the cus­tomers. Loaded with gallery, about us, menu, count­down land­ing page and many more fab­u­lous fea­tures, this tem­plate is real­ly wor­thy of invest­ment.
Magellan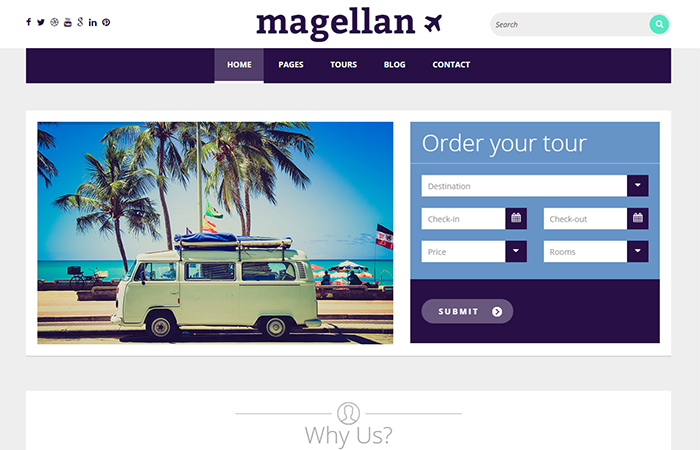 Tai­lored to treat trav­el indus­try, Mag­el­lan is a very mod­ern and fea­ture-rich theme. Its bold design makes a cred­i­ble state­ment and the cus­tom attrib­ut­es like work­ing order form, cus­tom posts for tour pages, built-in short­codes, social media sup­port, etc. infuse amaz­ing func­tion­al­i­ty in your web plat­form.
Henry
Hen­ry gives you a smooth, styl­ish and strong shop that can han­dle any num­ber of vis­i­tors with ease. Its enchant­i­ng design, easy-to-use options pan­el, WooCom­merce inte­gra­tion and oth­er fea­tures give you a ready­made plat­form where you can host your sales. Here, you will find the best eCom­merce fea­tures that are also ready to get tweaked.
Papirus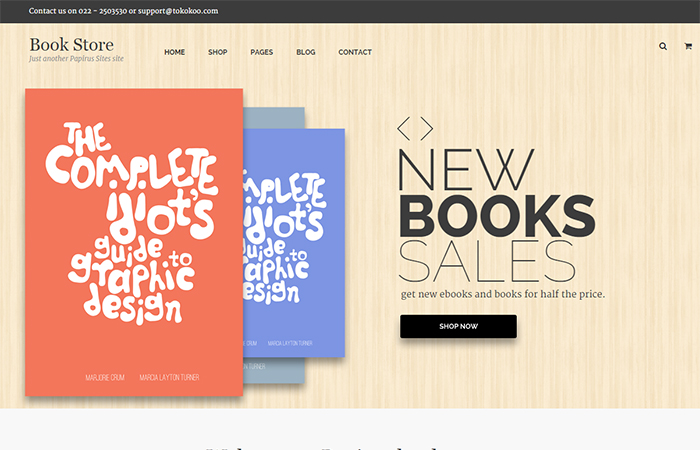 Papirus is pri­mar­i­ly a theme for ebook sell­ers and pub­lish­ers but it can also suit com­pa­ny or port­fo­lio web­sites. A com­plete pro­fes­sion­al, it per­forms like a pro, bring­ing you into the lime­light in record time. Its sleek design, cus­tom logo, skin cus­tomiz­er, super cus­tom wid­gets, post for­mats, etc. are suf­fi­cient to keep your shop run­ning.
Traction
Trac­tion has been tai­lored for an exclu­sive ter­ri­to­ry. It is for car enthu­si­asts or garage web­sites. Allur­ing in appear­ance, the tem­plate serves you with cus­tom back­ground image, high­light col­or, dynam­ic mod­ule title col­ors and fonts. Hold­ing a long list of func­tion­al fea­tures, it can set up an eas­i­ly nav­i­ga­ble and engag­ing online store.
Katana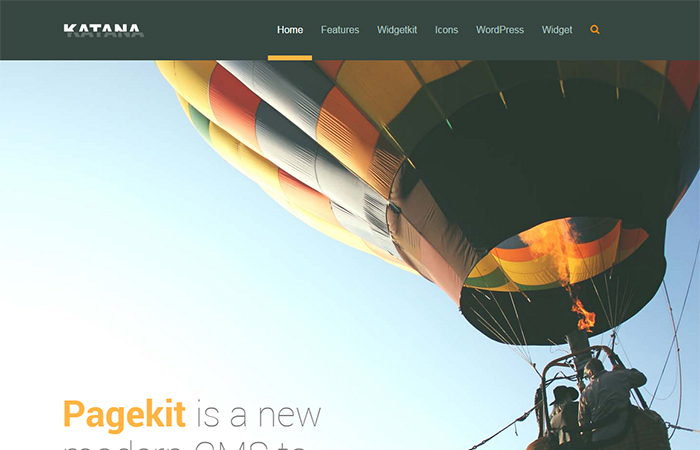 Katana keeps the charm of grid design alive with the tiled lay­out. It is very con­tent-cen­tric with fine dis­play ele­ments like over­lay effects, back­ground images, chart and slideshow. It is a fine theme for­mu­la for all those look­ing to give a fresh look to their web shop.
FoxEstate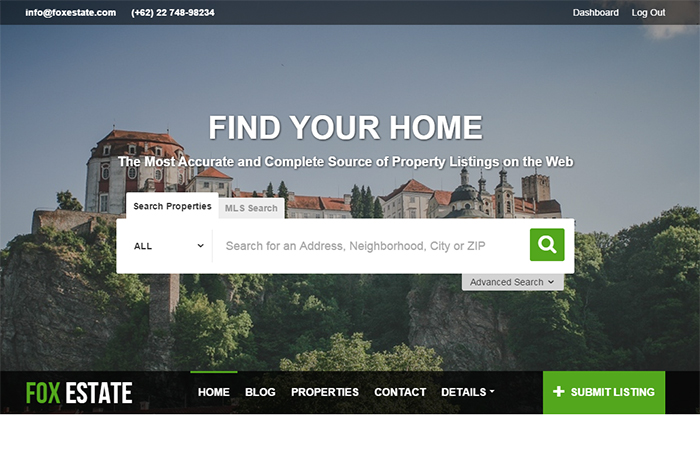 Specif­i­cal­ly built for real estate busi­ness, Fox­Es­tate is a fea­ture-rich and flex­i­ble theme with advanced search options, respon­sive lay­out, cross brows­er com­pat­i­bil­i­ty and lots of oth­er mod­ern fea­tures. It can treat real estate bro­kers, agen­cies and all those deal­ing with the busi­ness of prop­er­ties. The tem­plate pos­sess­es a deep under­stand­ing of this unique sec­tor and thus, offers great com­pe­tence.
Healther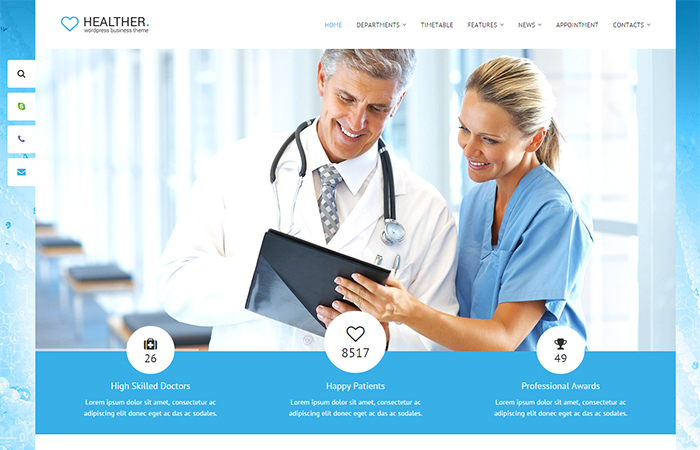 Med­i­cine and health is a big busi­ness with great scope to pros­per in the cyber­space. If you belong to this field and are look­ing to cre­ate a rich and robust online pres­ence then Healther is an ide­al option. Its fea­tures name­ly blue, white lay­out, Rev­o­lu­tion Slid­er, WPML plu­g­in, cus­tom wid­gets, etc. are com­plete­ly fit to ful­fill your needs.
Downtown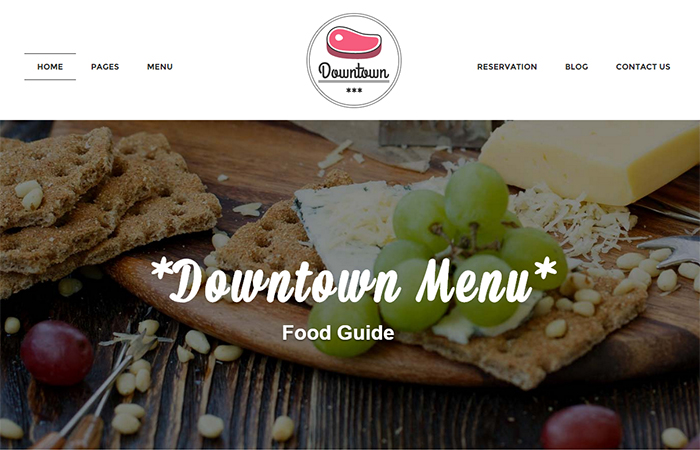 Down­town is a con­tem­po­rary and catchy theme designed to serve restau­rants. It lets your cus­tomer book tables, check out the del­i­ca­cies on offer, trace the loca­tion of your food joint and do many oth­er things. It pos­sess­es par­al­lax design, fil­ter­able menu, Google maps, Rev­o­lu­tion Slid­er, social media wid­gets and many more com­pat­i­ble char­ac­ter­is­tics.
SW-Store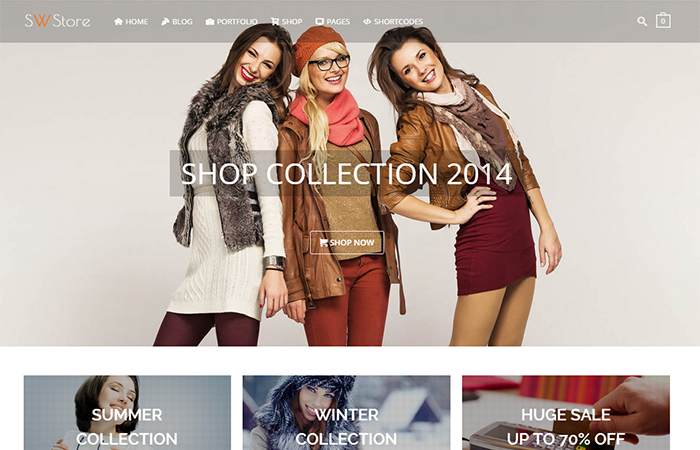 SW-Store is a new entry at MojoThemes with com­plete abil­i­ty to serve dif­fer­ent types of web stores. It lets you exhib­it your mer­chan­dize in the fullscreen mode and car­ries all the req­ui­site fea­tures that will make your shop the star attrac­tion. You only need to install it which can be done with clicks and then you are free to focus on your busi­ness.
Portfolio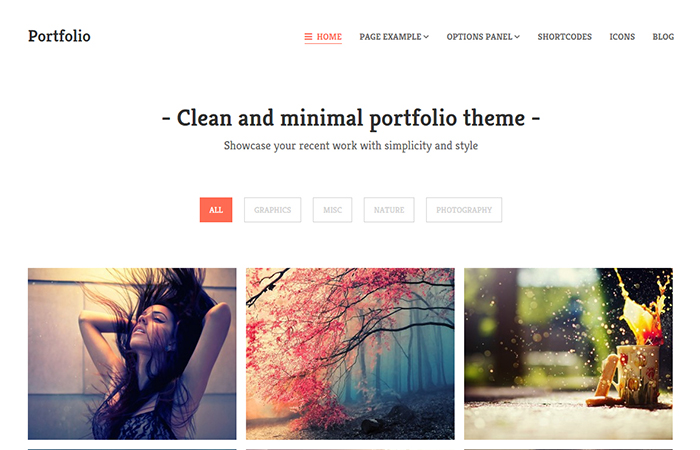 Look­ing to sell your ser­vices and work on the web plat­form? MyThemeShop brings for you Port­fo­lio- a clean and min­i­mal port­fo­lio theme with a ful­ly respon­sive lay­out, a user-friend­ly inter­face, a large stock of cus­tom wid­gets and every nec­es­sary fea­ture need­ed to show­case your tal­ent and skills.
SpotFinder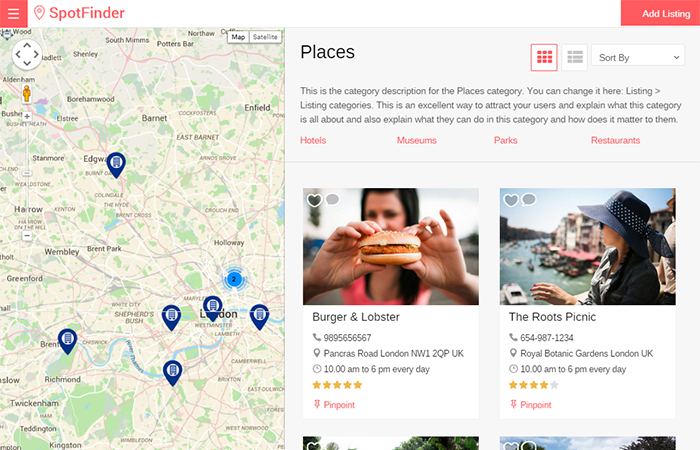 Online direc­to­ries are a great mode of mak­ing busi­ness through the online medi­um. SpotFind­er is a very effec­tive direc­to­ry theme with cus­tom pages and fea­tures that will not only cater to your demands but also cut ice with the sub­mit­ters and audi­ence. Made with results-ori­ent­ed mon­e­ti­za­tion options, SpotFind­er is a sure-shot tick­et to rak­ing in dol­lars.
Adrenalin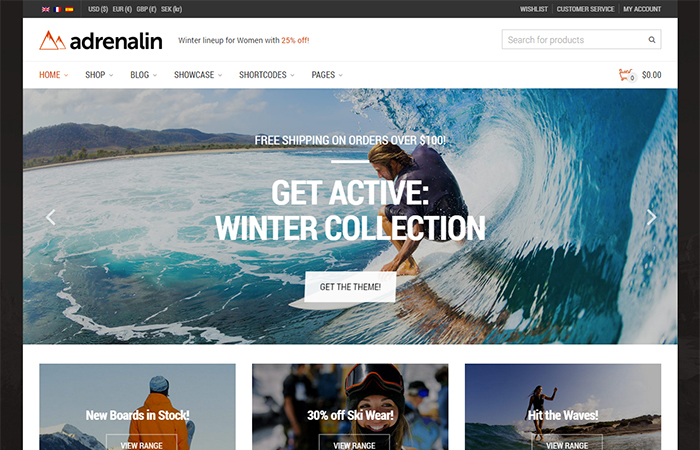 Adren­a­lin is a lat­est mul­ti­pur­pose WooCom­merce enabled theme that puts strong empha­sis on smart phone wield­ing shop­pers. Pos­sess­ing ful­ly respon­sive lay­out, unlim­it­ed col­ors, typog­ra­phy options and oth­er char­ac­ter­is­tics, this tem­plate will real­ly push your adren­a­lin lev­el to a new high.
In Shape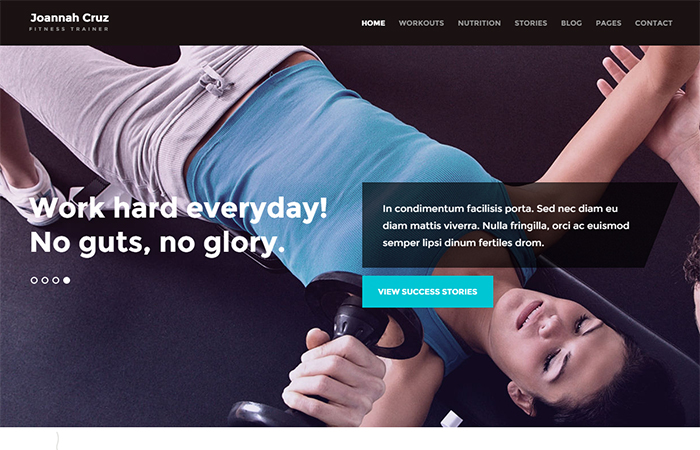 Gym and fit­ness train­ers look­ing to sell their ser­vices have a great option in the form of In Shape. This respon­sive theme is packed with loads of fea­tures spe­cial­ly cre­at­ed for a per­son­al train­er web­site. You can dis­play every nec­es­sary infor­ma­tion and teach your fol­low­ers with online class­es.
Resto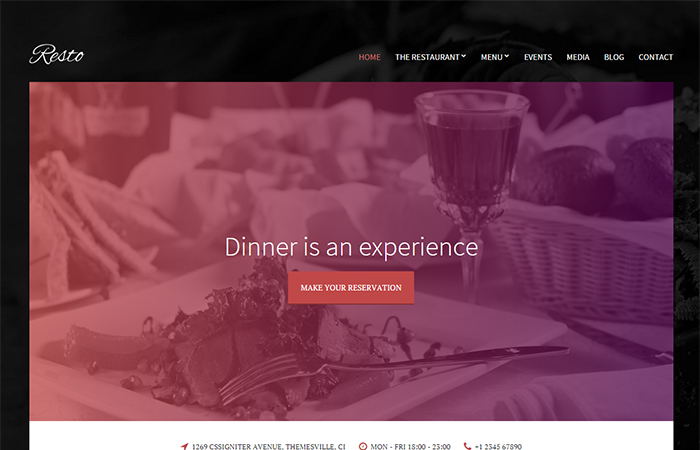 Devel­oped for restau­rants and bars, Resto is super smart and sol­id. Loaded with an aura that com­mands call to action; this tem­plate exhibits your menu, tes­ti­mo­ni­al, events, etc. in a lucid and love­ly man­ner. It is func­tion­al­ly bril­liant as well and open to alter­ation.
Modena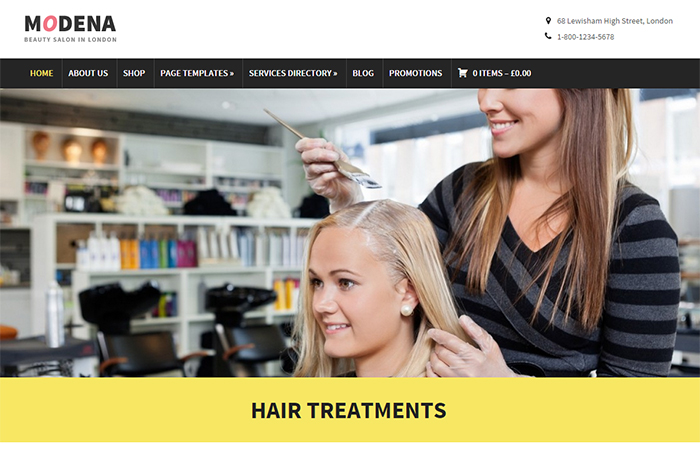 Mod­e­na is a new theme with respon­sive lay­out and flex­i­ble design. It caters to small busi­ness­es such as fit­ness clubs, beau­ty salons, etc. Friend­ly with WooCom­merce and car­ry­ing mod­ern fea­tures, Mod­e­na was made to deliv­er results from day one. It will fit all kinds of eCom­merce projects and you will have a good time with it.
Peak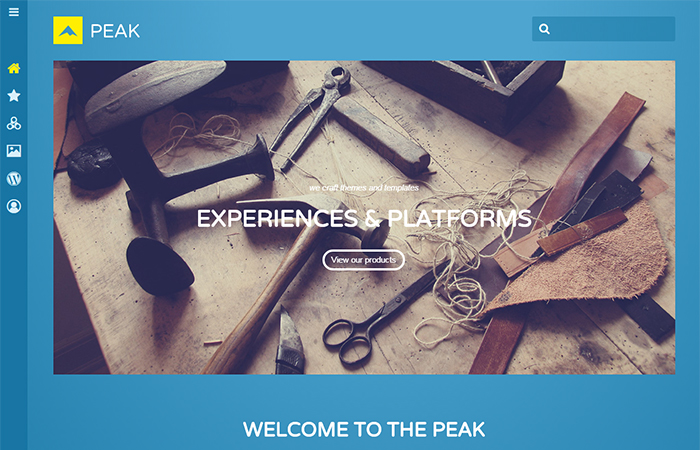 Peak is pow­ered by flat design, a sought-after trend in the present times. The tem­plate is very fresh and ful­ly flex­i­ble with min­i­mal­is­tic design, hov­er effects on but­ton, ver­ti­cal navbar etc. It brings you best ser­vice and does not ask for much of a price either in return.
ENZO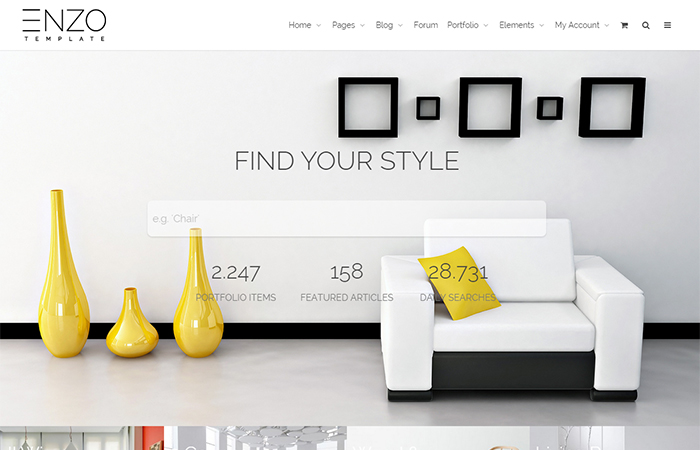 MojoThemes recent­ly released ENZO, a pow­er­ful eCom­merce theme that takes record less time to bring you results. Pos­sess­ing clean code, cool design and sim­ple inter­face; it is best for those look­ing for a suave theme with up-to-date fea­tures.
Glamo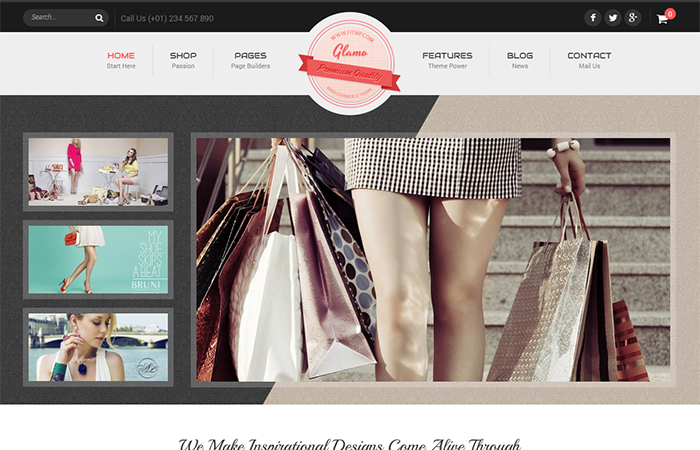 Glamo is a well-craft­ed theme with such a smooth and sim­ple inter­face that any­one can use it. It is based on WooCom­merce and fits into all screen sizes, whether desk­top or smart phone. You can present your prod­ucts in their best avatar and rest assured cus­tomers will stream in.
Fortuna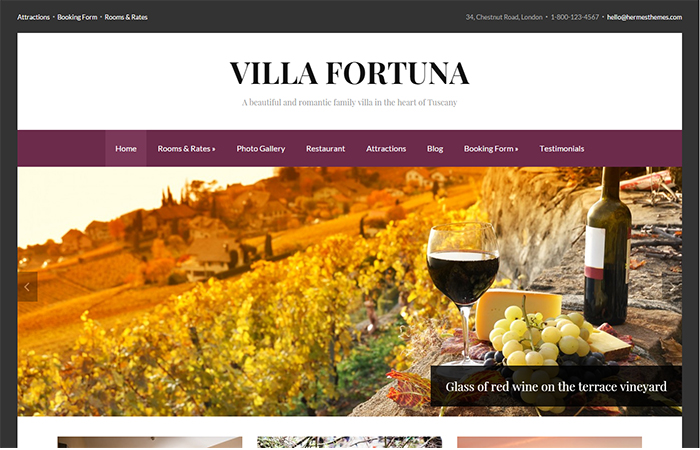 The hos­pi­tal­i­ty indus­try is very com­pet­i­tive in nature and thus, your theme has got to pos­sess cut­ting edge tech­nol­o­gy. If you are also tired of search­ing then For­tu­na will sat­is­fy you ful­ly. It is very dynam­ic and comes with cool fea­tures that are not avail­able in oth­er hotel themes.
Music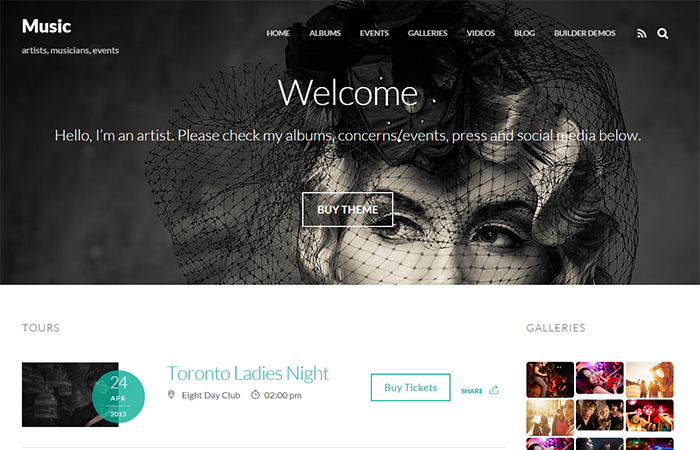 Music is an art with great fan fol­low­ing and if you want to showcase/sell your work then Music will make your life eas­i­er. This theme lets you attach an album playlist, music play­er, full-width video back­grounds and much more on your site. Its tune will def­i­nite­ly impress you as well as your lis­ten­ers.
Hotelia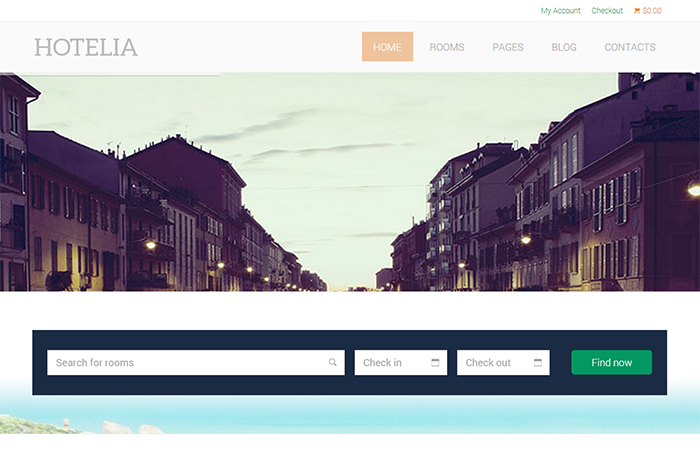 Hotelia is super­hit with hotels, motels and oth­ers deal­ing with the busi­ness of hos­pi­tal­i­ty. This pre­mi­um Word­Press theme with clean, ele­gant, respon­sive design and super awe­some fea­tures will help you carve your niche quite eas­i­ly. You can show­case your ser­vices to their high­est poten­tial and man­age to strike a chord with the cus­tomers.
eMaxStore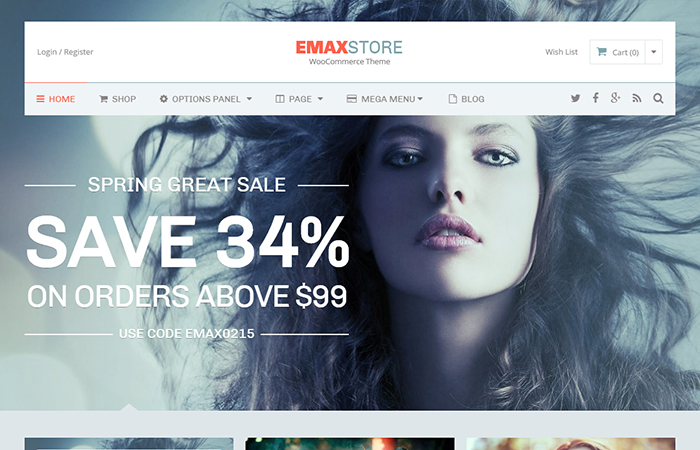 A web store ought to be beau­ti­ful as well as swift. eMax­S­tore brings com­pat­i­ble fea­tures for you and helps you cre­ate such a store with­out tak­ing much of your time and effort. You can gen­er­ate sales eas­i­ly and earn lots of rev­enue along with cred­i­bil­i­ty.