Since port­fo­lios are among the most pop­u­lar usage of Word­Press, we have decid­ed to cre­ate this amaz­ing col­lec­tion of the finest port­fo­lio themes for busi­ness and per­son­al web­sites. These themes are built to show­case your works and will give your port­fo­lio that extra look to amaze your vis­i­tors.
The Best WordPress Portfolio Themes
When look­ing for the right port­fo­lio Word­Press theme you should make sure you stay up to date with tem­plate abil­i­ties, such as; grid sys­tems, respon­sive designs, reti­na dis­play, cross brows­er com­pat­i­bil­i­ty and so on. Some of them have built-in WooCom­merce sup­port so that you can sell your work, right from your own web­site.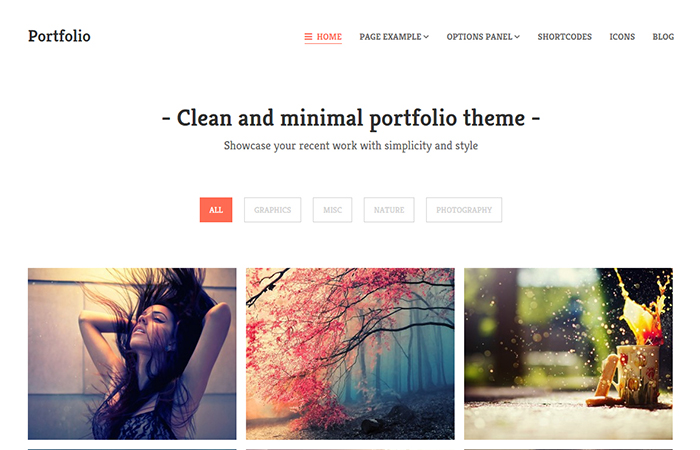 Min­i­mal design makes the most impact when it comes to an online port­fo­lio. Port­fo­lio is a clean and min­i­mal theme with cus­tom fea­tures to help you dis­play your work in style. Its ful­ly respon­sive lay­out, user-friend­ly inter­face and a rich library of cus­tom wid­gets make you the rock star pro­fes­sion­al who every­one would like to have a look at. To help the audi­ence search every­thing eas­i­ly, advanced port­fo­lio fil­ters are there that give quick results in less time and effort.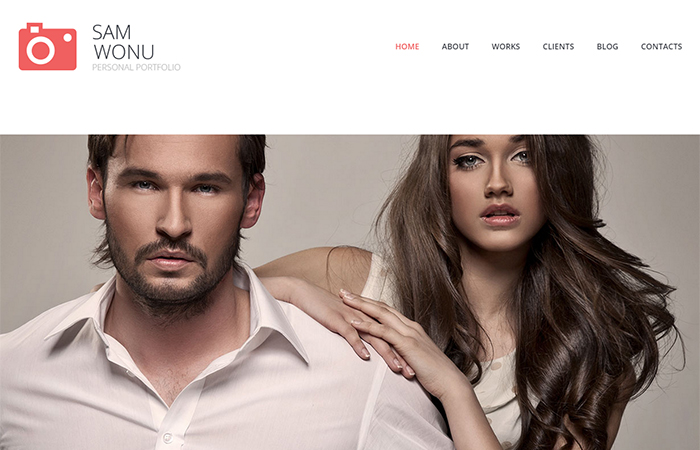 Pho­tog­ra­ph­er Port­fo­lio best suits pho­tog­ra­phers and cre­ative pro­fes­sion­als. This per­fect port­fo­lio solu­tion for cre­ative pro­fes­sion­als comes with tai­lor-made fea­tures and easy inter­face. You get great ani­ma­tions, seam­less page switch­ing and many such easy­go­ing char­ac­ter­is­tics that are not easy to find in oth­er themes. What's more, this pre­mi­um tem­plate makes use of lat­est web tech­nol­o­gy and is com­plete­ly open to cus­tomiza­tion. You can edit/extend the functionality/features in min­utes.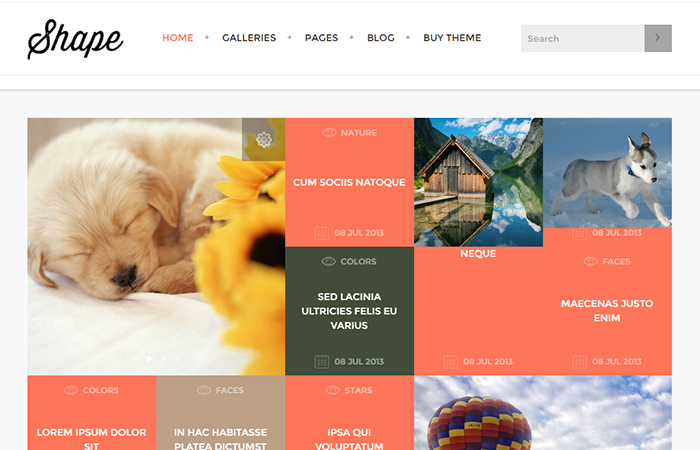 Ful­ly focused on keep­ing the atten­tion of vis­i­tors on your pho­tos, Shape is a per­fect Pho­tog­ra­phy Port­fo­lio Word­Press theme. This clean, min­i­mal­ist and fea­ture-packed tem­plate car­ries smooth tran­si­tion effects, a beau­ti­ful show­case and many more attrib­ut­es. It is very intu­itive and loads like a breeze on all view­ing devices. It uses very few pan­els and gives your images best pre­sen­ta­tion while mak­ing sure that audi­ence can locate and inter­act with you quite eas­i­ly.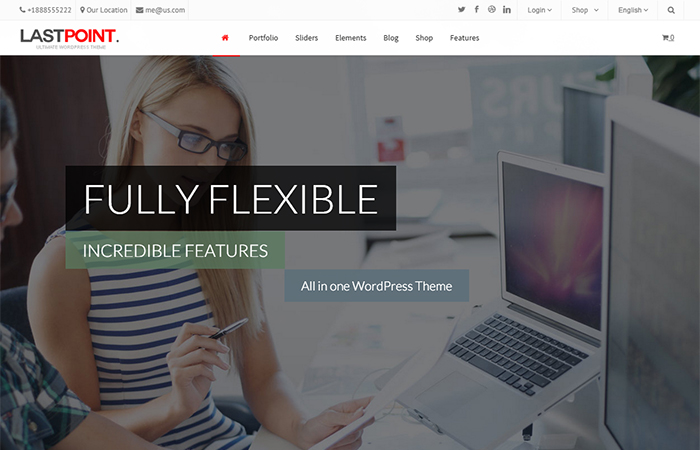 Last­Point is a mul­ti­pur­pose Word­Press theme with amaz­ing fea­tures. It is an all-in-one solu­tion for your port­fo­lio needs. The tem­plate car­ries hand­craft­ed, pix­el per­fect design, reti­na dis­play, cross brows­er com­pat­i­bil­i­ty, Visu­al Com­pos­er and many more mod­ern fea­tures. It is also fast and fits in with your per­son­al require­ments as you can tweak the fea­tures with­out any prob­lem.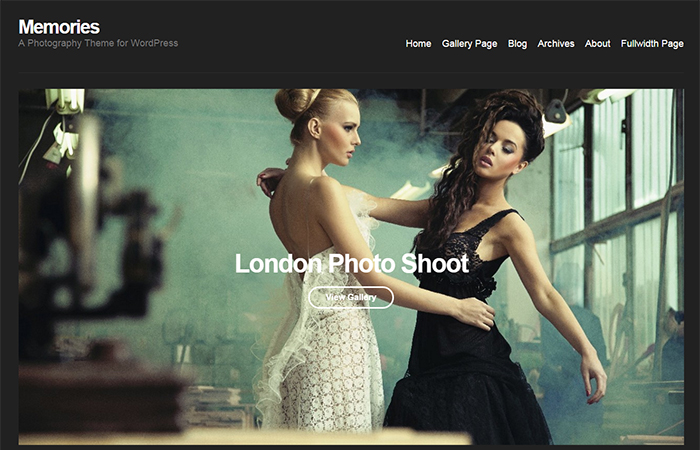 Mem­o­ries has been made to make your work stay mem­o­rable in the minds of your tar­get audi­ence. This strong port­fo­lio theme with a min­i­mal­is­tic lay­out, respon­sive design and cus­tom fea­tures stands out. Mem­o­ries is acces­si­ble from a wide range of devices and lets you change col­ors, fonts, etc. with clicks. The tem­plate results in great response from the clients and you are def­i­nite­ly going to ink cool deals with them.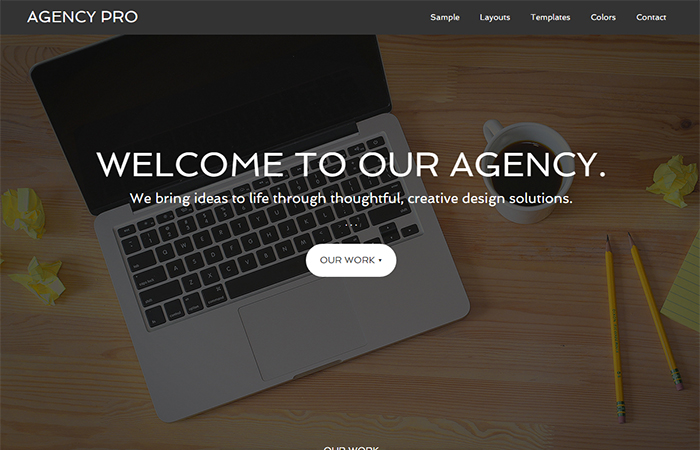 A fab­u­lous port­fo­lio theme for cre­ative agen­cies, Agency Pro exudes con­fi­dence, smart look, pro­fes­sion­al­ism and pleas­ant charm. This theme blends min­i­mal mod­ern design with the right amount of use­ful fea­tures to help you cre­ate an out­stand­ing port­fo­lio in no time. It is a great way to keep in touch with your clients and con­nec­tions. You will gain good deals through this plat­form and can eas­i­ly beat the com­pe­ti­tion.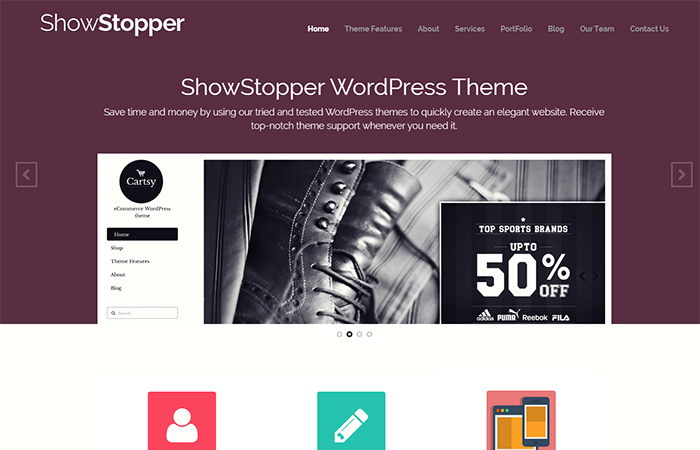 Show­Stop­per is an amaz­ing mul­ti­pur­pose Word­Press theme with an awe­some port­fo­lio sec­tion. True to its name, it car­ries the capa­bil­i­ty to cre­ate a last­ing impres­sion and make heads turn in the very first glance itself. The tem­plate comes with a one-page man­age­ment fea­ture, 6 con­tent home­page areas, WooCom­merce plu­g­in, unlim­it­ed col­or options and many more char­ac­ter­is­tics. With Show­Stop­per, mak­ing your work the talk of the town is quite easy and hence, this tem­plate is tru­ly a must-have.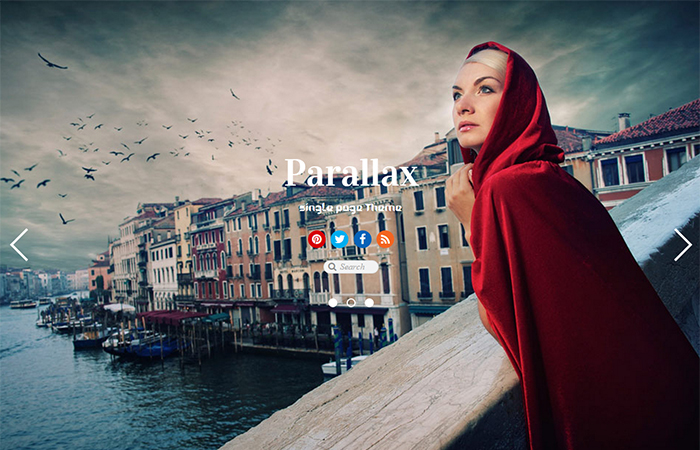 Par­al­lax is a won­der­ful mod­ern-day theme with com­bi­na­tion of two cool trends — par­al­lax scrolling and sin­gle-page design. The tem­plate is ide­al for show­cas­ing your work and ser­vices respon­sive­ly on a sin­gle page. It is very focused in approach and lets your view­ers enjoy your beau­ti­ful con­tent in par­al­lax scrolling sec­tions. If you are a fan of par­al­lax and want to include it on your port­fo­lio then this is the way to go.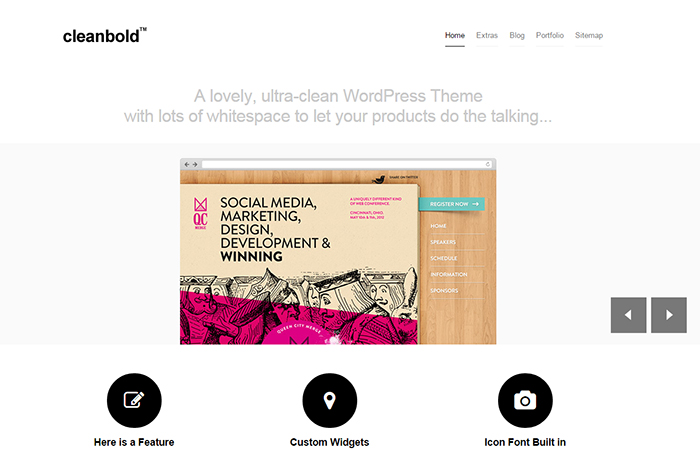 Clean­Bold is an ide­al solu­tion for all types of port­fo­lios, be it relat­ed to busi­ness or to per­son­al pur­pose. It is ultra-clean and sim­ple with fab­u­lous cus­tom fea­tures that will bring you desir­able results. It makes use of ample white­space and sim­ple but bold typog­ra­phy that catch quick atten­tion and bring it to your work. With Clean­Bold, you can show off your designs, prod­ucts, art or pho­tog­ra­phy in style and that too in the way you like. Yes, the tem­plate is ful­ly open to get­ting cus­tomized.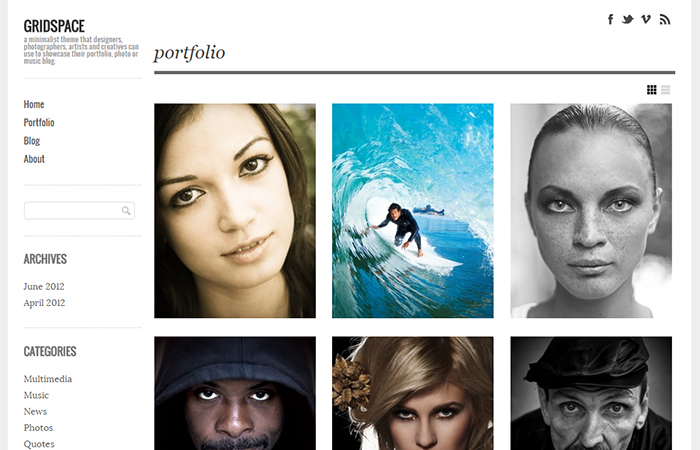 Grid­space is a mod­ern port­fo­lio theme with respon­sive design that goes great with all kinds of work. It is per­fect for show­cas­ing ver­ti­cal, hor­i­zon­tal or square images. The tem­plate sup­ports 7 post for­mats, mul­ti­ple page tem­plates, a port­fo­lio cus­tom post type, slideshows and many more cool fea­tures. It has got it in itself to por­tray a cred­i­ble sto­ry that clients and cus­tomers would be inter­est­ed in hear­ing.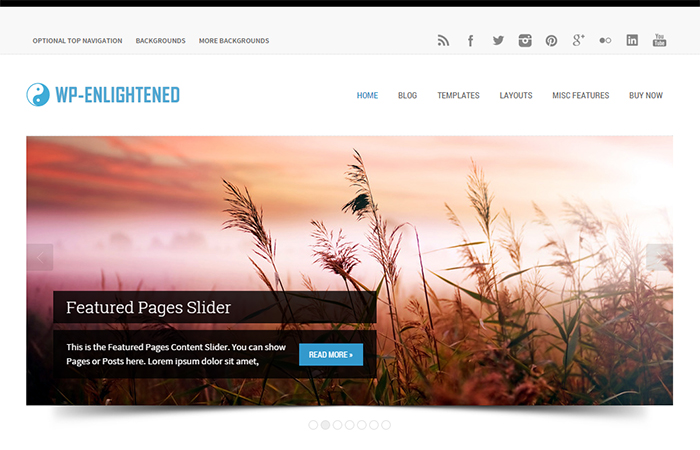 Here is a super duper ver­sa­tile and per­for­mance-ori­ent­ed theme that goes by the name of WP-Enlight­ened. This tem­plate is ide­al for cre­atives, small busi­ness­es as well as writ­ers. Loaded with cus­tom options and post lay­outs, it under­stands how impor­tant it is to have a dis­tinct iden­ti­ty among the com­pe­ti­tion of teem­ing mil­lions. There­fore, it has got the right atti­tude and right aes­thet­ics which you should not ignore in any way.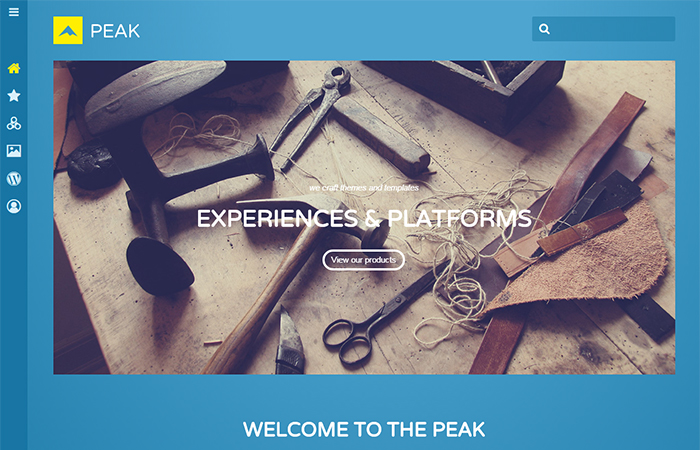 Peak is a fresh deliv­ery from YooTheme. This mod­ern tem­plate has got flat design, min­i­mal­is­tic approach and ver­sa­tile func­tions that can go well with all types of sites. Here, you will get some very love­ly ele­ments like hov­er effects on but­tons, spe­cial over­lays and dif­fer­ent style vari­a­tions. Peak is very par­tic­u­lar about per­for­mance and thus, gives you all the tools that will help you achieve the zenith of your poten­tial.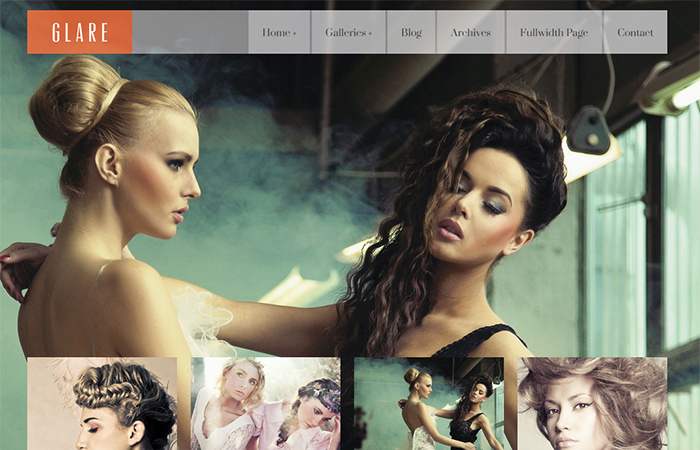 Glare will real­ly make your work shine as it has got smart cus­tom fea­tures to help real­ize the same. This theme offers you 2 home­pages, one with super pho­to slid­er and the oth­er with full screen back­ground video. It also lets you set up your map, wid­gets, con­tact forms and text. The tem­plate is very easy­go­ing and you will have a blast work­ing with it. Cus­tomize what­ev­er you like and no need to touch the code. Clicks are enough!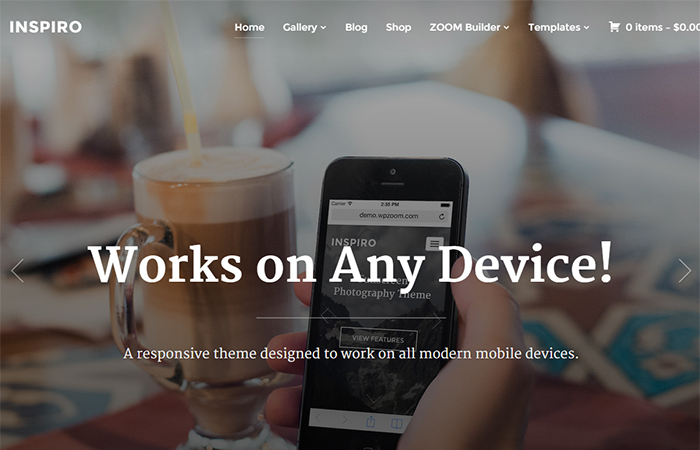 Inspiro is a pro­fes­sion­al, mod­ern, pho­to-focused theme with great fea­tures. They are wid­getized home­page, fullscreen slideshow, gallery mod­ule, unique wid­gets, and much more! With it, you can eas­i­ly build a gallery of your pho­tos or oth­er work. The tem­plate sup­ports you whole-heart­ed­ly in your endeav­or. Just check the demo and find out for your­self.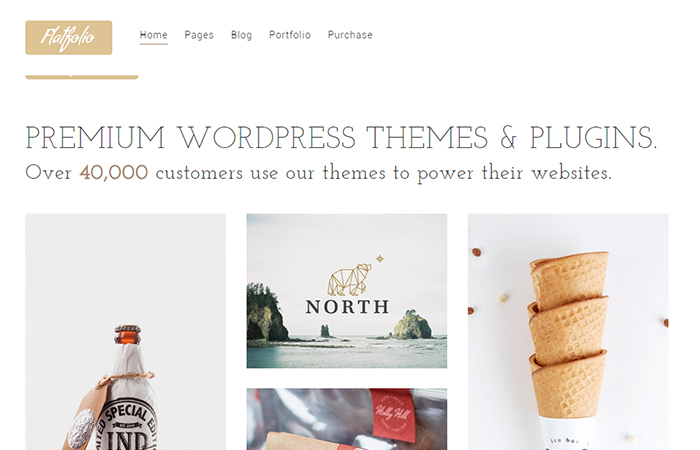 Car­ry­ing a cre­ative and dis­tinc­tive touch, Flat­fo­lio is min­i­mal, sim­ple and ele­gant. This port­fo­lio Word­Press theme is per­fect for per­son­al as well as pro­fes­sion­al use. It makes use of HTML5, CSS3 and jQuery. It also car­ries a sol­id flex­i­ble respon­sive lay­out that makes your work acces­si­ble on all devices. What is more, if you want you can eas­i­ly per­son­al­ize it. The tem­plate is very well-doc­u­ment­ed and offers you com­plete sup­port.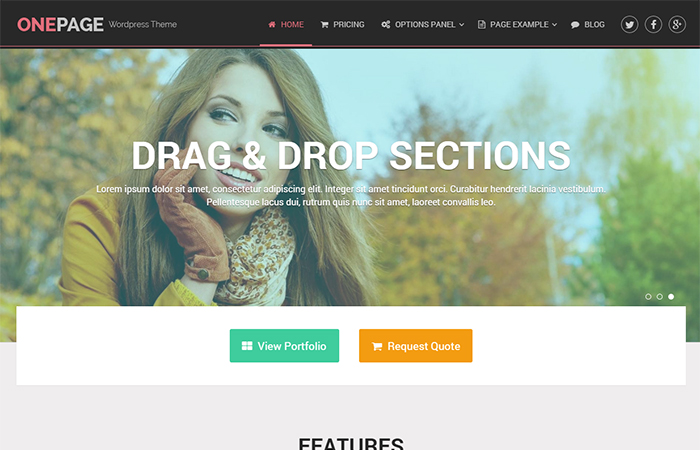 If you are on the look­out for solo page port­fo­lio themes then OnePage is a must-check. This sin­gle page theme comes with a cre­ative Drag and Drop home­page lay­out, respon­sive design, clean, hand­craft­ed code, good speed and much more.. It loads fast and is also opti­mized for SEO which means your audi­ence can access every­thing eas­i­ly and more eye­balls will come call­ing with­out ask­ing you to make addi­tion­al efforts at attract­ing search engines.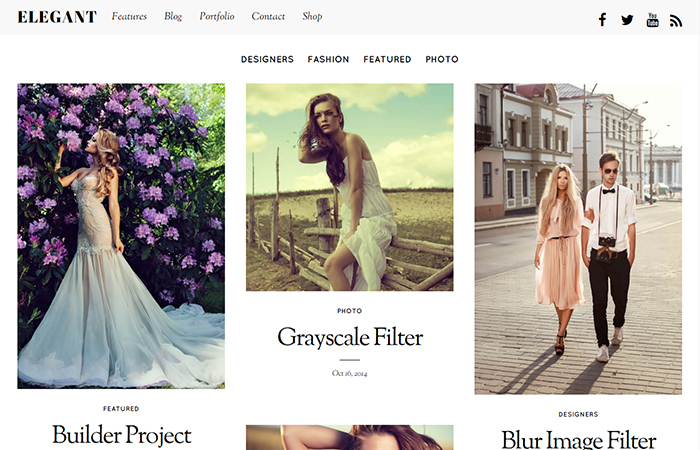 A no-frills attached, smart and pre­cise theme, Ele­gant will make your work glow with pride. The theme is loaded with stun­ning visu­als, respon­sive lay­out, bonus portfolio/team post type, 6 col­or skins, mason­ry lay­out and many more fea­tures that are per­fect­ly fit for this niche. Whether you are a writer or a cre­ative agency, this tem­plate will serve you with equal effi­cien­cy. Take the demo and you will be con­vinced.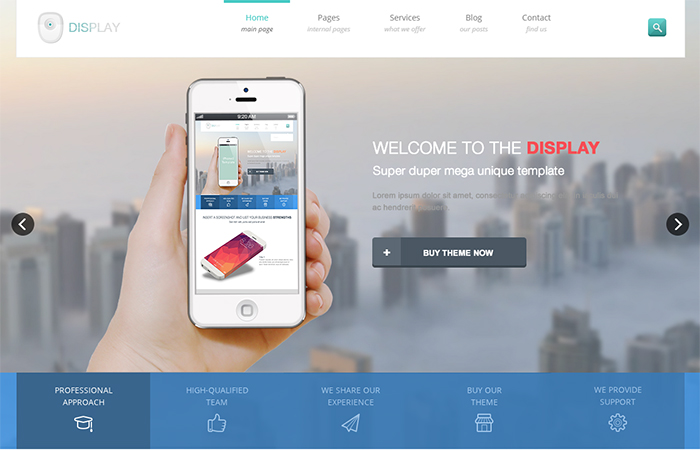 Dis­play is a dynam­ic port­fo­lio theme with beau­ti­ful par­al­lax effect, 12 cus­tom posts, fil­ter­able port­fo­lio, 7 cus­tom wid­gets, 6 page tem­plates, fea­tured image slid­er, and lots of oth­er fea­tures. The tem­plate is very friend­ly and makes your work so easy that you will nev­er ever real­ize that you have an online port­fo­lio to take care of. Once you install the tem­plate, your respon­si­bil­i­ty is over and then you can com­plete­ly focus on your work.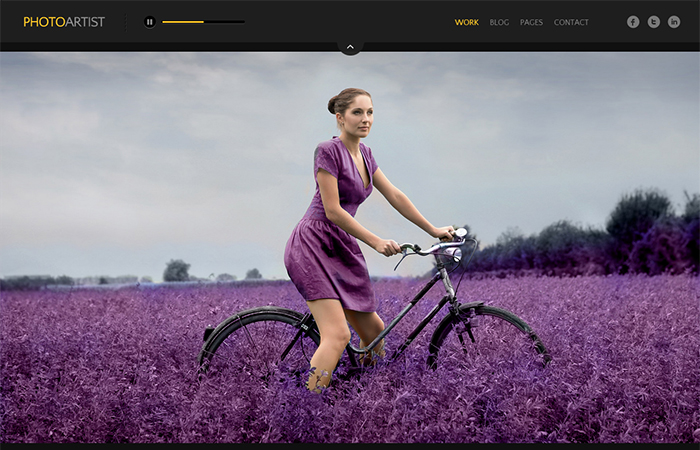 An appro­pri­ate choice for pho­tog­ra­phers, Pho­to Artist show­cas­es your work in style and makes sure it grabs max­i­mum eye­balls. The theme comes with only 1 slid­er and thus, is very crisp. It will make you look every bit the hon­est pro­fes­sion­al who believes in work. Oth­er fea­tures of the tem­plate are also smart and com­ple­ment the seg­ment beau­ti­ful­ly. Fur­ther­more, you are free to cus­tomize it in any way you like.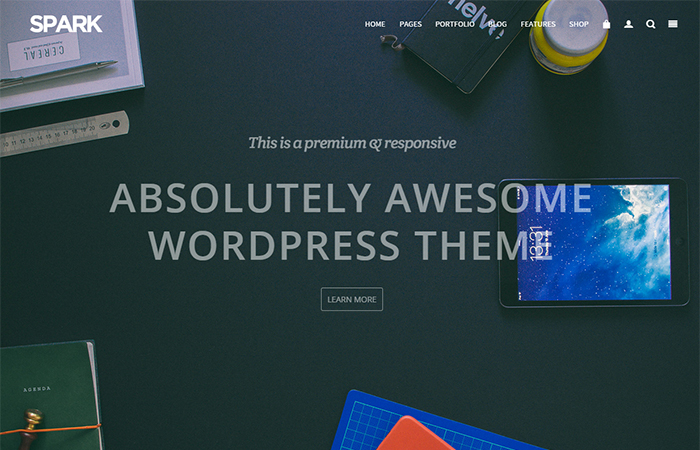 Spark is very bright and bril­liant. This mul­ti­pur­pose Word­Press theme does com­plete jus­tice to its name and comes with a wide range of incred­i­ble fea­tures and pre­cious plu­g­ins. A prod­uct of Mojo­Mar­ket­place, it has got every­thing you need to cre­ate an awe­some site in an incred­i­bly easy way. It installs with clicks and once you are done with the instal­la­tion, Spark per­forms out of the box, bring­ing you agree­able results.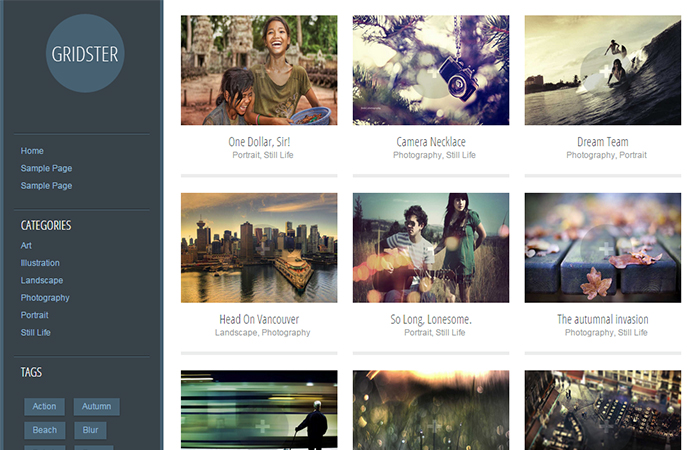 The grid lay­out best suits artists, illus­tra­tors and design­ers look­ing to make their work talk. Grid­ster is based on this very lay­out and dis­plays your work with great pro­fes­sion­al per­fec­tion. This sim­ple theme is very easy to work with and car­ries a left-aligned side­bar which also serves to dis­play the menu and site logo. You just have to upload your work sam­ples and then it is all about the pow­er of the tem­plate.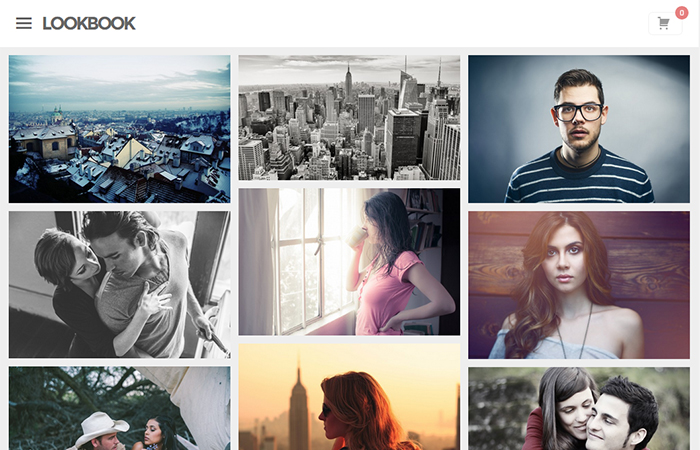 Look­book is a mosa­ic styled port­fo­lio Word­Press theme with great aes­thet­i­cal and pro­fes­sion­al appeal. This pre­mi­um tem­plate is a won­der­ful option for every­one look­ing to make their mark at an afford­able price. It is also WooCom­merce ready and hence, if you want you can sell your work and mon­e­tize it eas­i­ly.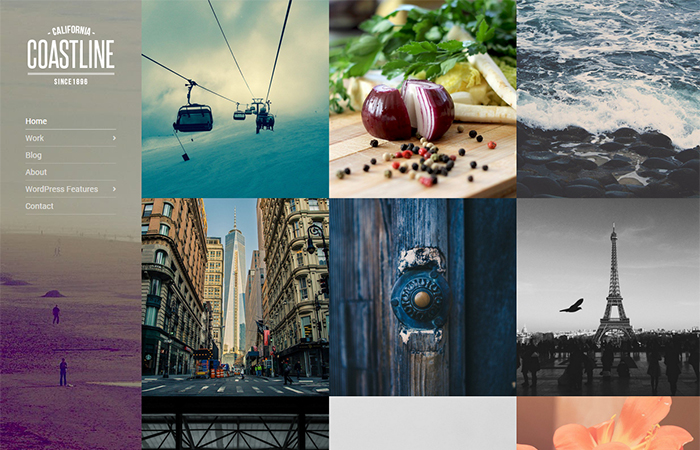 An ele­gant and engag­ing theme, Coast­line lets you show­case your work or thoughts in a very free flow­ing man­ner that is bound to strike the right chords in the hearts of your audi­ence.. This theme is very unique­ly designed and fea­tures brows­ing via infi­nite scrolling that is quite a treat for vis­i­tors. So, get set to pub­lish your work in the best way pos­si­ble. Coast­line offers a won­der­ful voy­age in the cyber sea.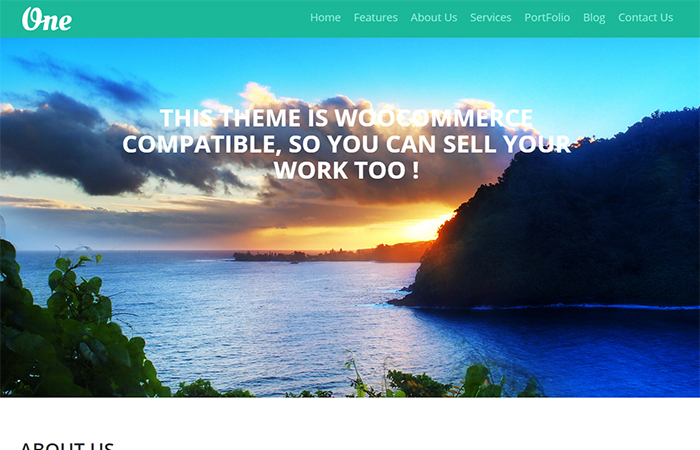 OnePager is a sin­gle page port­fo­lio theme with full facil­i­ty to dis­play all the vital infor­ma­tion on your home­page. It is also flex­i­ble and you can edit the con­tent with­out touch­ing a sin­gle line of code. Every­thing is very seam­less and effort­less in OnePager. You get full con­trol over your web plat­form and can call the shots at your loud­est from the back­end.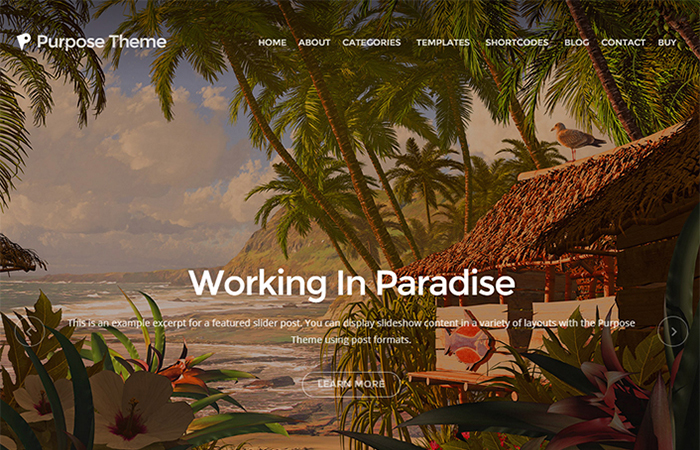 Pur­pose is a pow­er­ful and pro­fes­sion­al Word­Press theme with great abil­i­ty to focus on the core i.e. your work. It is ridicu­lous­ly easy to set­up and cus­tomize, with all the oth­er smart fea­tures. The theme comes with a very nov­el head­er and nav­i­ga­tion menu that resizes and changes col­or upon scrolling down the page. The best thing is that any­one can use this tem­plate and rest assured it will per­form well.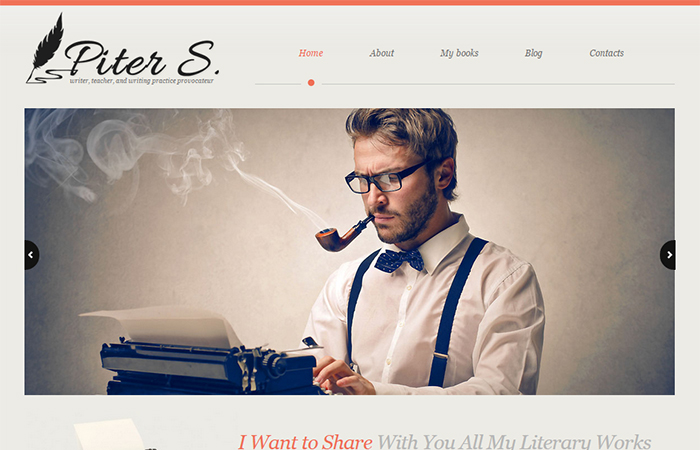 Per­son­al Page is a con­tem­po­rary port­fo­lio-style theme draft­ed with great atten­tion to detail and empha­sis on typog­ra­phy. It lets you show­case your lat­est pho­tos and videos in all their glo­ry through a pleas­ing and pow­er­ful blog. It is respon­sive as well as reti­na ready which means you can reach out to max­i­mum peo­ple. With Per­son­al Page, you can estab­lish your­self as a bril­liant brand and that too with­out incur­ring heavy expens­es. It is unbe­liev­ably cost-effec­tive.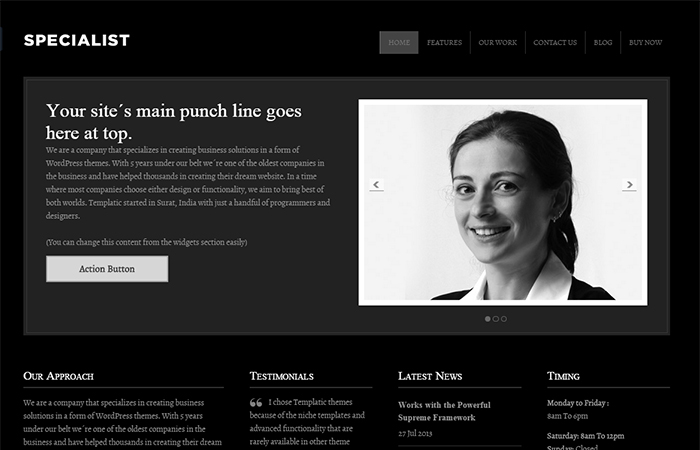 An exclu­sive theme for small busi­ness web­sites and pro­fes­sion­als, Spe­cial­ist is very pre­cise and pow­er­ful. Its fea­tures are ful­ly favor­able for your pur­pose and give you com­plete sup­port at all junc­tures. It also lets you run a shop as well as a blog. It fits your bud­get as well as require­ments and hence, is a must-have if you are a start­up or oper­at­ing on small scale.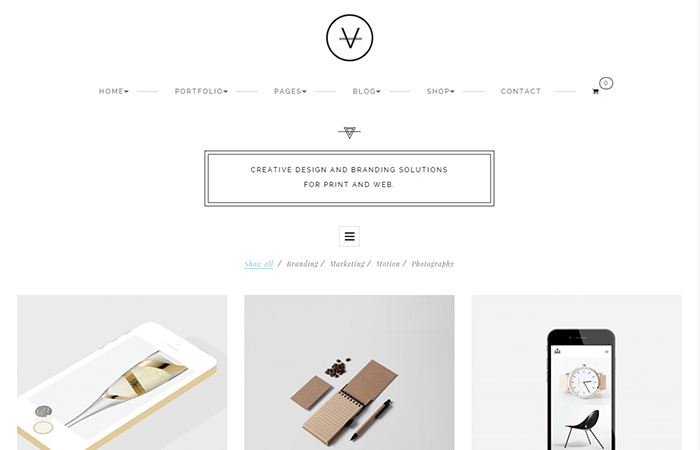 Launched very recent­ly, VAN is a clean, min­i­mal and mod­ern Word­Press theme for all who want to build an amaz­ing and mod­ern port­fo­lio site. The theme is also aligned with WooCom­merce and hence, set­ting up a shop is super easy. The tem­plate comes with a smooth options pan­el to let you have your say. It fits well into dif­fer­ent screen sizes and if you go with it, you can be sure that you are going to become pop­u­lar very soon.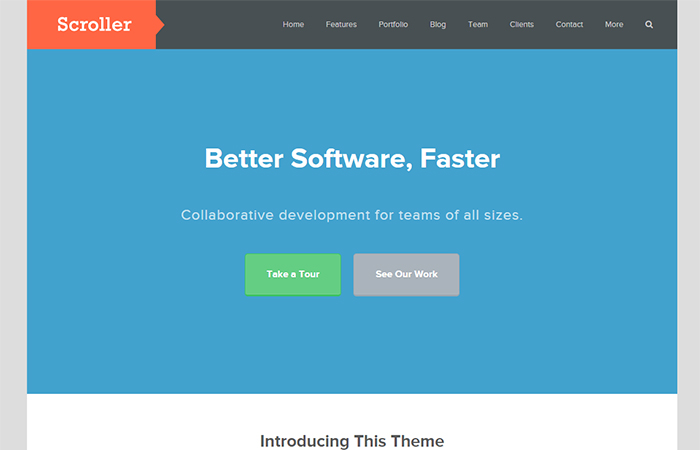 Suit­ed for agen­cies, online stu­dios, busi­ness web­sites and users who want to show­case their work on a beau­ti­ful port­fo­lio site, Scroller is a clean, super flex­i­ble and ful­ly respon­sive Word­Press theme that means busi­ness from all angles.
This pro­fes­sion­al­ly designed tem­plate has got PHP/HTML/CSS, SEO seman­tic code that fur­ther lend cre­dence to its claims and you can trust it blind­ly. It is very user-friend­ly and offers you full con­trol along with up-to-date fea­tures.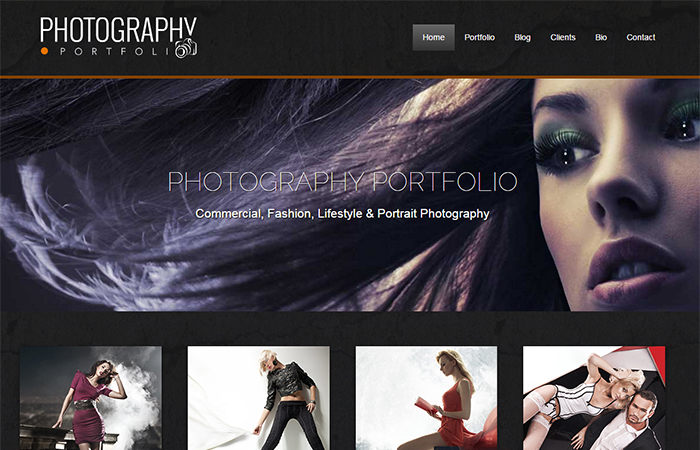 So, you want to become the cyno­sure in the cyber­space. Well, it is very sim­ple as you have got Pho­tog­ra­phy Port­fo­lio by your side. This pho­tog­ra­phy port­fo­lio tem­plate is very strong, styl­ish and sim­ple so that you can set the stage on fire with your work.
The tem­plate offers you mul­ti­ple full-width image gal­leries, an ele­gant home­page, con­ve­nient con­tact form and much more. Here, you are in com­plete con­trol and can nev­er go wrong. So, get it soon.