Since portfolios are among the most popular usage of WordPress, we have decided to create this amazing collection of the finest portfolio themes for business and personal websites. These themes are built to showcase your works and will give your portfolio that extra look to amaze your visitors.
The Best WordPress Portfolio Themes
When looking for the right portfolio WordPress theme you should make sure you stay up to date with template abilities, such as; grid systems, responsive designs, retina display, cross browser compatibility and so on. Some of them have built-in WooCommerce support so that you can sell your work, right from your own website.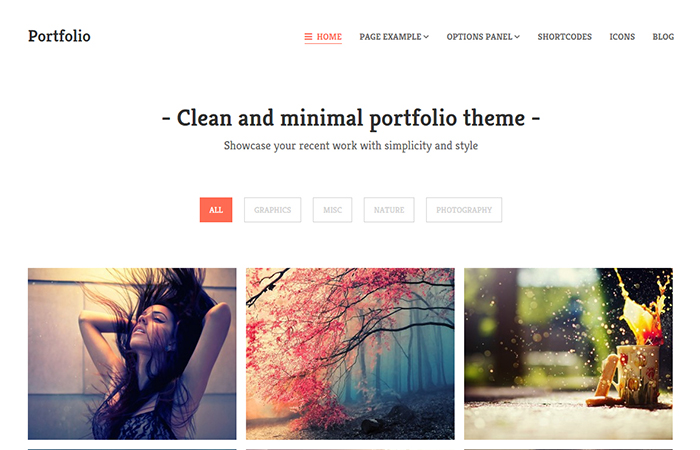 Minimal design makes the most impact when it comes to an online portfolio. Portfolio is a clean and minimal theme with custom features to help you display your work in style. Its fully responsive layout, user-friendly interface and a rich library of custom widgets make you the rock star professional who everyone would like to have a look at. To help the audience search everything easily, advanced portfolio filters are there that give quick results in less time and effort.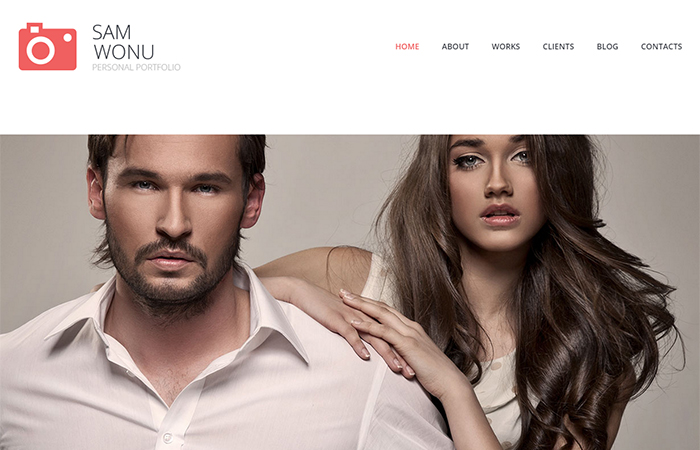 Photographer Portfolio best suits photographers and creative professionals. This perfect portfolio solution for creative professionals comes with tailor-made features and easy interface. You get great animations, seamless page switching and many such easygoing characteristics that are not easy to find in other themes. What's more, this premium template makes use of latest web technology and is completely open to customization. You can edit/extend the functionality/features in minutes.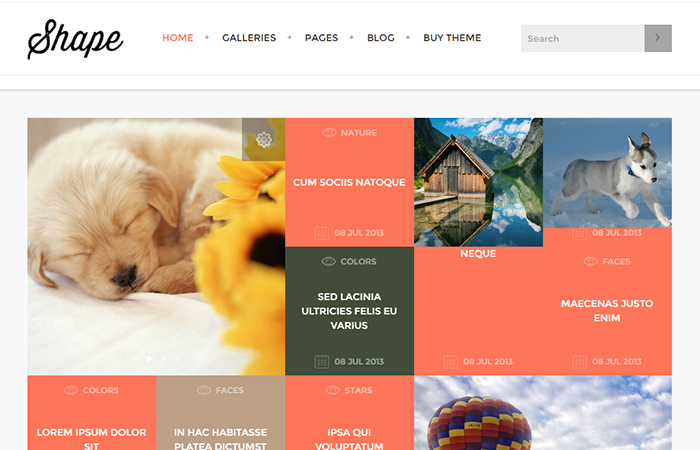 Fully focused on keeping the attention of visitors on your photos, Shape is a perfect Photography Portfolio WordPress theme. This clean, minimalist and feature-packed template carries smooth transition effects, a beautiful showcase and many more attributes. It is very intuitive and loads like a breeze on all viewing devices. It uses very few panels and gives your images best presentation while making sure that audience can locate and interact with you quite easily.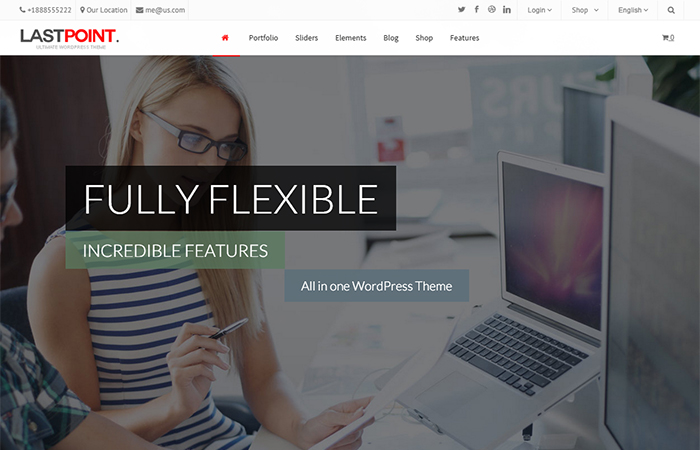 LastPoint is a multipurpose WordPress theme with amazing features. It is an all-in-one solution for your portfolio needs. The template carries handcrafted, pixel perfect design, retina display, cross browser compatibility, Visual Composer and many more modern features. It is also fast and fits in with your personal requirements as you can tweak the features without any problem.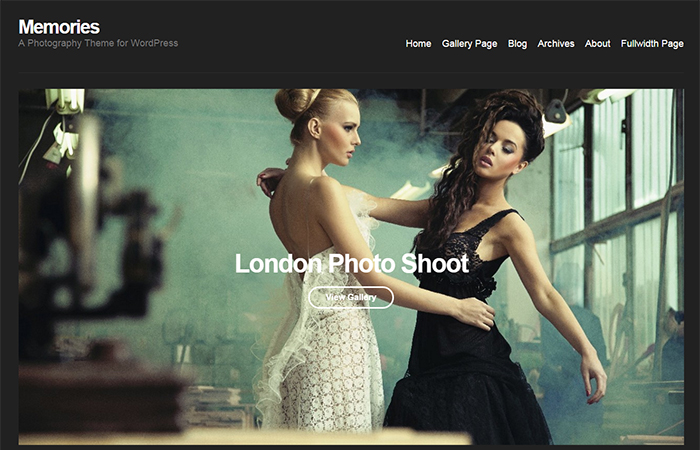 Memories has been made to make your work stay memorable in the minds of your target audience. This strong portfolio theme with a minimalistic layout, responsive design and custom features stands out. Memories is accessible from a wide range of devices and lets you change colors, fonts, etc. with clicks. The template results in great response from the clients and you are definitely going to ink cool deals with them.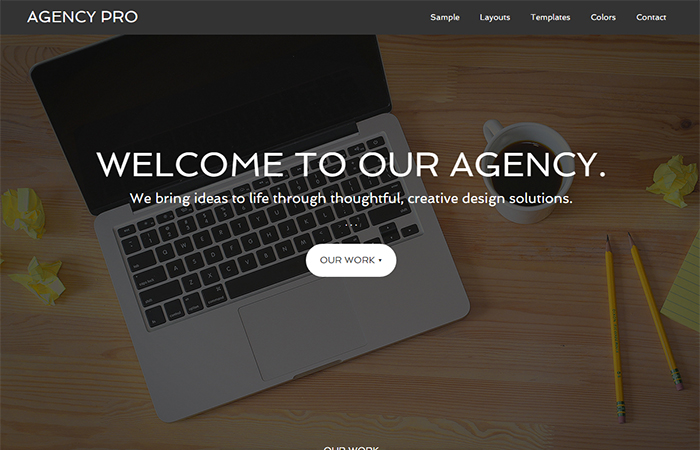 A fabulous portfolio theme for creative agencies, Agency Pro exudes confidence, smart look, professionalism and pleasant charm. This theme blends minimal modern design with the right amount of useful features to help you create an outstanding portfolio in no time. It is a great way to keep in touch with your clients and connections. You will gain good deals through this platform and can easily beat the competition.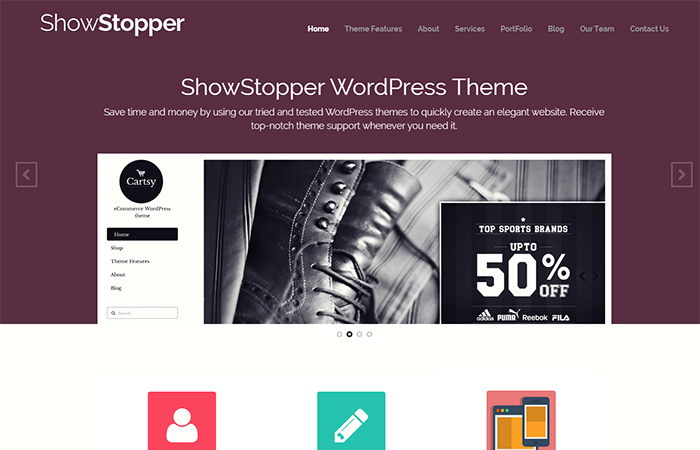 ShowStopper is an amazing multipurpose WordPress theme with an awesome portfolio section. True to its name, it carries the capability to create a lasting impression and make heads turn in the very first glance itself. The template comes with a one-page management feature, 6 content homepage areas, WooCommerce plugin, unlimited color options and many more characteristics. With ShowStopper, making your work the talk of the town is quite easy and hence, this template is truly a must-have.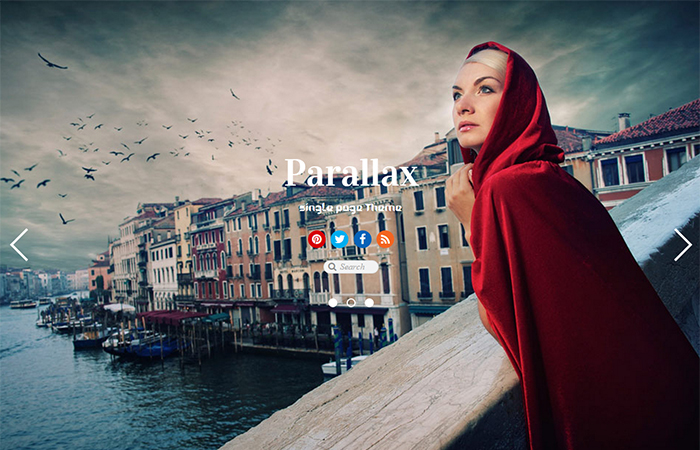 Parallax is a wonderful modern-day theme with combination of two cool trends – parallax scrolling and single-page design. The template is ideal for showcasing your work and services responsively on a single page. It is very focused in approach and lets your viewers enjoy your beautiful content in parallax scrolling sections. If you are a fan of parallax and want to include it on your portfolio then this is the way to go.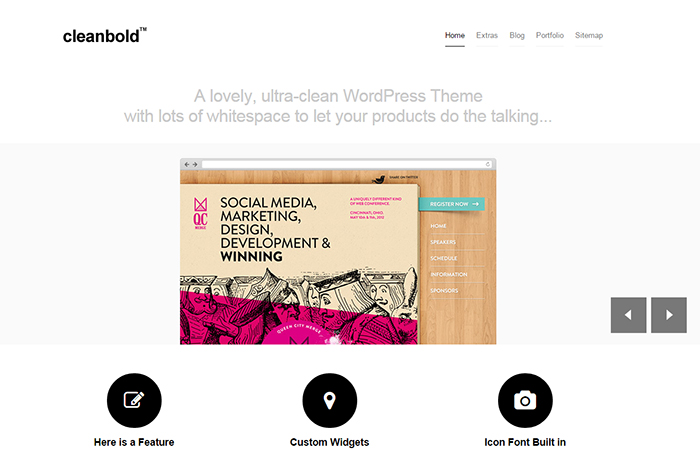 CleanBold is an ideal solution for all types of portfolios, be it related to business or to personal purpose. It is ultra-clean and simple with fabulous custom features that will bring you desirable results. It makes use of ample whitespace and simple but bold typography that catch quick attention and bring it to your work. With CleanBold, you can show off your designs, products, art or photography in style and that too in the way you like. Yes, the template is fully open to getting customized.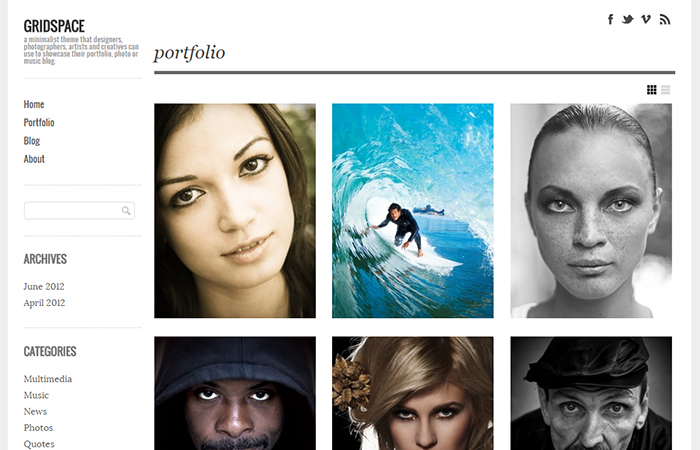 Gridspace is a modern portfolio theme with responsive design that goes great with all kinds of work. It is perfect for showcasing vertical, horizontal or square images. The template supports 7 post formats, multiple page templates, a portfolio custom post type, slideshows and many more cool features. It has got it in itself to portray a credible story that clients and customers would be interested in hearing.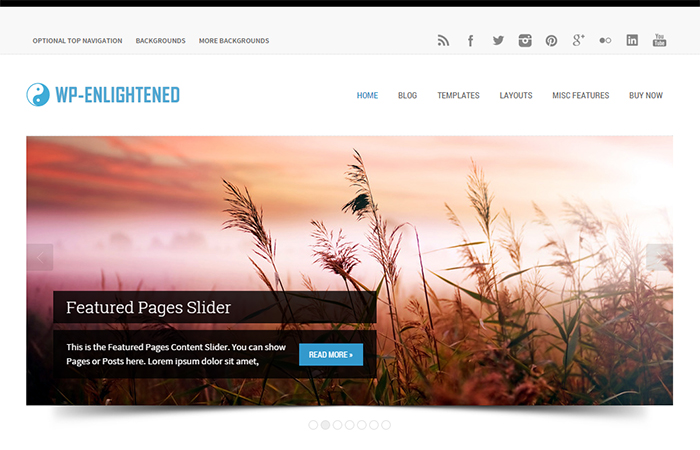 Here is a super duper versatile and performance-oriented theme that goes by the name of WP-Enlightened. This template is ideal for creatives, small businesses as well as writers. Loaded with custom options and post layouts, it understands how important it is to have a distinct identity among the competition of teeming millions. Therefore, it has got the right attitude and right aesthetics which you should not ignore in any way.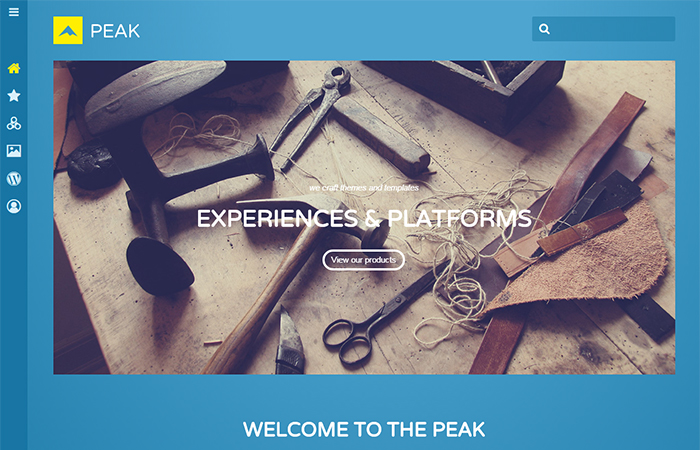 Peak is a fresh delivery from YooTheme. This modern template has got flat design, minimalistic approach and versatile functions that can go well with all types of sites. Here, you will get some very lovely elements like hover effects on buttons, special overlays and different style variations. Peak is very particular about performance and thus, gives you all the tools that will help you achieve the zenith of your potential.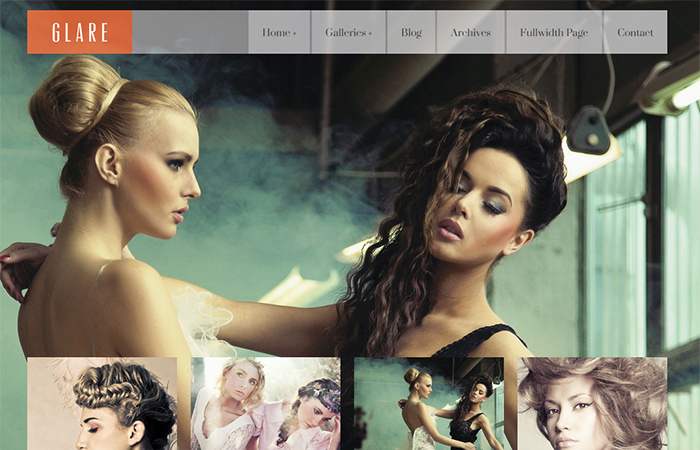 Glare will really make your work shine as it has got smart custom features to help realize the same. This theme offers you 2 homepages, one with super photo slider and the other with full screen background video. It also lets you set up your map, widgets, contact forms and text. The template is very easygoing and you will have a blast working with it. Customize whatever you like and no need to touch the code. Clicks are enough!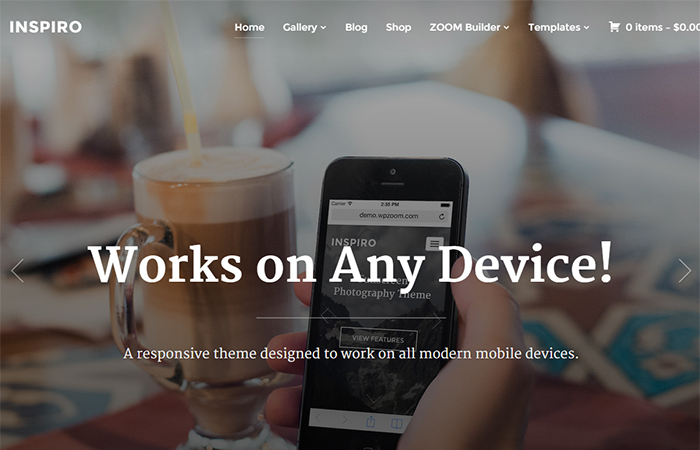 Inspiro is a professional, modern, photo-focused theme with great features. They are widgetized homepage, fullscreen slideshow, gallery module, unique widgets, and much more! With it, you can easily build a gallery of your photos or other work. The template supports you whole-heartedly in your endeavor. Just check the demo and find out for yourself.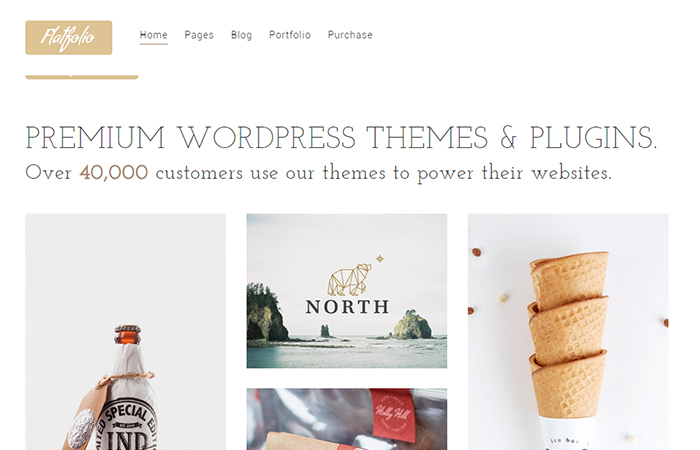 Carrying a creative and distinctive touch, Flatfolio is minimal, simple and elegant. This portfolio WordPress theme is perfect for personal as well as professional use. It makes use of HTML5, CSS3 and jQuery. It also carries a solid flexible responsive layout that makes your work accessible on all devices. What is more, if you want you can easily personalize it. The template is very well-documented and offers you complete support.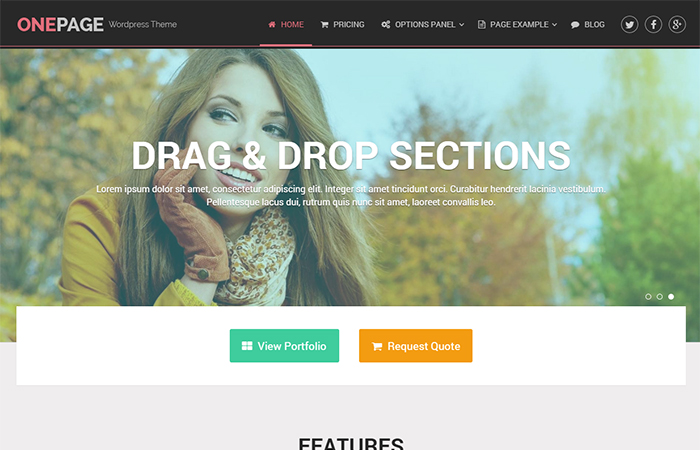 If you are on the lookout for solo page portfolio themes then OnePage is a must-check. This single page theme comes with a creative Drag and Drop homepage layout, responsive design, clean, handcrafted code, good speed and much more.. It loads fast and is also optimized for SEO which means your audience can access everything easily and more eyeballs will come calling without asking you to make additional efforts at attracting search engines.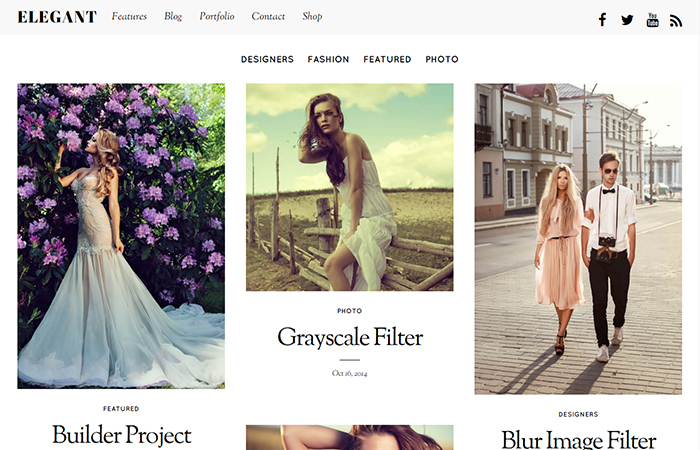 A no-frills attached, smart and precise theme, Elegant will make your work glow with pride. The theme is loaded with stunning visuals, responsive layout, bonus portfolio/team post type, 6 color skins, masonry layout and many more features that are perfectly fit for this niche. Whether you are a writer or a creative agency, this template will serve you with equal efficiency. Take the demo and you will be convinced.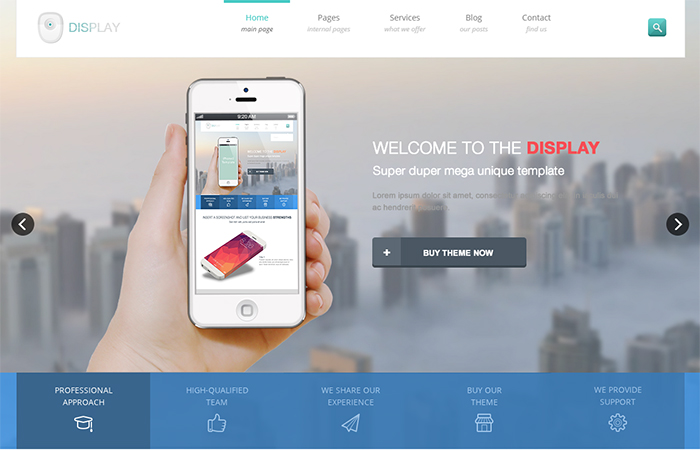 Display is a dynamic portfolio theme with beautiful parallax effect, 12 custom posts, filterable portfolio, 7 custom widgets, 6 page templates, featured image slider, and lots of other features. The template is very friendly and makes your work so easy that you will never ever realize that you have an online portfolio to take care of. Once you install the template, your responsibility is over and then you can completely focus on your work.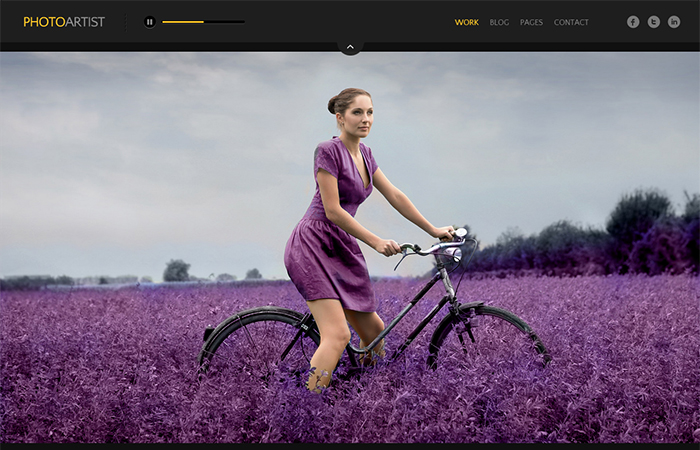 An appropriate choice for photographers, Photo Artist showcases your work in style and makes sure it grabs maximum eyeballs. The theme comes with only 1 slider and thus, is very crisp. It will make you look every bit the honest professional who believes in work. Other features of the template are also smart and complement the segment beautifully. Furthermore, you are free to customize it in any way you like.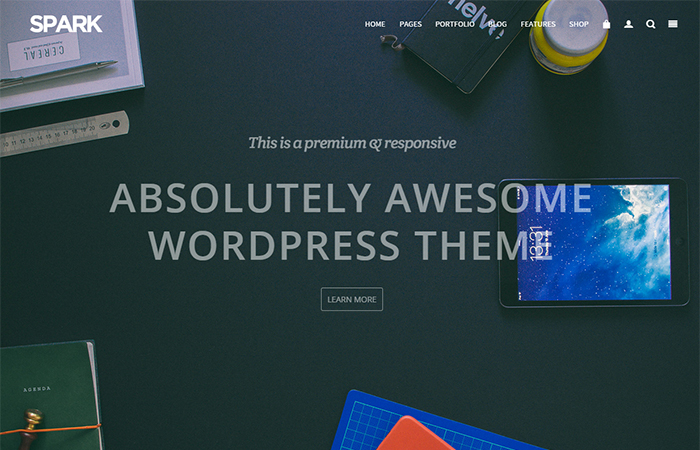 Spark is very bright and brilliant. This multipurpose WordPress theme does complete justice to its name and comes with a wide range of incredible features and precious plugins. A product of MojoMarketplace, it has got everything you need to create an awesome site in an incredibly easy way. It installs with clicks and once you are done with the installation, Spark performs out of the box, bringing you agreeable results.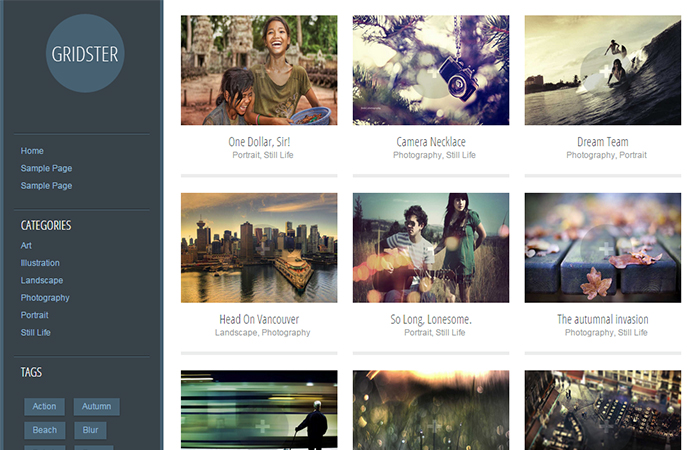 The grid layout best suits artists, illustrators and designers looking to make their work talk. Gridster is based on this very layout and displays your work with great professional perfection. This simple theme is very easy to work with and carries a left-aligned sidebar which also serves to display the menu and site logo. You just have to upload your work samples and then it is all about the power of the template.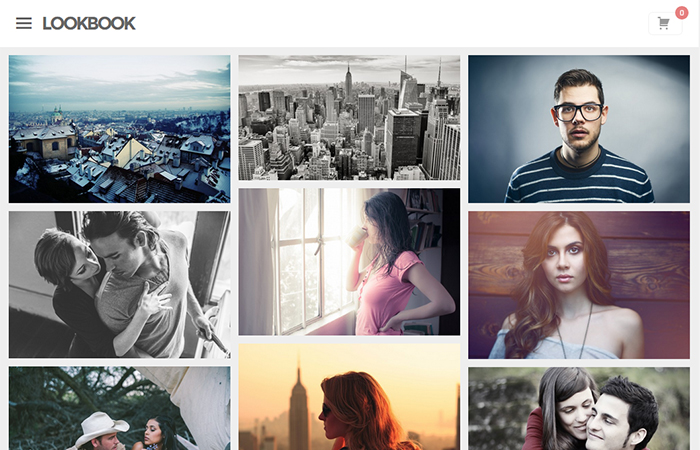 Lookbook is a mosaic styled portfolio WordPress theme with great aesthetical and professional appeal. This premium template is a wonderful option for everyone looking to make their mark at an affordable price. It is also WooCommerce ready and hence, if you want you can sell your work and monetize it easily.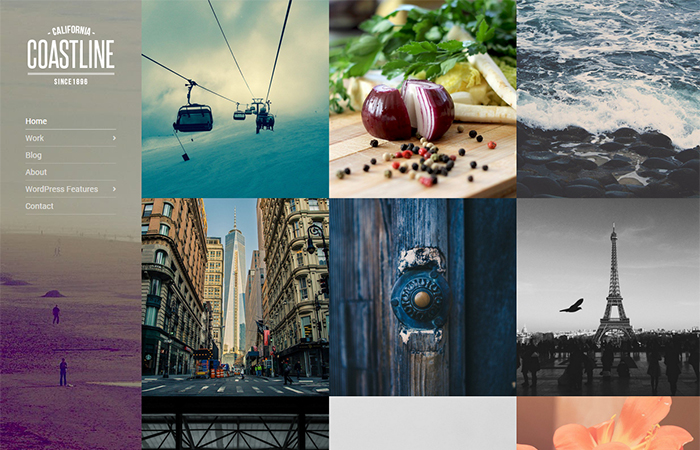 An elegant and engaging theme, Coastline lets you showcase your work or thoughts in a very free flowing manner that is bound to strike the right chords in the hearts of your audience.. This theme is very uniquely designed and features browsing via infinite scrolling that is quite a treat for visitors. So, get set to publish your work in the best way possible. Coastline offers a wonderful voyage in the cyber sea.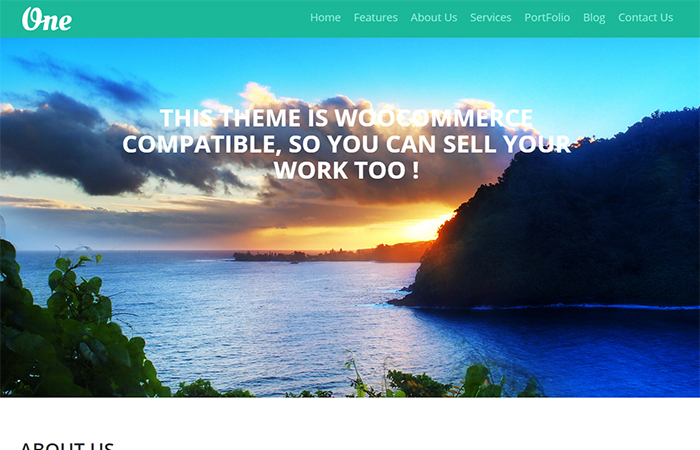 OnePager is a single page portfolio theme with full facility to display all the vital information on your homepage. It is also flexible and you can edit the content without touching a single line of code. Everything is very seamless and effortless in OnePager. You get full control over your web platform and can call the shots at your loudest from the backend.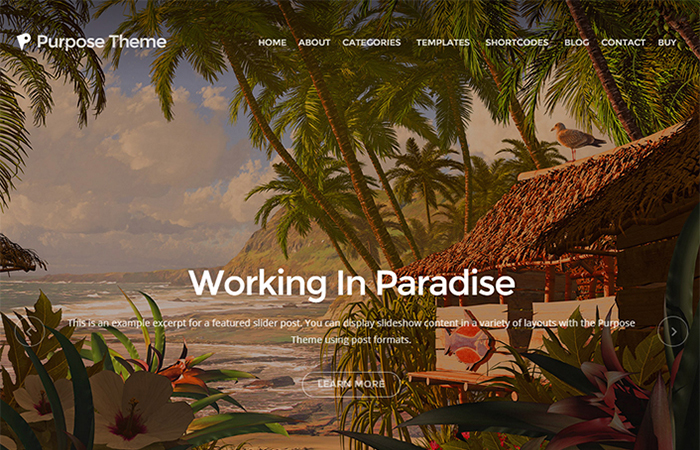 Purpose is a powerful and professional WordPress theme with great ability to focus on the core i.e. your work. It is ridiculously easy to setup and customize, with all the other smart features. The theme comes with a very novel header and navigation menu that resizes and changes color upon scrolling down the page. The best thing is that anyone can use this template and rest assured it will perform well.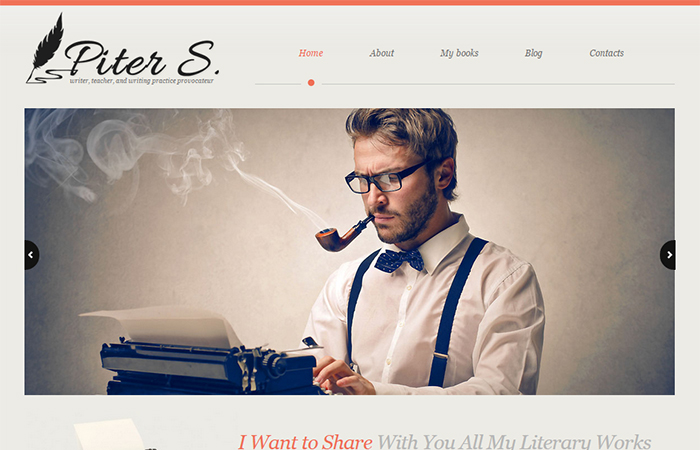 Personal Page is a contemporary portfolio-style theme drafted with great attention to detail and emphasis on typography. It lets you showcase your latest photos and videos in all their glory through a pleasing and powerful blog. It is responsive as well as retina ready which means you can reach out to maximum people. With Personal Page, you can establish yourself as a brilliant brand and that too without incurring heavy expenses. It is unbelievably cost-effective.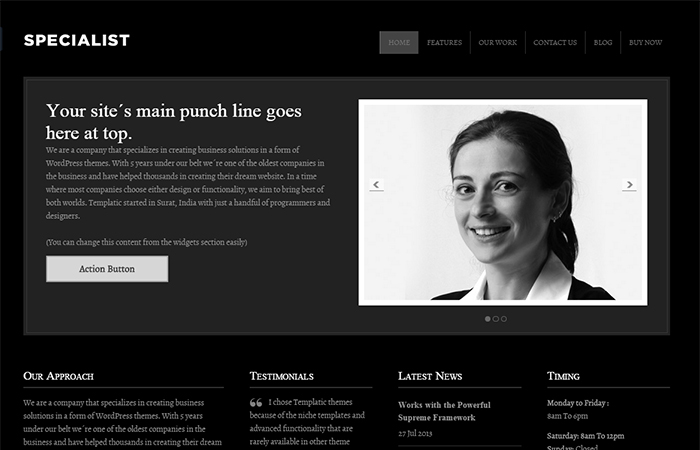 An exclusive theme for small business websites and professionals, Specialist is very precise and powerful. Its features are fully favorable for your purpose and give you complete support at all junctures. It also lets you run a shop as well as a blog. It fits your budget as well as requirements and hence, is a must-have if you are a startup or operating on small scale.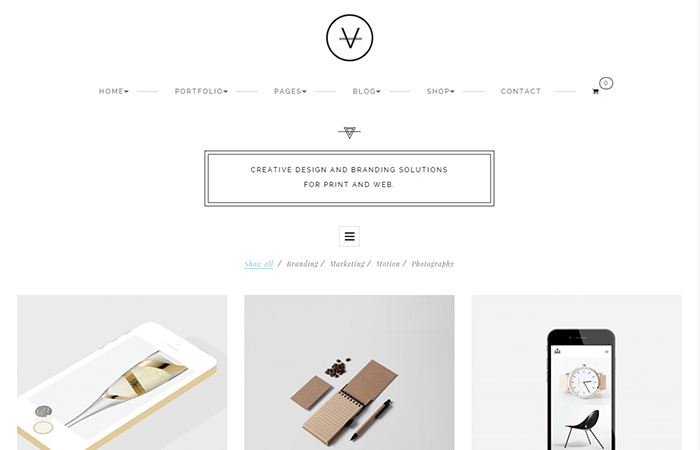 Launched very recently, VAN is a clean, minimal and modern WordPress theme for all who want to build an amazing and modern portfolio site. The theme is also aligned with WooCommerce and hence, setting up a shop is super easy. The template comes with a smooth options panel to let you have your say. It fits well into different screen sizes and if you go with it, you can be sure that you are going to become popular very soon.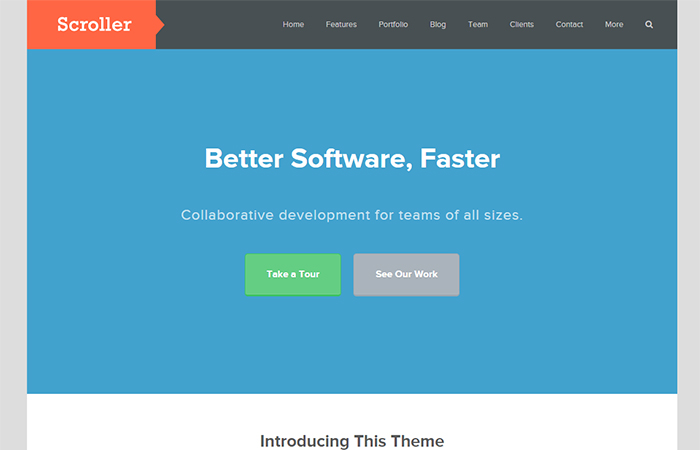 Suited for agencies, online studios, business websites and users who want to showcase their work on a beautiful portfolio site, Scroller is a clean, super flexible and fully responsive WordPress theme that means business from all angles.
This professionally designed template has got PHP/HTML/CSS, SEO semantic code that further lend credence to its claims and you can trust it blindly. It is very user-friendly and offers you full control along with up-to-date features.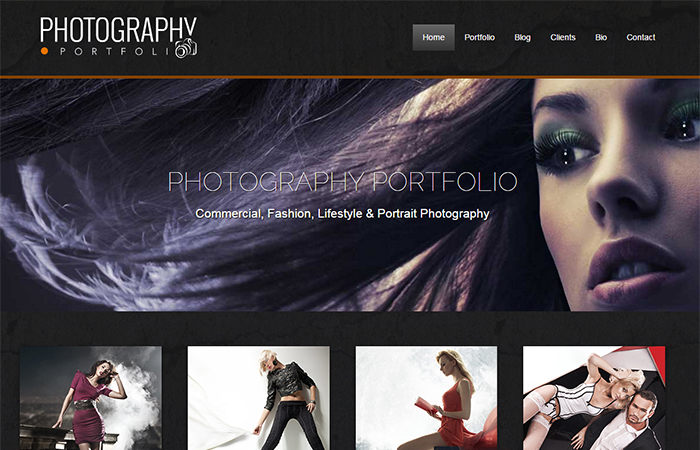 So, you want to become the cynosure in the cyberspace. Well, it is very simple as you have got Photography Portfolio by your side. This photography portfolio template is very strong, stylish and simple so that you can set the stage on fire with your work.
The template offers you multiple full-width image galleries, an elegant homepage, convenient contact form and much more. Here, you are in complete control and can never go wrong. So, get it soon.