Look­ing to give your online vis­i­tors a new way to browse and read your lat­est posts, show off tons of con­tent in a beau­ti­ful­ly sim­ple and excit­ing way? Then these Word­Press Blog themes are the per­fect choice for you.
Arti­cles are cre­at­ed to make read­ing long-form posts a plea­sure on the eye. All the unnec­es­sary noise has been dis­card­ed or hid­den in this col­lec­tion. These themes have a con­ve­nient back­end admin pan­el which pro­vides many options to man­age and change any aspect of the theme.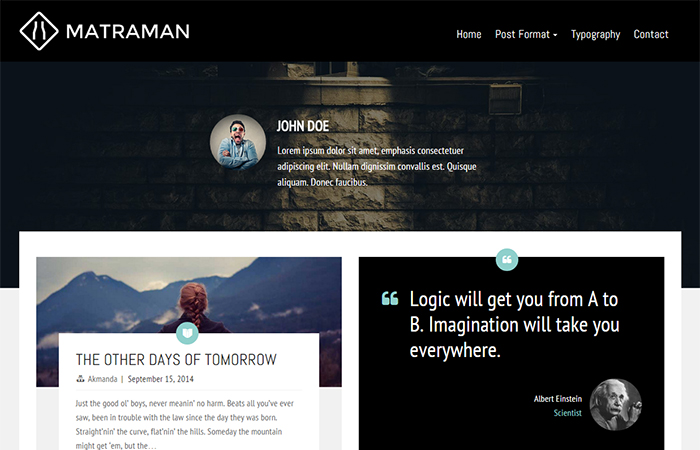 We've cho­sen a mix of sleek, min­i­mal­ist and mod­ern design based on dif­fer­ent col­or schemes, that will take your arti­cles to the next lev­el. These blog­ging themes are built on top well-cod­ed HTML5 and CSS3 frame­work. It is clear that this selec­tion has a respon­sive lay­out, with adap­tive dis­play for smart devices such as iPhone, iPad and oth­er pop­u­lar mobiles and tablets out there. Check them out.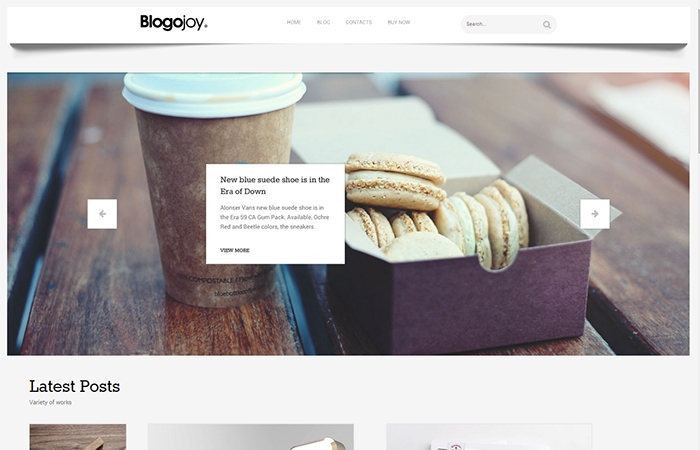 A min­i­mal­ist blog­ging theme, Blo­go­joy is sim­ple but sub­stan­tive to the core. It has got very unique fea­tures that help you share your sto­ries smooth­ly. The tem­plate pos­sess­es a pow­er­ful frame and admin­is­tra­tion tool through which you can eas­i­ly cus­tomize the look of your site. The best thing about Blo­go­joy is that it gets set to per­form in sev­er­al min­utes after instal­la­tion and you can post your awe­some arti­cles imme­di­ate­ly after­wards. And yes, the tem­plate comes at a super rea­son­able price.
Details
Demo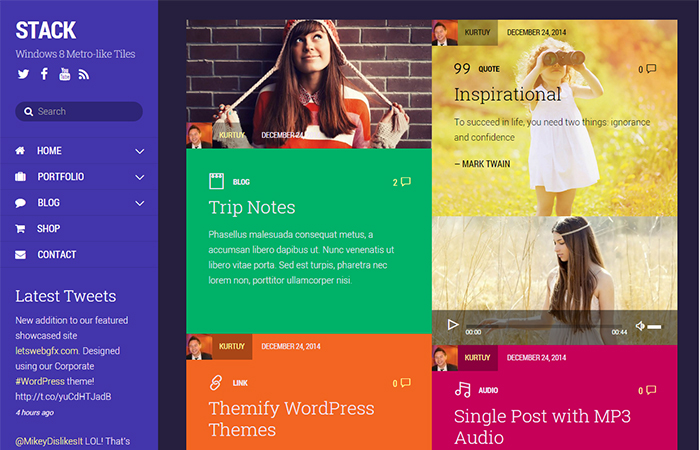 This theme draws inspi­ra­tion from Win­dows 8 Metro design and the Metro theme. Stack is very dynam­ic and gives you full lib­er­ty to design your blog in as many styles as you like. It is aligned with the Drag & Drop Builder and car­ries a flu­id and ful­ly respon­sive lay­out. It also comes with mason­ry and infi­nite scroll fea­tures that are a treat for read­ers and increase con­ver­sion by leaps and bounds. Stack is sure­ly a valu­able pro­pos­al.
Details
Demo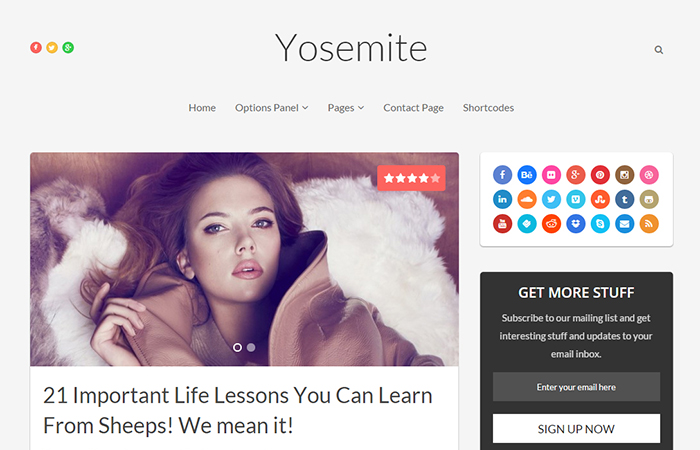 A new launch by MyThemeShop, Yosemite is a clean Word­Press theme that is based on Apple's Yosemite OSX design. It is very user-cen­tric and also opti­mized for AdSense, pageviews and read­abil­i­ty. Car­ry­ing a newslet­ter plu­g­in, com­pat­i­bil­i­ty with Mega­Menu and WP Review Pro, the tem­plate makes it very easy for you to keep in touch with your audi­ence and read­ers. Yosemite also uses AJAX load­ing, so that your posts and con­tent load smooth­ly and seam­less­ly, no mat­ter what the view­ing device.
Details
Demo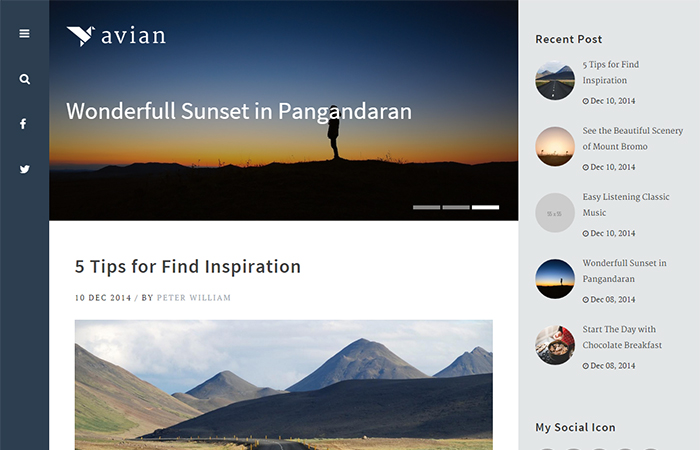 Plucked fresh, Avian is a smart and styl­ish blog­ging theme that lets you tell your sto­ries in your way. With it, you can dis­play all that you have to tell in a unique and ele­gant man­ner. The tem­plate is quite a delight and makes your site look spe­cial. This theme has got infi­nite col­or scheme set­ting, reti­na ready dis­play, 100% respon­sive lay­out and much more. Avian is sim­ply amaz­ing and you will love it a great deal.
Details
Demo
An inno­v­a­tive and inter­est­ing theme with a flu­id respon­sive grid and excep­tion­al design, Swell makes things very easy for you. Aligned with the Jet­pack plu­g­in, it gives you fea­tures like Infi­nite Scroll, Fea­tured Con­tent and the Port­fo­lio cus­tom post type. The tem­plate is very notable for its exclu­sive design and uncon­ven­tion­al approach. If you want to try some­thing dif­fer­ent in the New Year, Swell is the way to go.
Details
Demo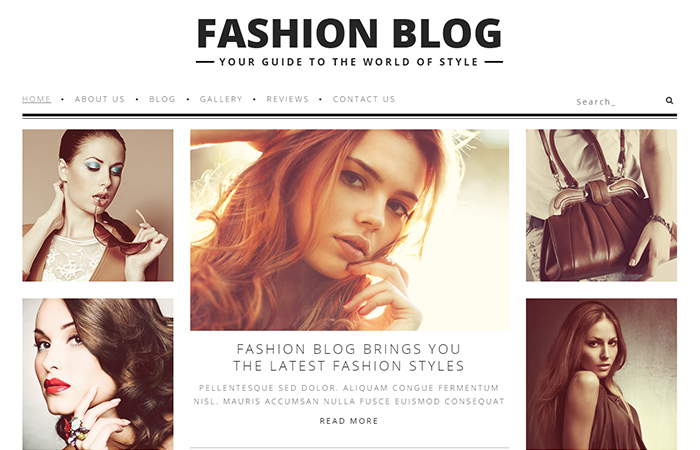 Flash­Mint cre­at­ed Fash­ion Blog to cater to those who write about trends, style and fash­ion. It is very con­tent-cen­tric and keeps away all the dis­trac­tions out of the scene so that you may gain a cred­i­ble sta­tus as a blog­ger. The tem­plate dis­plays a sin­gle arti­cle on the home­page and is fit for per­son­al blog­ging, week­ly mag­a­zine or inter­view style sites. It is home to all the new-age fea­tures that make a theme cov­et­ed.
Details
Demo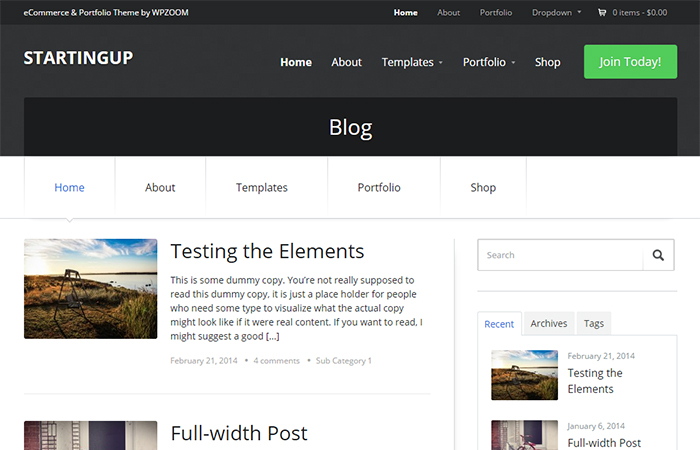 A mul­ti­pur­pose theme, Startin­gUp goes great with all types of gen­res and comes with a strong arse­nal of smart and use­ful fea­tures. It is a per­fect choice for your blog and will give your arti­cles best pack­ag­ing on all view­ing devices. The tem­plate is respon­sive, reti­na ready, easy-to-cus­tomize and much more. It offers you a great way to show off your work, pho­tos or any­thing else. If you are a starter, this is the best bet.
Details
Demo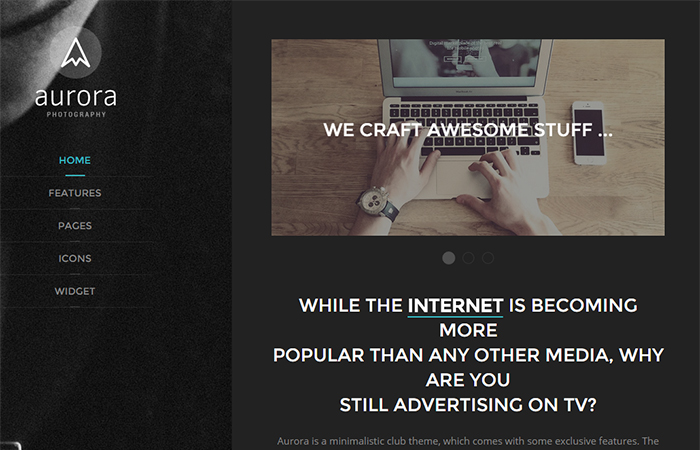 Built with the rev­o­lu­tion­ary Wid­getk­it 2, Auro­ra is a stel­lar theme that promis­es to make your New Year spici­er. It is based on a new con­cept and pro­vides a spe­cial side­bar lay­out posi­tion where you can pub­lish the main menu. The tem­plate has also got a sub­tle par­al­lax scrolling effect for the images. If you want visu­al bril­liance along with a con­tent-ori­ent­ed approach then Auro­ra makes for an excel­lent choice.
Details
Demo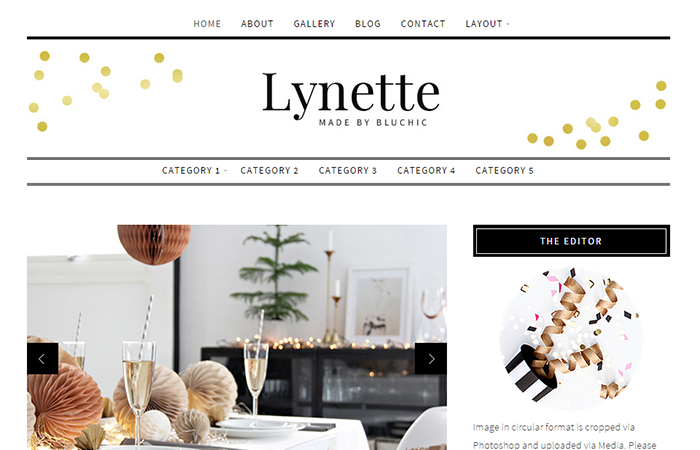 A sophis­ti­cat­ed and sleek Word­Press theme, Lynette has been built with your read­ers in mind. It show­cas­es your recent posts from each cat­e­go­ry on the home­page. With a click­able cat­e­go­ry title, the read­ers can view all posts from the cat­e­go­ry. The fea­tures include 3 columns foot­er wid­get, Upload back­ground image or pat­tern, Social media icons at wid­get, Theme Options to add Google Ana­lyt­ics code and much more. It gives you numer­ous choic­es to choose from and also keeps your read­ers engaged.
Details
Demo
A tra­di­tion­al blog­ging theme that takes you back to the roots, Eston is verysim­ple to use and loads quick­ly. It is suit­able for sin­gle or mul­ti­ple authors.. If you love clean dis­play or are a fan of note­book lay­out then Eston is the cor­rect choice, from all angles. It lets you show off lat­est posts, Dribb­ble shots or Insta­gram pho­tos in a jiffy. Your vis­i­tors can also com­ment on your posts with Word­Press Com­ments and share them with Social Shares.
Details
Demo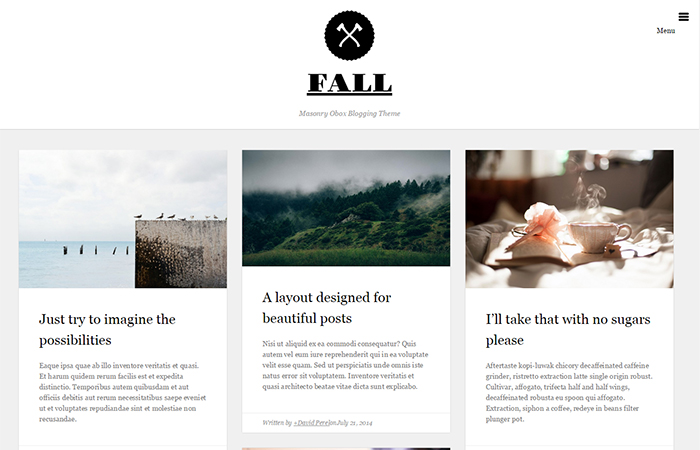 A bril­liant blog­ging theme, Fall fits into the mould of casu­al blog­gers and prod­uct own­ers who want to strength­en their sales through a side blog. It car­ries clean code and has been built with search engine opti­miza­tion in mind. Fall gives top pri­or­i­ty to read­abil­i­ty and makes sure your arti­cles fit into the dif­fer­ent screen sizes with­out any fuss.
Details
Demo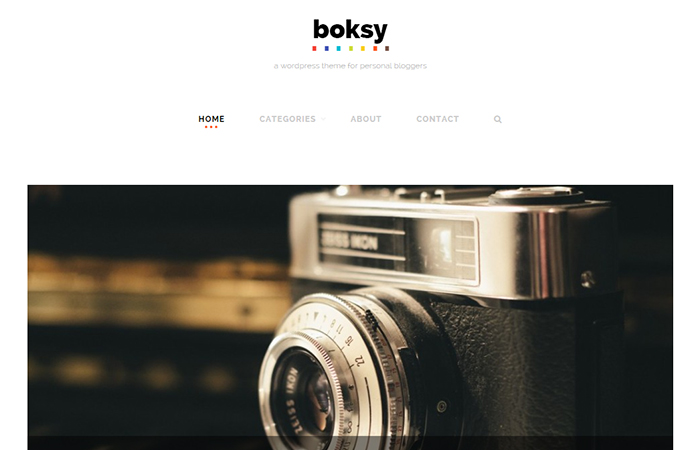 Boksy is a neat and min­i­mal Word­Press theme designed for per­son­al blog­gers. It puts con­tent above all else and looks good both on large and small screens. The tem­plate is very sim­ple to use and comes with sup­port for the fol­low­ing post for­mats: stan­dard, image, slideshow and video. Aligned with the cus­tomiz­er, Boksy is also easy to mold and you can tweak the fea­tures with­out mess­ing with the code.
Details
Demo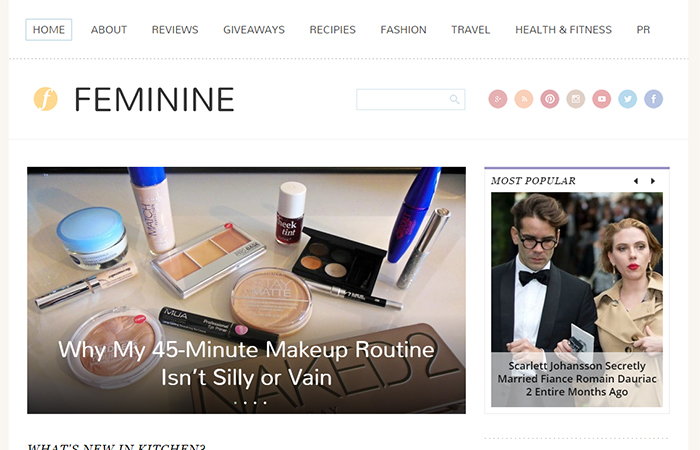 As the name indi­cates, Fem­i­nine is a smooth and sophis­ti­cat­ed mom­my blog­ging theme. It comes with a pret­ty and cre­ative design but keeps things min­i­mal. The tem­plate was designed around the needs of female blog­gers and presents your con­tent in such a way that your read­ers can eas­i­ly browse through the whole stuff you have to offer to them. It is very well craft­ed and looks fab­u­lous on dif­fer­ent screen sizes.
Details
Demo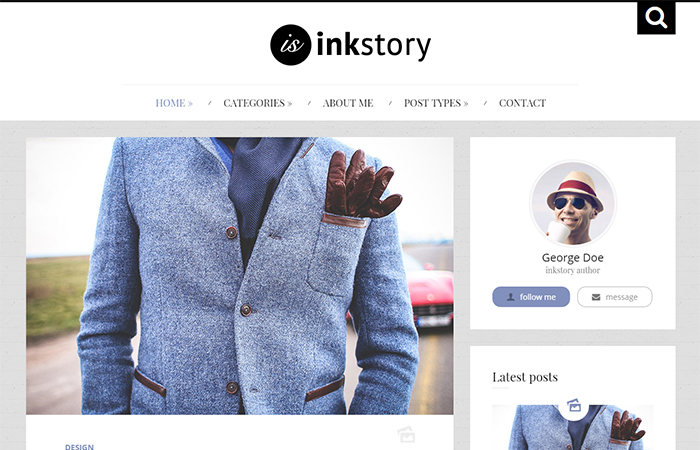 An easy-to-use and SEO friend­ly theme, InkSto­ry is fit for per­son­al blogs and news sites. It comes with lots of love­ly fea­tures that include respon­sive design, Post/Page com­pos­er, on-click theme options, mul­ti­ple post types and many more prop­er­ties. It is a delight for those who want to give a per­son­al­ized look to a tem­plate. InkSto­ry lets you tweak the fea­tures with­out touch­ing the code.
Details
Demo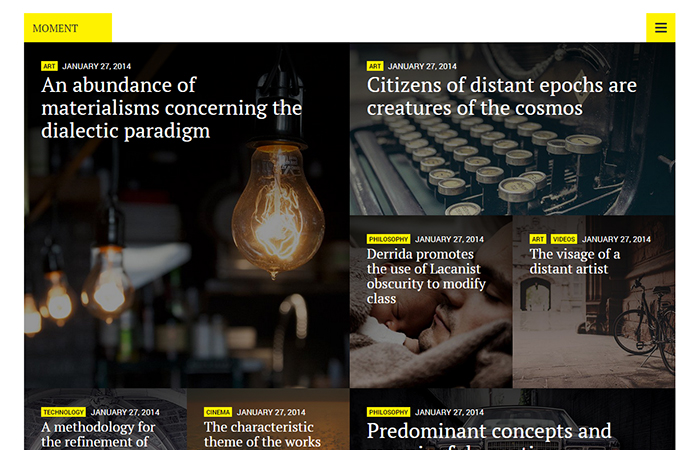 Craft­ed for writ­ers, Moment gives you total free­dom to unleash your cre­ativ­i­ty. This ful­ly respon­sive theme knows the impor­tance of being mobile ready and hence, fits seam­less­ly into the small screens. Its unique­ly laid out home­page is based on the mason­ry lay­out and there is also infi­nite load one click pag­i­na­tion. The tem­plate has got a pow­er­ful options pan­el using which you can cus­tomize your web­site to suit your style.
Details
Demo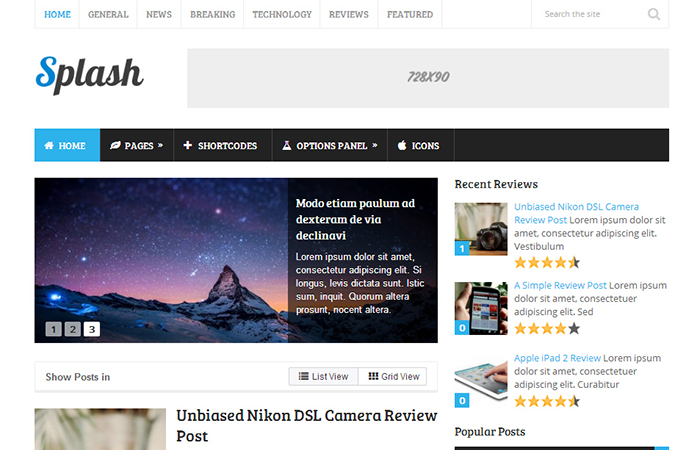 Devel­oped by MyThemeShop, Splash is a spicy blog­ging theme that can take your blog­ging to the next lev­el. Loaded with HTML5 and review blog­ging that max­i­mizes con­tent impact, this tem­plate real­ly stands out. It also pro­vides an awe­some read­ing expe­ri­ence on diverse screen sizes and offers a user-friend­ly option pan­el using which you can add logo, ana­lyt­ic code, adver­tise­ment and much more.
Details
Demo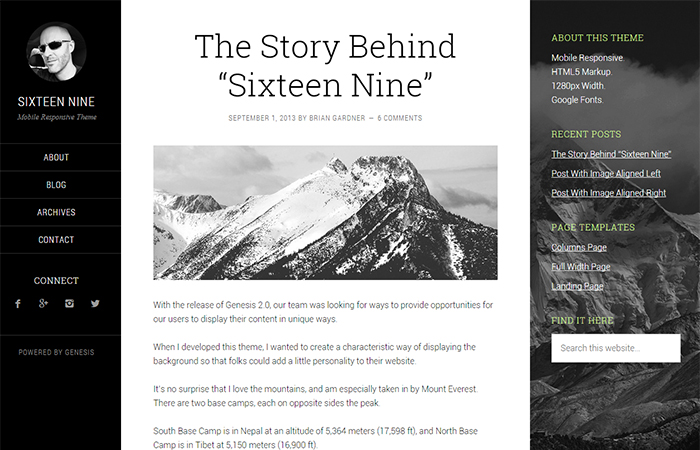 Do you feel design and con­tent need to co-exist in a theme? If yes, Six­teen Nine is the right option for you. This tem­plate, accord­ing to its own admis­sion, lets your ver­bal and visu­al per­son­al­i­ty shine through while prov­ing that design can be sim­ple and stun­ning. Its mobile respon­sive­ness, cus­tom back­ground, menus, head­er, HTML5 readi­ness, etc. are exact­ly the fea­tures you need to build a beau­ti­ful and brainy blog.
Details
Demo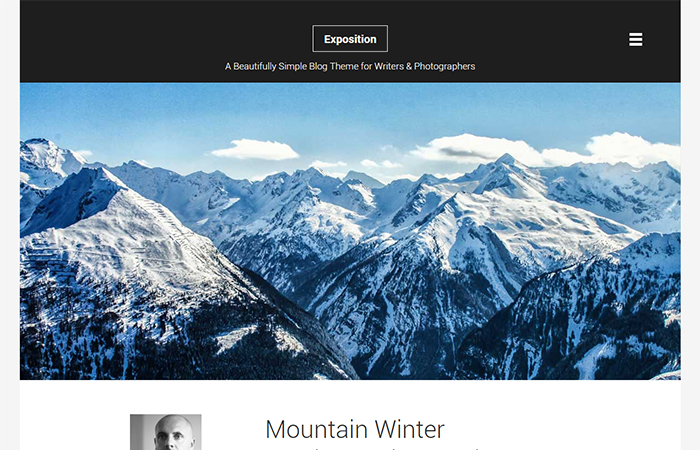 Either you want to say it with words or images, Expo­si­tion is a fit­ting blog theme for you. This Word­Press theme makes your work stand out in an attrac­tive set­ting. Expo­si­tion is sim­ple and gives best pack­ag­ing to your words cour­tesy, attrac­tive typog­ra­phy and ample white­space. The tem­plate has got hun­dreds of Google fonts, Theme Cus­tomiz­er, cus­tom wid­gets, respon­sive design, WPML readi­ness and many more use­ful prop­er­ties.
Details
Demo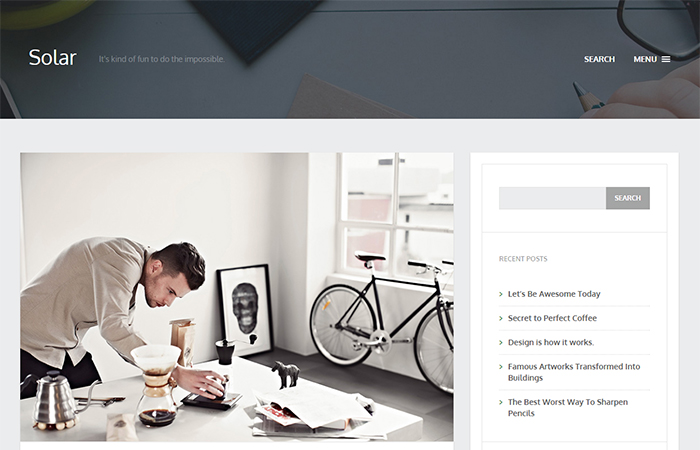 A robust and sim­ple blog­ging theme, Solar is root­ed in basic Word­Press blog­ging. It offers you a frills-free frame­work while keep­ing the design sharp and mod­ern. It sup­ports Masonary Page Tem­plate, Full-screen Blog, Con­tact and Full Width page and many oth­er com­ple­men­tary fea­tures. This Theme­sK­ing­dom tem­plate is very well-doc­u­ment­ed and offers excel­lent cus­tomer sup­port as well. In short, Solar is a com­plete blog­ging solu­tion.
Details
Demo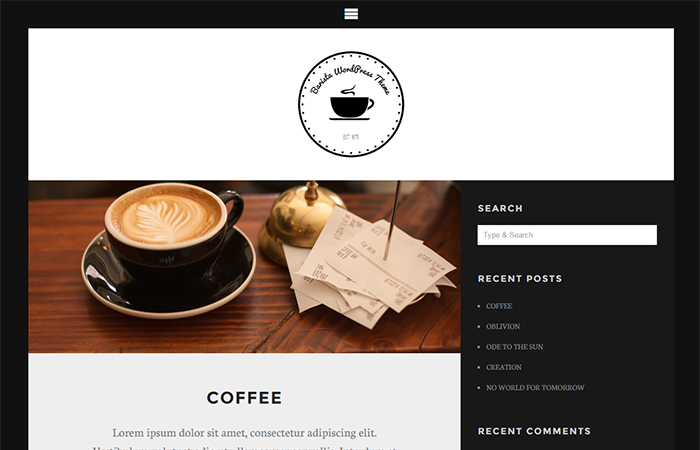 A hot and pip­ing Barista wel­comes blog­gers in the New Year. Avail­able at MojoThemes, it comes with ful­ly respon­sive design, HTML5/CSS3 readi­ness, trans­la­tion sup­port, easy-to-use inter­face and many more attrib­ut­es. It sup­ports five Word­Press post for­mats i.e. Audio, Gallery, Images, Quote and Video. The tem­plate keeps the lay­out styl­ish but clean. Your read­ers will enjoy their stay and the con­tent will load seam­less­ly across screen sizes.
Details
Demo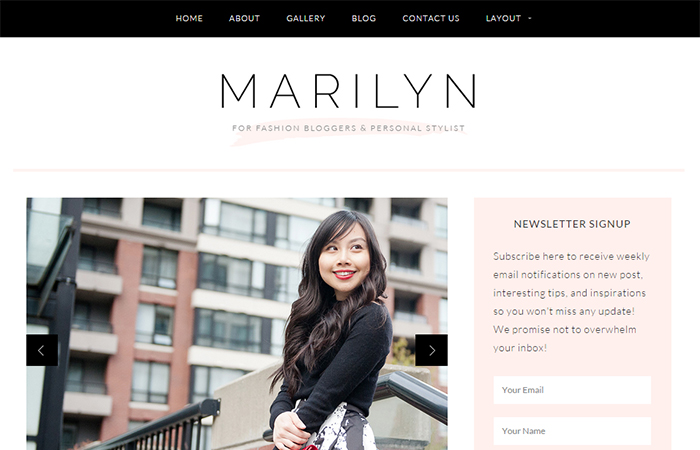 Made by BlueChic, Mar­i­lyn is a mod­ern blog­ging theme cater­ing to fash­ion, lifestyle blogs and sites. Its fea­tures are very sup­port­ive and they include an auto-scrolling slid­er to fea­ture images which can be linked to any page or blog post you want. Car­ry­ing a love­ly name, this tem­plate will eas­i­ly enam­or you with its smart func­tion­al­i­ty and you will get the evi­dence in the demo. So, make it fast.
Details
Demo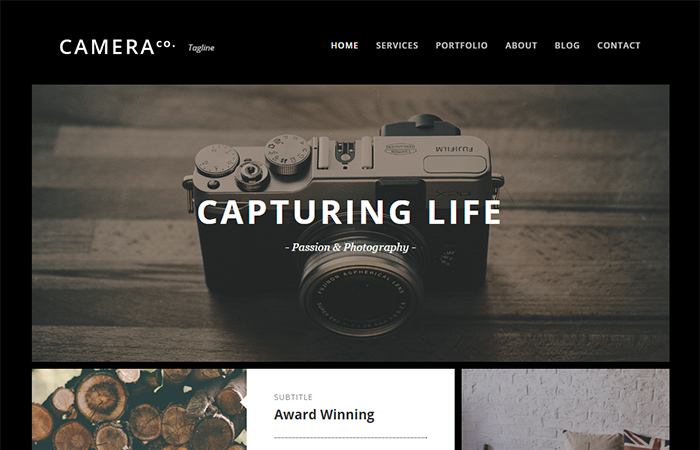 A sta­ble and speedy theme, Cam­era is super easy to use and mas­sive­ly flex­i­ble. It gives you a tru­ly unique expe­ri­ence and lets you per­son­al­ize the tem­plate using the sim­ple Drag and Drop Page Builder, unlim­it­ed col­or schemes and the 1-click theme edi­tor. Based on one of the top sell­ing themes i.e. MyFo­lio, Cam­era eas­i­ly qual­i­fies to be an ide­al tem­plate, per­fect for use in the New Year.
Details
Demo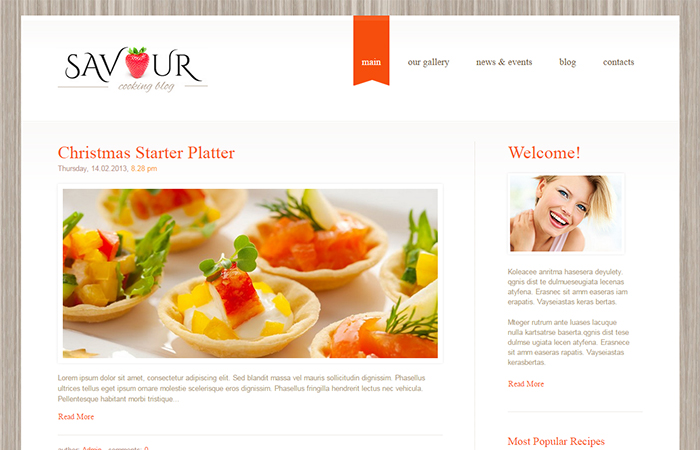 Cook­ing Blog, quite clear­ly, is a food and cui­sine relat­ed blog­ging theme that lets you build a site with min­i­mum effort and time. This tem­plate is loaded with lots of short­codes and gives you tons of cus­tomiza­tion options. You can add but­tons, alerts, Google maps, tog­gles and many more things. Cook­ing Blog car­ries a ful­ly flex­i­ble body and offers a well-doc­u­ment­ed guide using which you can get start­ed soon after acti­va­tion.
Details
Demo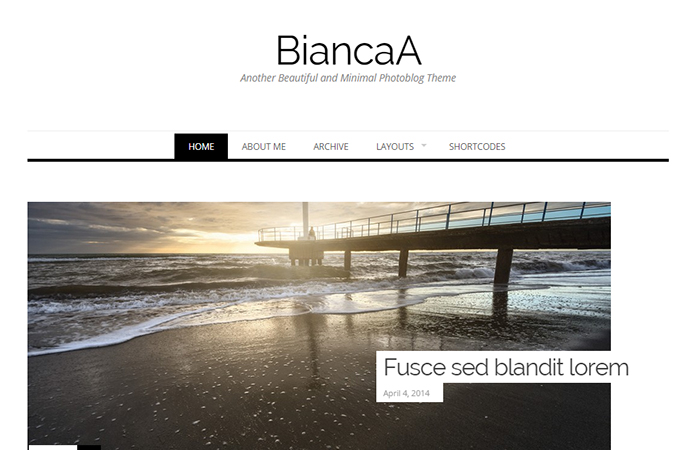 Here is an attrac­tive and min­i­mal Word­Press theme designed for pro­fes­sion­al blog­gers and pho­tog­ra­phers. The smart design and XHTML valid code of Bian­caA ensure max­i­mum search engine vis­i­bil­i­ty for your site and you can eas­i­ly climb the rank­ing lad­der. This The­me­Junkie tem­plate also comes packed with mul­ti­ple pages tem­plates that will add to the charm and com­pe­tence of your site.
Details
Demo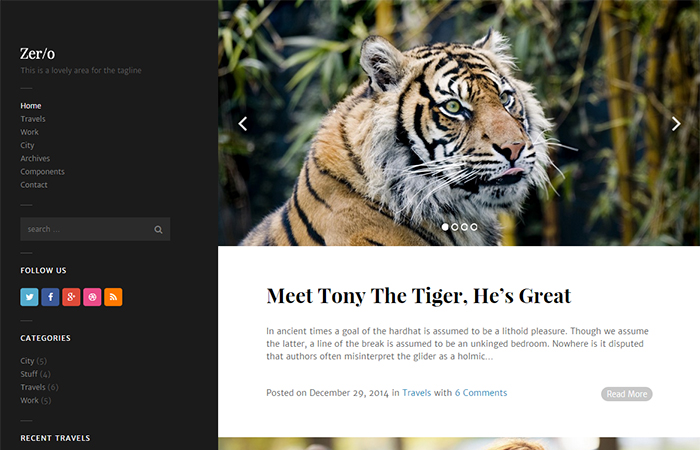 Zero is a min­i­mal blog­ging theme that gives your blog­ging jour­ney best start, no mat­ter what the chal­lenge. It is very crisp and offers a unique and ful­ly respon­sive lay­out. The tem­plate has got In-Built Col­or Options, Post Options in Theme Cus­tomiz­er, Stan­dard, Gallery & Video Posts. It is also aligned with a hand­ful of cus­tom wid­gets that give your read­ers quick links to your lat­est con­tent. Social media has been cov­ered very effec­tive­ly here and thus, you can get opti­mum expo­sure for your con­tent.
Details
Demo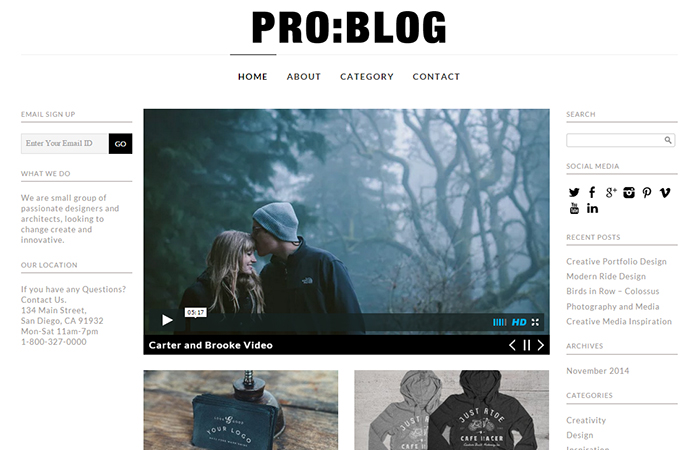 Meant for cre­ative blog­gers, Pro Blog is a respon­sive Word­Press theme with a min­i­mal­ist approach. Its clean design is quite con­tent-friend­ly and the tem­plate is also super easy to set up. You can eas­i­ly tai­lor it to fit your needs with the help of the Cus­tomiz­er and can upload logo, fav­i­con, add ana­lyt­ics code, etc. The tem­plate comes with post for­mats sup­port for stan­dard, image, slideshow and video. It is very help­ful and will com­plete­ly live upto your expec­ta­tions.
Details
Demo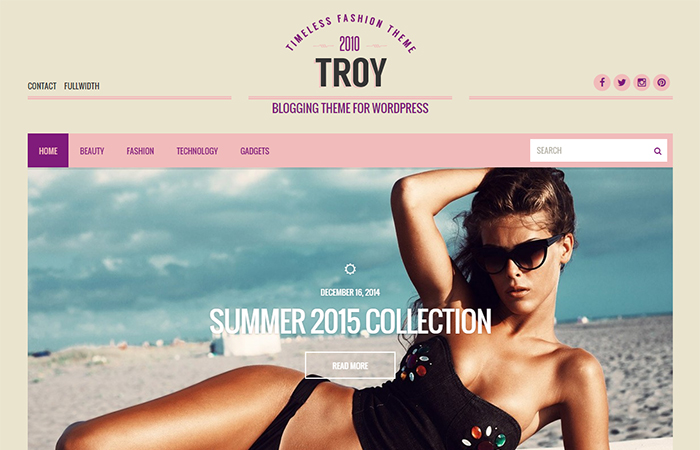 Meet Troy- a superb blog­ging theme with great looks and con­tent-cen­tric approach. It is also ads opti­mized and ready with cus­tom wid­gets like Flickr and Twit­ter for social inte­gra­tion. The tem­plate is ful­ly respon­sive and reti­na ready which means your con­tent will load well on all plat­forms and devices. What is more, you can mold it to flat­ter your per­son­al style and every­thing will hap­pen accord­ing to your wish­es.
Details
Demo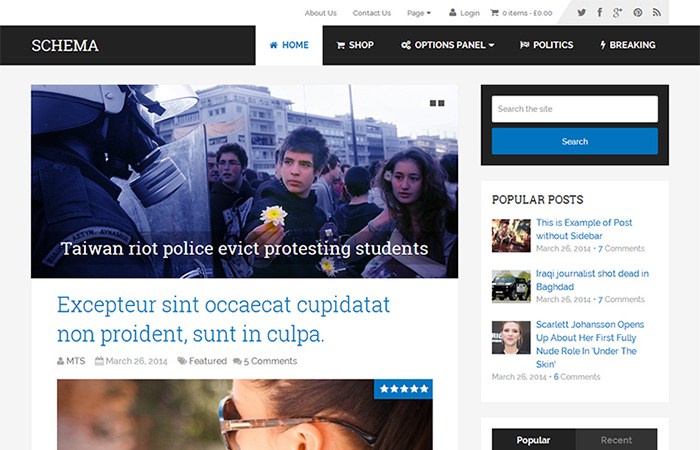 Schema is a quick load­ing and ultra-SEO friend­ly Word­Press theme from MyThemeShop. It comes with a smooth cus­tom options pan­el and car­ries all the sought-after fea­tures need­ed to make a blog suc­cess­ful. The tem­plate blends design and func­tion­al­i­ty quite well. It also car­ries rich snip­pets in order to help search engines index your con­tent eas­i­ly and dri­ve more traf­fic to your site. It has a review sys­tem as well to include reviews of your read­ers and audi­ence.
Details
Demo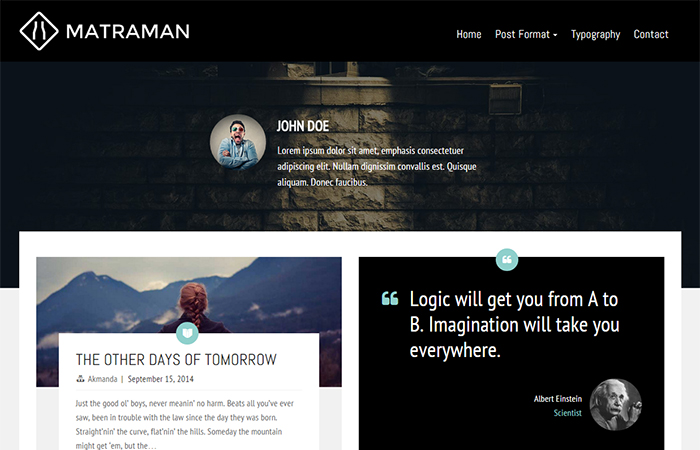 A new­ly launched blog­ging theme, Matra­man offers the con­tent-friend­ly grid style that is read­ers friend­ly as well. It has been designed with metic­u­lous atten­tion to details and offers you a smooth user-inter­face. The tem­plate has got SEO opti­mized code, HTML5, CSS3, bright col­ors and many more warm fea­tures. All these work togeth­er to make sure that your con­tent gets best atten­tion on every view­ing plat­form.
Details
Demo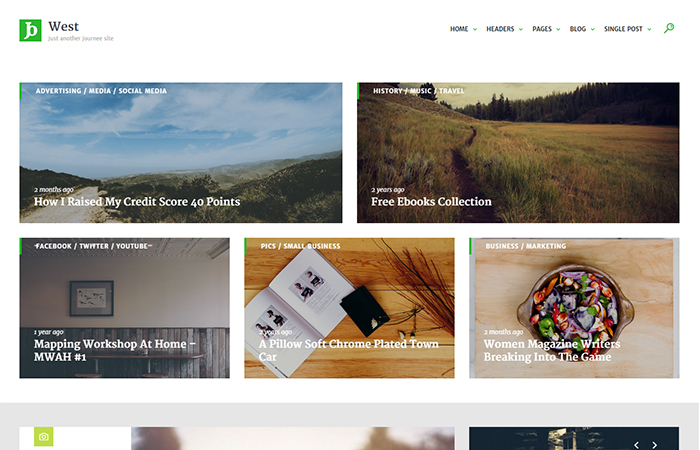 Here is a con­tem­po­rary and cus­tomiz­able Word­Press theme fit for all the con­tent heavy nich­es includ­ing blogs. Journee is mod­ern and fea­ture-rich. It is respon­sive, reti­na ready, SEO opti­mized, cross brows­er com­pat­i­ble, trans­lat­able, Ads ready and much more. The tem­plate has been cod­ed using the best prac­tices and thus, you will find it very fast and secure. It is W3C com­pli­ant and gives you best cus­tomer sup­port so that you are always on the go.
Details
Demo